Pros
A very little minimum stake
Great betting odds
Numerous betting options
The website has a user-friendly design
It has a casino
Cons
No mobile APP
No live streaming
Customer support is not always available
No live chat option on the website
No welcome bonus
No promotional offers
No loyalty program
Winners Golden Bet (WGB) is an online sports betting site. It supports betting on numerous soccer leagues, virtual games, table tennis tournaments, rugby games, hockey, tennis, volleyball, and cricket. It also offers poker and casino games.
Payment Details
Once you have registered on Winners Golden Bet, you will need to deposit to place your bet.
Winners Golden Bet deposit options
There are three deposit options on WGB
You can make an instant over the counter deposit if you have an FCMB account. All you need to do is to walk up to any FCMB branch.
You can use your ATM to make payment.
There are WGB shops and agents across the country where you can make payments.
Winners Golden Bet withdrawal options
When you win a bet, you need to cash out your earnings from your betting slip.
To withdraw the money you have cashed out, click on the payout button at the bottom of the site page. The deposit and withdrawal options would be displayed in the options bar that pops up. You can select withdrawal options, after which you would be given the option to input your banking details. After that, you can input the amount you want to withdraw and confirm that your information is correct. Click on submit.
Winners Golden Bet withdrawal limit
There is no stopping to the amount you can withdraw from your account. You can withdraw all your earnings at once.
Winners Golden Bet Customer Service
The Winners Golden Bet crew has a customer service option. I mean, which platform doesn't? Well, as I have stated earlier, their customer service is not available 24/7. Though it is active during working hours (that's probably between eight in the morning and four in the evening), you cannot just decide to call on them anytime you have an issue using their services or site. If you look over this fact, they have an available customer service. There are three customer service phone numbers available on the site. The bookmaker also has a Facebook page, an email, and a twitter handle. Through which you can drop messages for them. Here is a list of customer service information:
+234-708-709-3729
+234-806-849-7104
+234-905-702-8113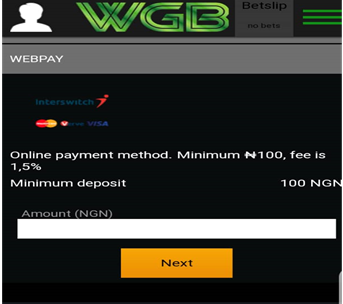 WGB – The Good
Winners golden bet is a licensed bookmaker. Making use of this site makes wagering easy, as they have a user-friendly site. The amount of money you can deposit to make a bet is as low as 500 Naira. This makes the site affordable to most people, including those that are looking to start small. It has a vast collection of available sports and even a small casino. However, there are no promotions available on the casino.
WGB – The Bad
As a bookmaker, the site should be able to offer live streaming, which they don't. Also, many sites offer a little bonus or at least a few promotional offers to attract potential buyers. Unfortunately, these features are lacking on the platform. There are bookmakers with larger betting options that exist, but because the platform is a new one, this is forgivable.
WGB – Bottom Line
Estimated annual revenue of 59.7 million dollars. The bookmaker has 642 employees.
About the Platform
Winners golden bet has a site that is accessible by people all over the world. The site is meant for those that are 18 years and above. The site has a very simple and user-friendly design. You would observe a friendly mix of green, white, and black on the home page. The home screen is the first place you are introduced to when you log on to the site. You are greeted with all the in-play offers, and popular prematch offers displayed right in the middle of the home page.
There is an option bar on the right side of the home page, which displays your betting slip. There's a navigation bar at the top that takes you to the live, virtual, and slots selection. There's also a statistics selection on the navigation bar.
There are very numerous sport types available to wager on in this bookmaker. The list is available in the left section of the site. Sports include Soccer, Rugby, Tennis, Handball, Baseball, Aussie roles, Snookers. Cycling. Crickets, ESports, Esports Counter, Winter sports, futsal, motorsports, American football, golf, ice hockey, and baseball.
Wagering
To start wagering, you have to register first. The registration process on the WGB site is pretty simple. On the navigation bar on top of the site, there's a log in option. If you don't have an account yet, there's a red registration bar next to the login bar. All you need to do is to click on that bar and fill in the requested information. A mail or SMS would be sent to you for confirmation, depending on your choice.
After registration, you can now go through the various wagering options available on the site, and decide what to do. Be sure to make wise and diligent choices. When you're sure of what you want to wager on, you can deposit into your winner's golden bet account. The lowest deposit amount is 500 Naira. Once you make a deposit, your money is converted into staking credits.
Once you have enough staking credits, you can start wagering. Go to the bet slip and enter the amount you wish to stake. When you do this, the bet slip will show you how much you could win from placing the bet. Once you're satisfied with the amount you enter, you can confirm your bet by clicking on the confirm bet bar. Once you have made your bet, the equivalent amount would be removed from your account.
Mobile Options
As I mentioned earlier, there is no app for android or apple users to simplify the winners' golden bet site. Nevertheless, you have the option of using any browser of your choice to access WGB. On entry to the site, you would be given three viewing options, including the old phone, android or tablet, and PC. The option selected would affect the view of the website's home page. This also means that you can access the winner's global bet on any browsing device of your choice.
Summary
Winners Golden Bet is a betting platform. It has a user-friendly website with fascinating odds on football and many other sports. It also has a casino. Unfortunately, it doesn't offer live streaming options or constantly available customer service. It also doesn't offer a welcome bonus or any other promotional offers. Nevertheless, with the information provided above, Winners Golden Bet is a secure bookmaker for efficient wagering.
Q&A
Q: What's the minimum and maximum stake?
A: The minimum stake on WGB is 50 Naira online and 100 Naira in any Winners Golden Bet office. The maximum stake varies based on the sport, leagues, and bets. There is an upper limit to the maximum stake, though. No stakes can be made if the possible earnings would exceed ten million Naira. This applies to all bets, no matter the specifications.
Q. What countries does Winners Golden Bet operate?
A. WGB can only be used in Nigeria. Payments are also made in Nigerian Naira alone.
Q. Can I withdraw my money after making a deposit?
A. Cash that has been deposited into the WGB online account is converted to staking credits. Thus, you cannot withdraw your money except you win a bet.
I'm Kehinde Kolapo a professional content creator and a creative writer from Nigeria. With experience of over five years in the field, I can create mind blowing contents for you. You can contact me with the following links: