Pros
Nice betting platform
Various customer support
Fast customer support response rate
Nice odds
Cash out
Fast Payout (24-48 hrs)
Availability of virtual games
Nice and unique deposit option
Reduced data consumption
Cons
Very little sports market available (just four)
No welcome bonus for new users
No wide-alternative sport event markets
betPawa Nigeria is an interesting new betting company in Nigeria. This betting company operates in 11 African countries. It is a popular betting platform known for its simplicity and user-friendly interface.
This betting company offers basic sports events like Basketball, Football, Table Tennis, and Tennis in Nigeria. BetPawa offers a nice betting platform for both PC and mobile users (they also have a mobile app).
---
Other Recommended Betting Companies
---
Even though this betting company isn't famous in Nigeria, they quickly growing because of their unique deposit options, which is the ability to deposit funds via your sim network airtime. Below we will review this betting company in details:
Payment Details
betPawa Payment Options: BetPawa offers various deposit options, and the most notable options are Nigerians' ability to deposit as little as 50 naira via their MTN sim card airtime. Here are some other deposit options available:
ATM Cards (Visa, Mastercard, Verve) Deposit
USSD Transfer Deposit
MTN Airtime Deposit
Airtel
QuickTeller Deposit
GTBank Transfer Deposit
betPawa Withdrawal Option: Bank transfer method is the only withdrawal method available for its users. The minimum withdrawal set by the platform is 1000, and the maximum withdrawal is 10,000,000 naira. Here is there official information on this.
betPawa offers a unique deposit option that isn't seen in other betting companies in Naija. Their innovative deposit option (airtime deposit) is a welcome idea because it is needed here. There isn't anything unique about their withdrawal option, just the normal bank transfer.
betPawa Customer Service
betPawa offers various customer support channels. Some of their customer support channels are social media (WhatsApp, Facebook, and Twitter), email support, and phone support.
Even though they don't offer a live chat option, their support response rate is really fast and commendable. I hope they keep that up sha because airtime deposit can cause some issues sometimes. However, it is recommended you contact them via phone or any social media channels for a quick response.
How to Register in betPawa
BetPawa registration is very simple and straightforward, but it is different from other betting platforms. You can fill in your details as required, and as seen in the screenshot, there is no option to add your email address. The platform only needs your Nigerian number and your password details.
How To Deposit on betPawa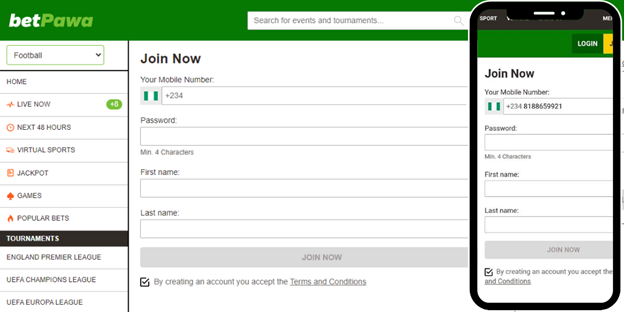 betPawa offers one of the easiest deposit options for its Nigerian bettors. Here are the steps to follow to deposit into your BetPawa account:
Login to your betPawa account
Click on the yellow "deposit" button
Next, you'll need to click on deposit
Choose your preferred deposit option and follow the associated prompts.
Note: The airtime deposit option is only available to MTN users.
How betPawa Operate in Nigeria
betPawa being a newcomer in Nigeria, means that there aren't many physical agent shops. Their operations in Nigeria are mostly based on their online platforms. betPawa offers average odds in the market and basic sport event markets.
However, they offer an interesting bonus system that allows their customers to get up to a 250% bonus on their bet slips. Their service is more directed to Nigerians that want to bet on famous sports events with reduced internet data consumption.
betPawa—The Good
This African-based betting company seems to be fast-rising, especially with its exciting bet slip bonus offers and interesting deposit options. Their support response is fast, though most bettors in Nigeria say it is because they don't have many customers.
betPawa offers low staking power (as low as 1 Naira), which means you can try to grow your betting account if you are good in your bets. Below are some good features that BetPawa has to offer:
Nice Platform
betPawa has a good betting platform with clear navigation that allows users to deposit and place their bets easily. The ease of use BetPawa is top-notch that even a newbie can navigate all their platform versions (PC, mobile version, and smartphone app).
Live In-Play
betPawa features live In-play, which is the norm among Nigerian betting companies. Their live In-play has average odds that ensures their customer bet on games as they are ongoing.
Low Staking
Customers of this betPawa can place a bet with as low as 1 Naira, which isn't attainable is any Nigerian betting company.
Virtual Sports
Virtual sports are famous in the betting world and not only in Nigeria. Their virtual games aren't that popular, but it is nice to know that you can place bets for virtual games on this platform.
betPawa—The Bad
BetPawa lacks in many key places that should propel their fame among we Naija gamers. Here are areas that they are missing out:
No Live Streaming: Live Streaming is an important aspect of modern betting, and it is a betting trend in Nigeria. betPawa doesn't offer this feature, and that's a big bad from them.
betPawa, even though their activities are kept on a minimal, should offer some key features that make sports betting easy for Nigerians. However, they're still new in the Nigerian market as of this review's time, and it is expected that they grow.
The betPawa Platform
Sport Types: betPawa doesn't offer a wide range of sports markets. They're limited to just four sports events, as mentioned above. Also, they don't offer alternative markets like Asian Handicap and others.
Special Tools: betPawa doesn't offer any special tool for its users to make informed decisions about their bets.
Sports Betting Experience
Quality of Odds: betPawa offers average odds in the market; most times, their odds are on the low side.
Mobile Options: betPawa has a smartphone version and a mobile app, this ensures bettors to quickly access the platform on their mobile phones and place bets.
Betting Limit: The betting company allows for a minimum stake of 1 Naira on their betting slips.
Conclusion
betPawa is a good betting platform that is still growing. They're best for individuals looking to bet with their MTN network airtime and those who are not interested in alternative markets. Overall, their withdrawal is fast, and their support is top-notch.
Question and Answer — betPawa
Q. Does betPawa have a mobile app?
A. Yes, they do have a mobile app.
Q. Does betPawa offer a welcome bonus for new customers?
A. No, there isn't any welcome bonus.
Q. What is the minimum stake?
A. Their minimum stake is 1 Naira.
Q. Is betPawa Legit?
A. Yes, BetPawa is legit and operating in six African countries.
Q. How fast is betPawa Payout?
A. Payout happens within 48 hours.
Q. How quick and reliable is their support?
A. betPawa offers really quick support.
Q. Can other sim users use the airtime deposit option in betPawa?
A. Yes, other users can deposit using Airtel money.
Check out interesting Aviator games here.
Nigeria best Sport betting sites