Just two leagues in Europe are involved in league action this midweek with the English Premier League and Spanish La Liga deciding to have these fixtures.
Here are some of the very best selections to help our readers decide which of these options is the best for them in today's market.
Straight Wins.
When Everton, who struggles to score goals, visits Newcastle on Wednesday night, the goal-shy Toon hopes to extend their Premier League winning streak. Everton's defense has improved significantly under Frank Lampard this year, but the Toffees still struggle offensively, having scored more than one goal only once this year. Since the Magpies have defeated Everton in three of their last four meetings, we are supporting Eddie Howe's team to win on Wednesday. In their most recent match at St. James' Park, Newcastle defeated Brentford by a score of 5 goals, winning two and drawing three of their previous five league contests. Everton has lost its previous two league games and hasn't played well in any of them. Bet9ja have 1.63 odds, Paripesa have 1.67 odds and 1xBet have 1.67 odds.
Real Sociedad and Mallorca meet at the Reale Arena to battle it out for three La Liga points today. La Real are targeting their eighth-straight victory in all competitions this week. Real Sociedad is in superb form under Imanol Alguacil and their 2-1 victory at Celta Vigo at the weekend was their eighth win on the trot in all competitions. It seems, however, that the bookmakers have yet to catch up with La Real's excellent performances and the odds available for a home win against Mallorca this week seem generous, to say the least. Sociedad beat Mallorca to nil both home and away last term and the islanders come into this fixture having won just once in six attempts. With those factors considered, we recommend backing La Real to pocket maximum points again. Bet9ja have 1.56 odds, Paripesa have 1.61 odds and 1xBet have 1.61 odds.
One of the closest matchups in the next Premier League round is the Crystal Palace vs Wolves duel, scheduled for today. The two teams enter this game separated by just one point, with Crystal Palace currently ahead. Also, both teams are dangerously close to the relegation zone, so this will be an important game for them. With that in mind, we expect to see a close, hard-fought duel. That being said, we can see Crystal Palace winning this match. They've been good at home and Wolves struggling to score this season, Crystal Palace could snatch a narrow win. Bet9ja have 2.23 odds, Paripesa have 2.26 odds and 1xBet have 2.26 odds.
Atletico Madrid vs. Rayo Vallecano is one of the most intriguing matches in this La Liga round. Atletico Madrid is currently in excellent form, at least in La Liga, having won four of its past five games. Rayo Vallecano, meanwhile, is off to a strong start as they now sit in the center of the rankings after nine matches. We anticipate Atletico Madrid to defeat Rayo Vallecano although they might be a difficult opponent to beat. After all, they play at home, are the superior squad, and defeated Rayo Vallecano both times in the previous campaign. Bet9ja have 1.56 odds, Paripesa have 1.58 odds and 1xBet have 1.58 odds.
Over 2.5
The visitors have failed to get points and are now last in the rankings, while the home squad has been one of the most pleasant surprises of this Premier League season thus far. Even though their most recent matchup was five years ago, we anticipate Tuesday's match between Brighton and Nottingham Forest will also feature over 2.5 total goals. This has occurred in four of their previous five head-to-head meetings. After all, although Nottingham Forest has been averaging 3.00 goals per game in the Premier League up to this point, Brighton has averaged 2.78 goals per game in the league this season. Bet9ja have 1.75 odds, Paripesa have 1.82 odds and 1xBet have 1.82 odds.
When Brentford hosts Chelsea on Wednesday night, they want to improve their standing in the top half of the Premier League standings. The visitors are now in the fourth position and must win to retain pressure on the top three, as Tottenham and Man City are 4 points ahead of them and Arsenal is 8 points clear at the top of the table. Given that Brentford and Chelsea have met six times in the past, four of those encounters have resulted in more than 3.5 goals, we should expect to see lots of goalmouth action in this game. Our prognosis is strengthened by the fact that three of Brentford's and Chelsea's last five games in all competitions have seen at least three goals scored. Bet9ja have 1.80 odds, Paripesa have 1.90 odds and 1xBet have 1.90 odds.
At the Estadio Manuel Martnez Valeroto in Spain's La Liga, Elche will take on Real Madrid on Saturday. This week, La Real hopes to win for the eighth time in a row in all competitions. Real Madrid's games this season have featured high levels of excitement. Their 3-1 victory against Barcelona on Sunday was just the latest in a string of nail-biting matchups involving Los Blancos. Seven of their nine league games in 2022–23 have had over 2.5 goals, and Wednesday's meeting between Real and Elche might see more goal-scoring mayhem. Another wager on over 2.5 goals might prove to be a winning bet strategy since Madrid may need to score numerous goals to ensure they depart with three points because their defensive woes are still a concern. Bet9ja have 1.50 odds, Paripesa have 1.50 odds and 1xBet have 1.50 odds.
Although the host team's season hasn't exactly started well, they come into this match with a victory over Mallorca, while Valencia lost to Elche at home over the weekend. Although just two of the last five head-to-head matches between Valencia and Sevilla have included more than two goals, we can see that occurring on Tuesday. After all, Sevilla has averaged 2.56 goals per game in La Liga this season compared to Valencia's 2.89 goals per game league-wide. Bet9ja have 1.94 odds, Paripesa have 2.02 odds and 1xBet have 2.02 odds.
Anytime Goalscorers
Firmino
Firmino top scores in the Premier League for Liverpool this season with 6-goals and we're backing the 31-year-old striker to score against West Ham on Wednesday. The Brazilian international has netted 5-goals in his last five games for Liverpool in all competitions and is certainly enjoying his best form in front of goal for a long time, so you can see why we're backing him to score against the Hammers. Bet9ja have 2.35 odds while Paripesa have 1.90 odds.
Callum Wilson
When he's fit, Callum Wilson scores regularly for Newcastle and has 3-goals in the league so far this season but keeping the striker injury-free has proved difficult. We're backing Wilson to score against the Toffees on Wednesday as the striker has scored 4-goals in his last four games against Everton in the Premier League. Bet9ja have 2.30 odds while Paripesa have 2.00 odds.
Benzema
Fresh off sinning the Balon D Or and being crowned the best player in the past year he would surely drop a spectacular performance today. He was on the scoresheet last week after scoring in the El Classico against Barcelona and helped his side reclaim the top spot. He hasn't allowed his return from injury to weigh him down and we are confident of his maximum performance from him today. Bet9ja have 1.70 odds while Paripesa have 1.62 odds.
Griezmann
After celebrating his 100th goal for Atlético last round, Antoine Griezmann owes his home fans something to cheer. The Frenchman has found his form and is picking up his goals this season. He is a fan favorite with his club and he would be important for Simeone as they seek to secure a Champions League slot early on. He won't stop at the landmark 100 goals and we expect him to perform well here in this fixture. Bet9ja have 2.90 odds while Paripesa have 2.75 odds.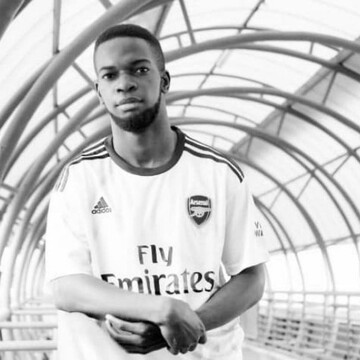 Football Lover. All-round junkie of the beautiful game. Could be found watching football most of the time. If not he's writing about them or making some punditry you don't agree with. A certain bias for Arsenal and Santos FC.