This Sunday marks an end to the weekend games and more focus on some midweek league games across Europe.
The UCL, UEL, and Conference League continues this midweek with teams looking to complete the second leg of action for the UCL.
This should provide some mouthwatering events for football viewers today.
Straight Wins.
By defeating the Saints at home and earning all three points, the Red Devils will be hoping to forget the horrible memories of their 7-0 loss at Anfield last weekend. Despite the fact that Southampton is now in the relegation zone, the visitors would likely be content to leave Old Trafford with a point. But, Ten Hag's team rebounded brilliantly, defeating Real Betis 4-1 in the Europa League on Wednesday. In the 35th minute, Alcaraz scored the game's only goal, which was enough to secure a rare clean sheet for the Saints. Manchester United hasn't lost against the Saints since 2015 and has triumphed in three of their past five meetings. Bet9ja have 1.37 odds, Paripesa have 1.38 odds and 1xBet have 1.38 odds.
Sevilla has lost two of its previous three La Liga games, and while it appeared at one time that they were finding their form, they have now gone three games without a victory overall. Sevilla is having a terrible season and is presently tied with the first club in the relegation zone, Almeria. This game is crucial for both teams since Almeria is that team. Sevilla comes into this game with momentum after their strong performance in the Europa League during the previous week. Our first Sevilla vs. Almeria prediction is for the home club to prevail because they are also hosting the contest. Bet9ja have 1.73 odds, Paripesa have 1.76 odds and 1xBet have 1.76 odds.
In Serie A, Roma has won five straight home games going into their matchup with Sassuolo on Sunday. Sassuolo may be hard customers for most of the opponents they play, but, Roma's form in the Stadio Olimpico since the turn of the year has been imperious and we're backing Jose Mourinho's men to prevail in the Eternal City again on Sunday. Since January 1st, Roma has won an incredible eight of nine home games in all competitions. Their propensity to perform well in front of their own supporters might help them win against Sassuolo. Bet9ja have 1.70 odds, Paripesa have 1.75 odds and 1xBet have 1.75 odds.
Monaco can now concentrate on Ligue 1 and compete for Champions League spots as they are no longer in any European tournaments. Monaco will be up against the Ligue 1 team with the most draws this year. Reims has been reliable enough to climb into the top 10 in the rankings and holds. that position for a considerable amount of time. The visiting club's solitary defeat in 2023 came in the French Cup, and they had gone an astonishing 18 games without losing in the league. On the other hand, Monaco has more victories (15 compared to Reims' 9), which is significant enough to account for Monaco's eleven-point lead over their next opponent. This should be a relatively easy win for Monaco Bet9ja have 1.82 odds, Paripesa have 1.85 odds and 1xBet have 1.85 odds.
Before their match with Freiburg in the Bundesliga on Sunday, Hoffenheim had gone nine games without a victory in any competition. Freiburg has one of the best home records in the Bundesliga this season. They have won seven of their first 11 games played at the Europa-Park Stadion, losing only once altogether. In contrast, Hoffenheim has dropped five straight-away games in the German top division, and they may face another difficult afternoon at Freiburg. Due to the alignment of these variables, our initial football prediction for today suggests supporting the home team in the market for the final score. Bet9ja have 1.93 odds, Paripesa have 1.99 odds and 1xBet have 1.99 odds.
Over 2.5
My Heerenveen vs. Ajax prediction is based on how both clubs have been scoring goals lately. The wheels have gone off the machine for Heerenveen since the winter break, despite them being one of the top defensive teams early in the season. Heerenveen has struggled to keep its net secure during the second half of the season, and with Ajax visiting, things might get even worse for the home club. Ajax has played in 16 of those games, including four of the previous five, making them one of the league's best clubs for over 2.5 goals. Heerenveen had four consecutive "over" games, bringing their season total to 13. Ajax won by a score of 5-0 the previous time these teams met. Bet9ja have 1.52 odds, Paripesa have 1.51 odds and 1xBet have 1.51 odds.
Prior to their Sunday visit to Bremen, Bayer Leverkusen had avoided a loss in five of their past six Bundesliga away games. Werder Bremen and Bayer Leverkusen were separated by just two spots and one point. It was tough to predict a victor because of how similar their records were. This weekend, we anticipate a raucous entertainment scene at the wohninvest WESERSTADION. Over 2.5 goals have been scored in five of Bremen's past six games there, while Leverkusen has averaged 3.25 goals per 90 minutes in their last eight away Bundesliga games. Stick to the overs line as there are all the makings for another high-scoring match on Sunday. Bet9ja have 1.63 odds, Paripesa have 1.69 odds and 1xBet have 1.69 odds.
On Sunday, the league's top team visits Craven Cottage. As of this weekend's most recent round of games, Arsenal leads the Premier League standings by 5 points, but they must go to Fulham, which is currently soaring high in seventh position, which might be challenging. In five of the previous seven league games between these two clubs, over 2.5 goals have been scored, and we anticipate more of the same on Sunday. While five of Arsenal's past six league and cup games have scored at least four goals, Fulham's most recent league game saw five goals as they barely lost away at Brentford. Bet9ja have 1.75 odds, Paripesa have 1.84 odds and 1xBet have 1.84 odds.
Before their travel to meet relegation contenders Cremonese this weekend, La Viola had been in excellent form. Prior to their matchup with Cremonese in Serie A on Sunday, Fiorentina had won five of their past six games overall. Yet, to their credit, they have been battling tooth and nail for points in recent weeks, and it has been interesting to witness their chase of victories. Cremonese is set to quit Serie A this season. In fact, there were over 2.5 goals scored in five of their past six league games, and when Cremonese last played Fiorentina in August, they lost a five-goal thriller. On Sunday, more of the same could be in store. Bet9ja have 1.96 odds, Paripesa have 2.05 odds and 1xBet have 2.05 odds.
In a contest against a squad that hasn't experienced victory in more than two months, Lorient will be the underdog. A scoring extravaganza might occur when Lorient plays Troyes. With 18, the visiting team shares the lead with Lorient, who is not far behind with 17. Both teams have played the most games this season with over 2.5 goals. The average for Lorient is a little under three goals. Moreover, the visiting team has the second-worst defense in the league, allowing goals everywhere. Troyes allowed 57 goals while Lorient only allowed 36. Of the past five games played by these clubs, two of them had over 2.5 goals scored on them. Bet9ja have 1.78 odds, Paripesa have 1.87 odds and 1xBet have 1.87 odds.
Anytime Goal scorers
Marcus Rashford
Marcus Rashford is enjoying his best season in a long time for the Red Devils. The England international has netted 14 goals in the Premier League alone as well as a further 12 goals in cup competitions. The 25-year-old is in excellent form right now with 8-goals in his last 10 appearances in all competitions and we're backing Rashford to score against Southampton on Sunday. Bet9ja have 2.10 odds while Paripesa have 1.90 odds.
Miguel Almiron
Miguel Almiron has been one of Newcastle's most impressive performers this season with the Paraguay international top-scoring for the Magpies in the Premier League with 10 goals. The goals have started to dry up for the 29-year-old in recent weeks with just one scored in his last 10 appearances in all competitions but we're backing the Newcastle midfield to get back on track against Wolves this weekend. Bet9ja have 4.50 odds while Paripesa have 3.83 odds.
Gabriel Martinelli
The young Brazilian striker for Arsenal is having a fantastic season, one that just possibly culminate with a Premier League championship gold. Jesus, for example, missed a significant portion of the season due to injury. Martinelli has been given the responsibility of helping his side score more goals, a role he has eagerly embraced. The Brazilian international has nearly doubled his previous season's goal total with 11 goals in the Premier League alone. Martinelli is expected to have a significant influence this weekend against a Fulham team that frequently allows space behind their defense while playing at home. Bet9ja have 3.45 odds while Paripesa have 3.10 odds.
Brian Brobbey
When a team is so talented as it is with Ajax, it's hard to find just a single player who makes this team better. But Brian Brobbey has done well in his first season with the club leading the scoring with eleven goals and assisting on a couple of occasions while playing in 23 league matches. His stats are all that impressive as he only started in half of those matches and played barely over 50 percent of available minutes. Bet9ja have 2.40 odds while Paripesa have 2.10 odds.
Di Maria
After scoring the winner against Freiburg, Ángel Di María said "I'm showing what I'm worth". A statement that's backed up by a return of five goals in as many appearances as the Argentinian World Cup winner. He should be instrumental once again today as Juventus would be looking for a win here today. Bet9ja have 3.55 odds while Paripesa have 3.10 odds.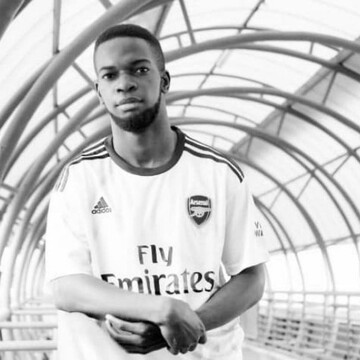 Football Lover. All-round junkie of the beautiful game. Could be found watching football most of the time. If not he's writing about them or making some punditry you don't agree with. A certain bias for Arsenal and Santos FC.