The weekend games return today with the UCL, UEL and Conference League in view. Top clubs would be looking to advance to the next round in those competitions. They would have to first win the games in front of them today as they face strong opponents.
We have carefully curated the best options from the fixtures this week and we are certain of a near hit after today's predictions.
Straight Wins.
Following their midweek triumph over Leicester, the hosts Aston Villa have their sights set on a European spot. Nottingham Forest, however, suffered a humiliating loss away at fellow relegation rivals Leeds and is currently one place above the relegation zone on goal differential. Three of the previous five league encounters between Aston Villa and Nottingham Forest have ended in victories for the home team, and we are expecting them to pick up another three points against a Forest team that has struggled on the road this year. The visitors had lost their past five away games overall, including a defeat at Elland Road in the middle of the week.
The home team has gone undefeated in their last six league games, winning five of them and drawing the other, while Forest has lost four of its most recent six games and drawn the other three. Bet9ja have 1.60 odds, Paripesa have 1.69 odds and 1xBet have 1.69 odds.
As the two teams square off against each other on Saturday in Bergamo, Atalanta hopes to continue their recent winning streak over Bologna. In recent weeks, Atalanta has been more like their old selves, and their most recent 3-1 triumph at Cremonese marked their second straight victory in Serie A. Bologna is in good shape, but Atalanta has been something of a bogey team for I Rossoblù, and they might have trouble again on Saturday in Bergamo. Our first Atalanta vs Bologna prediction sides with the hosts in this market since La Dea has prevailed in three of their last four encounters with their opponents. Bet9ja have 1.65 odds, Paripesa have 1.71 odds and 1xBet have 1.71 odds.
Before to their matchup with Juventus, Lazio had only dropped one of its last 12 league games. Prior to their most recent matchup in Serie A on Saturday night, Juventus has already defeated Lazio twice this year. Although they frequently falter when traveling to Serie A's top teams, Juventus has proven to be a tough nut to crack this season. The Old Lady has already been defeated this year at Napoli, AC Milan, and Roma. Our initial Lazio versus Juventus prediction favors Lazio because they have won five of their past six league games. Second-placed Lazio will be hoping to become the newest marquee player to damage Juve's record. Bet9ja have 2.75 odds, Paripesa have 2.76 odds and 1xBet have 2.76 odds.
PSG wants to turn things around and prevent further setbacks despite their recent string of losses and generally negative attitude. Prior to taking the PSG job, Christophe Galtier was the head coach of Nice the previous year, therefore he is aware of some of the team's trade secrets. Last season, Nice defeated PSG by a solitary goal in their stadium. This season, Nice will try to pull off an upset to further hurt Paris' hopes of winning the championship. Nice has won every match it has played at home this year. Of the previous five meetings between Nice and PSG, two victories went to the visiting team on this particular day. Nice claiming the other, while a few of the games ended in draws. Bet9ja have 1.88 odds, Paripesa have 1.91 odds and 1xBet have 1.91 odds.
Guardiola's team will aim to build on their 4-1 demolition of Liverpool last weekend. Bottom-of-the-table Southampton must start again after going four games without a victory with their 1-0 loss at West Ham. Man In their last five league encounters with the Saints, City has prevailed three times. The victories by Guardiola's team were quite assured. Saints have recently had some success playing against the elite, beating Manchester United and Tottenham, but City is a different animal, and the hosts may be in for a challenging evening this evening. Last week, Guardiola's team defeated Liverpool easily despite the absence of Erling Haaland. City has won seven straight games and appears poised to continue their winning ways. Bet9ja have 1.25 odds, Paripesa have 1.26 odds and 1xBet have 1.26 odds.
Over 2.5
This season, AZ has participated in 16 games with more than two goals scored, making them one of the greatest over 2.5 goals teams in the Eredivisie. They have slowed off a bit recently, winning just two of their previous five games. The average number of goals they score every game is still high, at 3.1. The season total for Sparta's "over" games is the same, but they have also had four of them in their last five games. Six out of their last ten games, according to their head-to-head record, for this AZ Alkmaar vs. Sparta Rotterdam prediction, have gone over the total. Bet9ja have 1.80 odds, Paripesa have 1.89 odds and 1xBet have 1.89 odds.
Both the Foxes and the Cherries suffered disappointing home losses in the middle of the week. They will view their matchup this weekend as a fantastic chance to turn things around. Ideally, move out of the relegation spots. Over 2.5 goals have been scored in four of the last five games between these two clubs. We anticipate that this trend will continue on Saturday. In four of their last six league and cup matches, Leicester and Bournemouth each saw at least three goals scored. Bet9ja have 1.96 odds, Paripesa have 2.01 odds and 1xBet have 2.01 odds.
PSV is attempting to manage their attack on the final Champions League spot that is available from the Eredivisie by taking advantage of a recent drop in performance by Ajax. When it comes to games with more than 2.5 goals, PSV is the second-best team in the Eredivisie. In comparison to 13 in the other direction, they have 14 of those matches on record. In three of their previous five games, the Eindhoven team scored at least four goals. It's not too far behind Excelsior. Their 3.2 goals per game average each game demonstrates the direction of those games. Over the entire campaign, Excelsior had 11 games with four or more goals scored. Bet9ja have 1.80 odds, Paripesa have 1.90 odds and 1xBet have 1.90 odds.
The only team left in Ligue 1 with practically no chance of avoiding relegation is Angers. Although they could cause a distraction for teams with bigger aspirations. In their previous five league games, both of these teams had three over 2.5 matches. Angers are one of four teams that hold the top rank for the amount of "over" matches this season with 19. Their season average for goals scored in games is three, compared to Lille's better average of 3.1 goals per game. Lille, on the other hand, had three fewer contests with three or more goals scored. Bet9ja have 1.66 odds, Paripesa have 1.74 odds and 1xBet have 1.74 odds.
Before to their matchup on Saturday, Udinese and Monza were in positions 11 and 13, respectively, in the Serie A standings. With their comparable league records thus far, both Udinese and Monza will believe they can win on Saturday. That was unquestionably the case in both of the clubs' previous games this season. Both of which included at least three goals in Udinese's 2-1 Serie A victory and Monza's more recent 3-2 cup victory. This weekend, we expect that these two evenly matched teams will once again trade blows. We advise placing a wager on over 2.5 goals for their third consecutive meeting. Bet9ja have 1.90 odds, Paripesa have 2.01 odds and 1xBet have 2.01 odds.
Anytime Goal scorers
Julian Alvarez
In the absence of Erling Haaland last weekend, Julian Alvarez stepped up to score the opening goal of their comeback against Liverpool. The Argentine forward has had to play second fiddle to Haaland all season which is why he only has 6-goals in the Premier League so far. Haaland remains an injury concern and even if he does play. We expect Alvarez to get a decent amount of time on the pitch, enough to find the goal. Bet9ja have 2.35 odds while Paripesa have 2.20 odds.                                                                                                                                  
Kai Havertz
In a game that we expect to be low-scoring, Chelsea will be hoping to take their chances. German international Kai Havertz top scores for Chelsea this season with 7-goals in the Premier League alone. The former Leverkusen man could make the difference between a draw and a win this weekend. Havertz is anything but prolific but is playing out of position as a striker, something Chelsea will have to address in the summer. But until then he is their best chance of scoring goals. Bet9ja have 3.10 odds while Paripesa have 2.80 odds.
Harry Kane
Tottenham has scored in five of their last seven competitive H2Hs with Brighton, and Harry Kane netted in all five. The England striker is set himself up to break more records in the years o come. He was on the scoresheet with a penalty in his side's draw to Everton. Before this game, he has scored in five consecutive matches and hopes to increase the tally with a goal or two here today. Bet9ja have 2.35 odds while Paripesa have 2.17 odds.
Marcus Rashford
Including during midweek, United's Marcus Rashford has scored the opening goal in each of his last three goalscoring appearances. The Forward has continued to impress this season with another goal in his last appearance. Prior to the Brentford goal, United had not scored a goal in three games but it looks like those worries are over. We can see him scoring here today against a less coordinated defense in Everton. Bet9ja have 2.15 odds while Paripesa have 2.10 odds.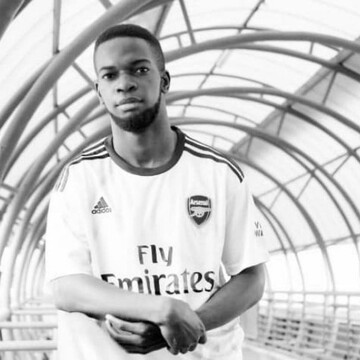 Football Lover. All-round junkie of the beautiful game. Could be found watching football most of the time. If not he's writing about them or making some punditry you don't agree with. A certain bias for Arsenal and Santos FC.