We witnessed an interesting round of results yesterday and we're expecting more of the same today. Lots of actions are in stock for us across Europe and we give you the best betting tips and predictions to go with as we usually do.
Straight Wins
Things have certainly gone from bad to worse for Arteta's men at the Emirates as they crashed out of the Europa League. This has seen their European qualification hopes go to the mud for next season. Today, they have nothing but their pride to fight for with their game against bottom side West Brom here today. The Baggies have equally faced their woes this season but they are not as bad as Arsenal and the Gunners are sure to come back to the top of their game. We expect Arsenal to bounce back to winning ways in this fixture. Bet9ja has 1.47 odds, Bet365 has 1.44 odds and 1xBet has 1.51 odds.
PSG, who are the defending champions of the French Ligue 1 have to win this game to not see their title slip out of their very hands. Les Parisiens would be looking to still mount the pressure on Lille up top and secure the win here today against Rennes who have to seem to be lackluster this season already. Keeping PSG at bay would be had for the Rennes defence as PSG would also be looking to restore pride after their Champions League exit. There is a stark contrast between these two teams and which is why PSG are the favorites to win this. Bet9ja has 1.64 odds, Bet365 has 1.61 odds and 1xBet has 1.65 odds.
Monaco would just be looking to keep their third-place spot here today as the title race seems to be out of their hands with Lille puling clear. 11th placed Reims are their opponents today and are not good enough to stop the attacking talent in this Monaco side. A win here for Monaco is huge and they understand how important it is. Bet9ja has 1.40 odds, Bet365 has 1.36 odds and 1xBet has 1.43 odds.
Ajax have been crowned champions and this match would be a breather for the players and the team. Feyenoord are the latest opponents to face and handle the deadliness of this Ajax attack. Currently 5th in the league and they don't seem to look aside wanting to push for more things. We trust Ajax to be spare no prisoners and take this game as they always do with seriousness and the hunger to win. Bet9ja has 1.57 odds, Bet365 has 1.53 odds and 1xBet has 160 odds.
Atalanta are still second in the Italian league and would be aiming to stay there and have an automatic qualification to the UCL next season. Parma already got relegated which means Atalanta have a serious edge in this fixture as you can see both teams are miles apart in form. Parma wouldn't be able to contain their opposition and its flurry of attacking talent. We trust Atalanta to win this one easy. Bet9ja has 1.19 odds, Bet365 has 1.20 odds and 1xBet has 1.23 odds.
Over 2.5 Goals
Frankfurt has an in-form striker in Andre Silva this season who has been bagging the goals for the German outfit this season. Mainz on the other hand would be looking to seriously upset Frankfurt. With this Frankfurt team with the third-best attacking team in the league, this selection is a prime example of how much we believe they can produce the goals. Bet9ja has 1.56 odds, Bet365 has 1.53 odds and 1xBet has 1.58 odds.
West Ham and Everton have only one thing on their mind which is to win and try to get European football next season. But this cannot come without goals for both sides in this tie. West Ham has in-form player Jesse Lingard while Everton has a host of talents to call upon when it comes to scoring goals. We see both sides digging out till the end and not holding back which could mean lots of goals. Bet9ja has 1.86 odds, Bet365 has 1.90 odds and 1xBet has 1.94 odds.
Aston Villa plays host to Manchester United who are just back from a cracking second leg that recorded five goals. Villa would feel this is a chance for them to repay the favour while Manchester United on the other side have a very impressive record away from home over the past year. This game is well setup for goals and we can expect that today. Bet9ja has 1.72 odds, Bet365 has 1.72 odds and 1xBet has 1.80 odds.
Real Madrid and Sevilla would be looking to still see if they can make a title challenge one last time. With Real Madrid crashing out of the UCL semifinals disappointedly and Sevilla dropping points that would have seen them reduce the gap to top spot, both teams have it all to play for here. They are both proven goal-scoring teams already this season and we don't doubt that here today. Bet9ja has 1.40 odds, Bet365 has 1.40 odds and 1xBet has 1.45 odds.
AC Milan and Juventus are both 5th and 3rd respectively in Serie A. Both teams had the opportunity to win the league this season but blew it. Now they face off to secure European spots for next season with this tie a big decider. The first leg wasn't short of goals from both sides and we expect that here today as both teams face off. Their strikers are back on form scoring in each of their last three fixtures before today and we see nothing short of goals.Bet9ja has 1.66 odds, Bet365 has 1.66 odds and 1xBet has 1.71 odds.

Anytime Goal-scorers
Cavani
After scoring yet again during the week against AS Roma, we can safely say Cavani is back to his old self. The prolific goal-scorer has proven himself in this Manchester United squad how indispensable he can be as he sets to provide them with the goals. He is in top form scoring in back-to-back games and he can continue that here today against Aston Villa. Bet9ja have 2.25 odds while Bet365 have 2.40.
Mbappe
Recovering from his injury and being left out of the team that got beaten by Manchester City, Mbappe would be distraught with such a bad week he and his club suffered. Today, their sights are set on retaining the Ligue 1 crown as they play to close the gap against Lille at the top. Mbappe was instrumental to their near domination back when he was fit and now that he has returned, he is sure to score the goals to help his side win here today. Bet9ja have 1.90 odds while Bet365 have 1.80.
Benzema
No goals against Chelsea saw the Frenchman and his team crash out of the UCL during the week. He had his fair share of chances in both halves but couldn't convert them as he was stopped by Chelsea's goalkeeper. Today, Sevilla are his new opponents and he would be looking to put that disappointing performance past him and try to score and secure the title for his Real Madrid side. He can only do that if he scores and we are sure he would do that here today. Bet9ja have 2.20 odds while Bet365 have 2.00.
Ronaldo
The Portuguese player has been Juventus' most prolific player this season and the player with the most goals in Serie A. Even though Inter have been crowned champions Juventus wouldn't want to lose out on Champions League football and Cristiano would not want that either. This AC Milan defence will find it hard to go against this inform Ronaldo who looks to want to score more goals this season. Bet9ja have 1.67 odds while Bet365 have 1.61.
Lacazette
Arsenal have had their woes in front of goal in recent weeks and this is bad for the team. Only Lacazette has a chance to change that narrative and he can do that by leading the line to a victory after their Europa League disappointment. After a slow start to the season, Lacazette has improved again and he can turn up for Arsenal here today with a few goals which we are sure off. Bet9ja have 1.85 odds while Bet365 have 1.83.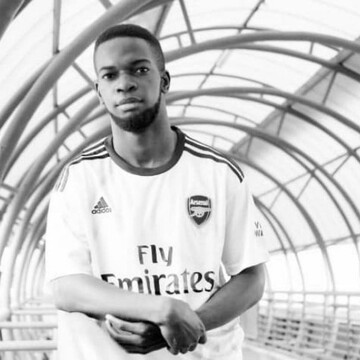 Football Lover. All-round junkie of the beautiful game. Could be found watching football most of the time. If not he's writing about them or making some punditry you don't agree with. A certain bias for Arsenal and Santos FC.