Last night was a remarkable end to the last round of UCL fixtures. It was crowned with spectacular performances from each club and some very shocking results.
Our predictions weren't top-notch last night but we had a few of them right. The straight win segment saw us secure just two out of four predictions correctly with the other teams in the segment playing out draws.
The goals market also saw us have only one correct prediction out of the four expected which signaled a bad day at the office for us. The anytime goal-scorer segment was better than our previous predictions with a 50% success rate.
We can take that as a sign that we are trying to return to our best form yet.
Today we move on to the Europa League as we select the best tips to give you from today's games.
Straight Wins
Arsenal round off their 100% record in this competition with a trip away to Ireland as they face Dundalk. The Gunners have had a poor run of form in their League this season but has won every match in the Europa League this season. Mikel Arteta wouldn't want to stop this impressive run of form as it can boost their confidence in the League. Arsenal is the sure top dogs in this game and a win is expected. Bet9ja has 1.16, Betway has 1.15 and 1xbet have 1.17 odds.
Still, with the English sides, Tottenham faces Antwerp a side who put up a shocking performance and defeated them earlier this season in the competition. Tottenham would be looking to end this round on top of the table and that can only happen with a win tonight. Spurs have the home advantage and their impressive run of form both in this competition and in the Premier League has made them the best pick to win this match. Bet9ja has 1.34, Betway has 1.34 and 1xbet have 1.34 odds.
AC Milan are currently on the next stage of this season's competition as they take on Sparta Prague. They are looking to go top of the table and secure a decent position ahead of the draws for the next round and only a win can secure that. They won their last encounter by three goals to nothing against this opponent and a repeat is sure to happen. Which is why we have them tipped for the win, Bet9ja have 1.58, Betway has 1.57 and 1xbet have 1.61 odds.
Roma travels away from home to face Bulgarian side CSKA Sofia in their last group stage game. The last time out saw both sides play out a goalless draw, Roma are currently Unbeaten in this competition with that draw the only dent in their armour. The Italians would be looking to win and see off their opponents who haven't had a win in this season's competition. Bet9ja has 1.86, Betway has 1.84 and 1xbet have 1.90 odds.
Finally, we move to Germany where we see Bayern Leverkusen, joint top table leaders, Slavia Praha in their final group game. They have the same points after five games this season. The German side was edged out by Praha by a single goal to see the Czech side take the win, Leverkusen is looking for the win to keep their top spot in the group. Leverkusen is sure to take home the three points from this game. Bet9ja have 1.65, Betway has 1.63 and 1xbet have 1.66 odds.

Over 2.5 Goals
Napoli faces a tough last group game tie against Real Sociedad to see who goes on to the next round. Both sides need the win to advance and have sure chances to chase the win. That's our reason to have them selected. Bet9ja has 1.76, Betway has 1.76 and 1xbet have 1.86 odds.
Roma again is back in the selection this match up with CSKA Sofia which has a lot to offer. Both teams are in superb goal-scoring form and their last fixture saw no goals but their present goal-scoring form in both their leagues is something to count for. Bet9ja have 1.60, Betway has 1.64 and 1xbet have 1.72 odds.
Tottenham have a great chance to show their goal-scoring abilities in their home tie today. They are already tipped for the win today earlier and goals are sure to be in this game. The stage is set for a cracker and the stakes have never been this high for both clubs. Bet9ja has 1.42, Betway has 1.45 and 1xbet have 1.48 odds.
Wolfsburg and Feyenoord play today and the winner of this fixture gets to secure a position in the next round. The last fixture between both sides saw then scoring five goals between them. They both need the win to move on to the next round and this could mean a goal thriller as both teams could easily get on the score-sheet. Betway has 1.62 odds, Bet9ja have 1.58 and 1xbet have 1.71.
Anytime Goal-scorer
Alexandre Lacazette
Lacazette would back to the lineup this Arsenal side that has a 100% record in this competition, he has just the one goal this season in the competition. He would be looking to add to his tally which is why we tipped him to score. Betway has 1.81 odds while Bet9ja have 1.75.
Gareth Bale
The Welshman has had an impressive performance in this year competition with just the one goal. He would be looking to fight his way into this Mourinho side with a goal in this game, which is why he has tipped him to score. Betway has 2.15 odds while Bet9ja have 2.35.
Lorenzo Insigne
Insigne has been in impressive form for Italian side Napoli this season. He hasn't hit the mark yet this season in this competition but his opponents are not good defensively either. The stakes are very high for this game and he has been their talisman this season, he is sure to continue to impress which is why he is a sure candidate to score today. His odds are rather interesting as well. Betway has 3.01 odds while Bet9ja have 3.00.
Kelechi Iheanacho
Iheanacho has been the go to man for goals for Leicester City this season in the Europa League. With three goals and three assists this season he has been the star for Leicester City in this competition. They face Athens a side who have struggled in this season's competition and he is sure to find the back of the net against this shaky defence which is why he has tipped him to score. Betway has 1.73 odds while Bet9ja have 2.10.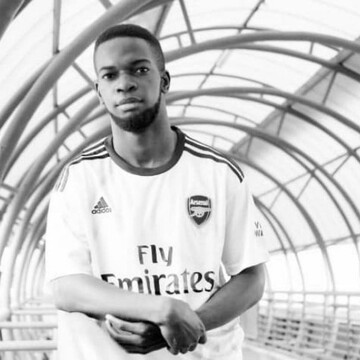 Football Lover. All-round junkie of the beautiful game. Could be found watching football most of the time. If not he's writing about them or making some punditry you don't agree with. A certain bias for Arsenal and Santos FC.