It was an exciting round of international fixtures in the just concluded break. Cristiano Ronaldo became the all-time international scorer while Lionel Messi broke the South American record much more recently. It is back to our favorite club action and which means another round of betting options to go with again. It gets even better that the Champions League resumes in few days and that means we are set for a lot of action in the coming weeks.
As club football resumes, we will follow suit as usual with the best daily tips and predictions to go with across today's action.
Straight Wins
Arsenal have had their worst start to the beginning of the season this campaign losing all three opening matches. Currently placed bottom of the league, a loss here today is certain that there would be darker days ahead as the stakes show that the manager's job is on the line. Arsenal have lost against recently promoted opposition already this season but won't want to repeat it. With the return of their injured players back to the team, we can see them taking the three points home. Bet9ja has 1.52 odds, Paripesa has 1.53 odds and 1xBet has 1.53 odds.
Tottenham have had a hat-trick of 1-0 wins in their opening three fixtures and this has seen them sit top of the League. Today, it's going to be an epic London derby as they prepare to face Crystal Palace at home, Tottenham has faced stronger opponents in Manchester City and won showing good fighting spirit in defense and with the return of Kane also we are sure to expect goals. Crystal Palace hasn't had the brightest starts too with just two points in three games we can say they haven't settled down under new manager Viera and we can say that Tottenham will take advantage of this and take home the win. Bet9ja has 1.94 odds, Paripesa has 1.98 odds and 1xBet has 1.98 odds.
Manchester United would be looking to continue their unbeaten run in the league as they face 17th placed Newcastle side that have just a point in their last three games. The Manchester United squad has been bolstered with the resignation of Legend Cristiano Ronaldo and we might see his debut in this game and we all know what to expect. Newcastle has the second-worst defense already conceding 8 goals which would mean a poor defense for United here to explore. With United winning their last three meetings in all competitions Newcastle does not look to stand a chance. Bet9ja has 1.18 odds, Paripesa has 1.24 odds and 1xBet has 1.24 odds.
PSG return to league action once again with their home game against Clermont in the league as they search for their fifth straight victory here today. Their record against newly-promoted sides has seen them win 15 in 15 home games against newly-promoted teams. Currently, opponents Clermont sit third on the table in their dream start to life in the Ligue 1 also having unbeaten run too. Recently playing draws in their 2 previous games this team doesn't have what it takes to stop a rioting PSG side. Bet9ja has 1.28 odds, Paripesa has 1.29 odds and 1xBet has 1.29 odds
Atalanta will be looking to be title challengers this campaign as they have solidified their elite status in their Serie A. A slip-up against Bologna might have not been what they expected from the match as they drew Bologna. This slow start with fewer goals than expected this campaign wouldn't bother us as Atlanta has been in the third-place spot for three straight seasons meaning they will surely bounce back. Fiorentina have a lot to settle at the back and with them lacking defensively, Atalanta would be sure to exploit that. Bet9ja has 1.56 odds, Bet365 has 1.60 odds and 1xBet has 1.60 odds.
Over 2.5 Goals
Chelsea and Aston Villa face off today with both sides looking to take all three points. Both teams have had an addition in their attacks with a lot of experience. With players coming back from the International break and some of them being rested we could see some action in front of the goal. Their last meetings of both sides have resulted in goals and with both teams scoring in all their three games this season they do not seem to lack anything up top. Bet9ja has 1.75 odds, Paripesa has 1.82 odds and 1xBet has 1.82 odds.
Niagelsmann would be facing his former side, RB Leipzig, here today for the first time as the new Bayern Munich head coach. Bayern Munich have scored four or more goals in their last four matches and Leipzig have been impressive also in front of the goal. Leipzig too would be looking to upset champions by grabbing at least a point away here and this could see them face off in a lone battle this season. Bet9ja has 1.42 odds, Paripesa has 1.48 odds and 1xBet has 1.48 odds.
Manchester City vs Leicester City has been the one to look at in recent seasons as both sides shave an impressive H2H record when it comes to scoring goals. The city has scored 10 goals in their previous 2 games after failing to score in their opening game against Tottenham. Leicester on the other hand returned to winning ways after a 2-1 win over Norwich just before the international break. Both teams have been on the score sheet in their previous outings and this looks to be another goal fest that could go either way. Bet9ja has 1.70 odds, Peripesa has 1.80 odds and 1xBet has 1.80 odds.
Ajax are just two points off the top of the league after three games and have nothing to worry about. Zwolle on the other hand are bottom of the league after suffering three losses and conceding four goals in those games. No goals in those matches would be bad for this side compared to Ajax who has scored eleven already this campaign, no defense is likely to stop them from scoring here today. We are assured of goals in this game as both sides wouldn't sit back here today. Bet9ja has 1.32 odds, Paripesa has 1.34 odds and 1xBet has 1.34 odds.
Manchester United have recorded seven goals already this campaign while they have conceded in two of their last three games. Newcastle might have a poor defensive record but are not shy to go on the attack as they have managed four goals and conceded eight. United was lucky to go away with a clean sheet against Wolves as their defense didn't look as solid as it should. Newcastle's poor defense will also be put to the test in today's fixture with United wanting to continue in the title race which is why we have selected them here today. Bet9ja has 1.38 odds, Paripesa has 1.41 odds and 1xBet has 1.41 odds.
Anytime Goalscorers

Greenwood
Mason has been unplayable since his impressive start to the season scoring in all three league games for the Reds as he is most likely to be on his way to break the record of goals scored by a teenager in the PL. He would have had time to rest during the break. The Newcastle defense is incapable of stopping the young Greenwood here today. Bet9ja has 2.75 odds while Paripesa has 2.05 odds.
Mbappe
The Frenchman didn't have the best of games in the internationals after failing to record any memorable performances for France. He would be looking to put it behind him as he returns for PSG here today. He has recorded three goals and two assists this League campaign and he is set to face a newly promoted side. He is sure to score here today to keep his place right in the squad. Bet9ja has 1.75 odds while Paripesa has 1.62 odds.
Haaland
Erling Haaland is still proving to everyone why he is one of the top-rated forwards in the world after he scored five goals in six starts for his country. He has impressed in the league too with three goals already this campaign for Dortmund, he hasn't relaxed. He is a consistent pick here for us as he has proven to be a good pick. Bet9ja has 1.57 odds while Paripesa has 1.80 odds.
Lewandoski
Scoring for his scoring and being vital to ensure their draw with England the Poland and Bayern Munich striker doesn't seem like he wants to slow down. He has recorded five goals already in the Bundesliga from three games. He is surely in superb form with recording seven goals in four matches already for Bayern Munich this season. He is one of our most positive picks here today. Bet9ja has 1.65 odds while Paripesa has 1.70 odds.
Kane
Harry Kane just resumed his campaign for Spurs a game before the break which saw him not get on the score sheet. After a very impressive time out with England and scoring 2 goals, it looks like he has returned to the player we know him as. There is no better way to open your account than in a derby, his record of five goals in Selhurst Park the home of Crystal Palace is a major reason for his pick here. This reason is enough for us to include him here today. Bet9ja has 2.30 odds while Paripesa has 1.91.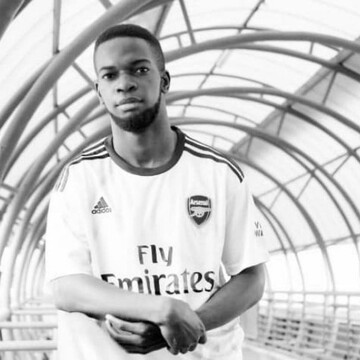 Football Lover. All-round junkie of the beautiful game. Could be found watching football most of the time. If not he's writing about them or making some punditry you don't agree with. A certain bias for Arsenal and Santos FC.