It was an interesting weekend of football and we saw some interesting results. The biggest piece of news was Cristiano Ronaldo bagging a goal on his second debut for Manchester United with a good poacher's instinct. Tottenham also suffered their first loss of the campaign in disappointing fashion.
An interesting season is upon us and we can't dare say how it'll turn out. However, we can make the best possible tips and predictions that will likely come through across today's action.
Straight Wins
Liverpool are among the teams in the PL with an unbeaten start and they would want to extend that here today if they want to challenge for the title this season. Leeds are their opponents today as it is always a joy to watch when these two sides meet. Leeds are currently without a win in the league showing their poor start to the season. With Liverpool having won seven out of their last eight PL matches, it is a good statistic to go by as we have chosen them here today. Bet9ja has 1.72 odds, Paripesa has 1.75 odds and 1xBet has 1.75 odds.
Lyon might have not had the best of starts to the season this term with just their first win in four games already. They will be seeking to turn things around as they face a Strasbourg side who are a point below them in the league. Strasbourg has a lot of defensive frailties to worry about as they have conceded at least a goal in 13 out of their last 14 outings in the League, with Lyon being the goal scoring side they are it is sure this frailty would be exploited today. Lyon need the win to extend the winning run and also start the challenge for places up top. Bet9ja has 1.53 odds, Paripesa has 1.568 odds and 1xBet has 1.56 odds.
Inter Milan have started their campaign with two consecutive wins by a margin of 2+ goals under new manager Inzaghi. Sampdoria on the other hand, have failed to register a goal this season in Serie A. This would play heavily on this selection as Inter Milan is a side that would surely find the back of the net. The goal on Inzaghi's mind is to make it three in three before their big CL clash against Real Madrid on Tuesday in what is going to be a cracker. Bet9ja has 1.66 odds, Paripesa has 1.67 odds and 1xBet has 1.67 odds.
Atletico have started the season impressively with 7 points already in three games. Their opponents, Espanyol, on the other hand have found it really difficult to score a goal this season with no goal in three games. Atletico current La Liga title holders are sure to make sure they try and extend the gap as everyone in the top six spots currently has the same number of points. With the return of Frenchman Griezmann on loan, it is safe to say they are now more of an attacking threat here today. Bet9ja has 1.90 odds, Paripesa has 1.94 odds and 1xBet has 1.94 odds
Top of the table but sharing the same number of points with the rest Real Madrid would be looking to stay ahead of the pack with a win here today. Real Madrid have always dominated matches like this as they have won the last eight home games against Celta in the LA Liga. Celta are currently 18th with just the lone league goal in the three previous games they clearly do not stand a chance against Real Madrid here today. Bet9ja has 1.37 odds, Paripesa has 1.38 odds and 1xBet has 1.38odds.
Over 2.5 Goals
The Leeds vs Liverpool fixture is back here again as we all know that both sides are among the teams with a lot of attacking talents in their squad. Both teams are sure to start the game on the front foot and we expect a large number of goals here today, there is a great chance that we will see goals on both ends of the pitch today with that happening in four of the last six encounters between these two teams. Both teams have also scored four of their last five outings. Bet9ja has 1.48 odds, Paripesa has 1.82 odds and 1xBet has 1.52 odds.
Off to the Serie A, we expect the over 2.5 goals selection to be scored here as well. Lazio with manager Sarri have been impressive in their previous games with the same as AC Milan. Both sides have conceded and have also scored superb goals in those games. Adequately rested attacking players on both ends could mean lots of goals as we have predicted. Bet9ja has 1.60 odds, Paripesa has 1.70 odds and 1xBet has 1.71 odds.
Roma have witnessed a really comfortable start under new manager Mourinho scoring seven goals in two League games and also scoring three in their Conference League qualification game. Sassuolo on the other hand have a bone to pick with Roma for edging them out of qualification to Europe last season. We can confidently say that both teams will likely score and produce the over 2.5 goals result. Bet9ja has 1.43 odds, Peripesa has 1.51 odds and 1xBet has 1.50 odds.
Real Madrid vs Celta Vigo has always produced goals for the home side with Real Madrid winning four out of their last five duels with a 2-goal difference. Celta have shown their defensive frailties this season and Ancelotti would be sure to exploit this weakness. It would be a close game but we are sure of the number of goals to come out here today. Also, Madrid return to their home stadium where they have two or more goals in their last nine home league games. They would be sure to keep the impressive record. Bet9ja has 1.48 odds, Paripesa has 1.52 odds and 1xBet has 1.52 odds.
The Eredivisie isn't shy to provide us with goals as we select the Waaljik vs Vitesse fixture. Both sides are just a point apart with just a win coming in their opening fixture and would be seeking to improve on their poor start to the season. We cannot accurately predict their scores but we are sure to see goals here. Judging by their previous meetings where it has been a goal-fest, they are the right pick for this selection here today. Bet9ja has 1.60 odds, Paripesa has 1.66 odds and 1xBet has 1.66 odds.
Anytime Goalscorers

Salah
The Egyptian is back and he would be ready to compete once again for the top scorer spot. He has been a regular goal scorer for this fixture in the recent seasons. With two goals already to his name this season, he is set to challenge for the golden boot this term. He would be looking to break the 100 goals mark in the Premier League and what a day to play against rivals Leeds. Bet9ja has 1.90 odds while Paripesa has 1.75 odds.
Lautaro Martinez
Returning from a good a goal and an assist in the internationals, he would be back to continue his goal scoring form in Serie A. He has registered a goal already which came from his only game against Verona that means he is a man in form this season. Looking to challenge for the Golden boot too this season in Serie A he has a proper striker upfront in Dzeko to help him do that and also score here today. Bet9ja has 2.40 odds while Paripesa has 2.25 odds.
Giroud
With a brace in their last game before the break, Giroud looks to be loving life in Serie A such performance has made him a top pick here today. With the Frenchman still the sole experienced striker leading the line for AC Milan, we are sure to see him record goals today. AC Milan are an attacking side and their opponents today would do little or nothing to contain him. Bet9ja has 1.57 odds while Paripesa has 1.80 odds.
Benzema
After leading Real Madrid in scoring last season in all competitions, Karim Benzema started the new season with a couple of goals in the first three games.. In any case, betting on Benzema to score is the safest option from Real Madrid, and the French striker has delivered many times last season in La Liga. He is one of our most positive picks here today. Bet9ja has 1.75 odds while Paripesa has 1.50 odds.
Tammy Abraham
Tammy Abraham was a big summer signing for Roma, tasked with replacing the constant flow of goals that Dzeko once provided. The young English striker worked with Mourinho at Chelsea and has looked very competent in the Premier League, so there are high hopes for Abraham in the Italian capital. He has already registered a goal and two assists and we are banking on him to add more today. Bet9ja has 2.25 odds while Paripesa has 2.02.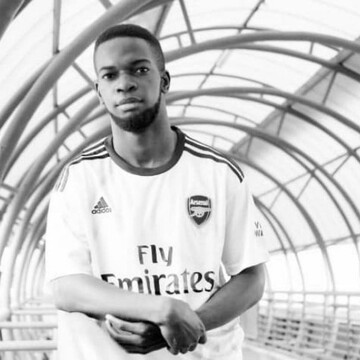 Football Lover. All-round junkie of the beautiful game. Could be found watching football most of the time. If not he's writing about them or making some punditry you don't agree with. A certain bias for Arsenal and Santos FC.