After what was a busy mid-week of football, there is more action coming our way this weekend. While the champions have been crowned already in most of Europe's top five leagues, there's still all to play for in the La Liga and as well as top four spots all over.
We are not left out of the above and we want to finish the season on a strong note, similar to how we started it. Without wasting much of our time, we bring you the best betting tips and predictions to go with from all of today's action.
Chelsea vs Leicester – FA Cup Final Betting Tips and Predictions
Straight Wins
The race for the EPL title might be over, likewise the relegation battle, but the top four race is still very much alive. For West Ham, they simply have to pick up every available point and hope for Chelsea to drop more points as they did in their last match against Arsenal that ended 1-0 in Arsenal's favor. If West Ham can seal a victory against Brighton & Hove Albion, they will find themselves just 3 points behind 4th placed Chelsea. Brighton on the other hand doesn't have much to lose as they are technically saved from relegation this season. West Ham will go all out to secure all three points against Brighton this weekend. Bet9ja has 2.40, bet365 2.30 has and 1xBet has 2.51.
Bayern Munich have already been crowned Bundesliga champion of the 2020/21 season and will simply be looking to cruise past Freiburg to accumulate points and end their season on a high note. Freiburg themselves don't have much to play for as they are not threatened by relegation possibility and are also out of any European competition race. Bayern Munich is most likely going to win this fixture. Bet9ja and bet365 have 1.30 and 1xBet has 1.33.
Atalanta might be out of the Serie A title race as Inter Milan has been crowned champions of the 2020/21 season but they still have a lot to play for if they want to retain their second position and secure a slot for next season's Champions League. They are currently sitting in the second position, having a joint 75 points with AC Milan who are 3rd on the log. They are closely followed by Napoli and Juventus who are on 73 and 72 points respectively. With two matches left, nothing is guaranteed yet unless Atalanta makes sure they win the rest of their matches. This is why there is a great possibility that they will do all that they can to achieve victory over Genoa this weekend. Bet9ja has 1.19, bet365 has 1.20 and 1xBet has 1.26
The encounter between Lazio and Roma can also be a determining factor to the Champions League race in the Serie A Lazio are currently on 67 points and unlike the rest, they have three more matches. Winning their outstanding will take them to 70 points and within reach of 4th placed Napoli with only 3 points gap. Roma, on the other hand, are out of both the Champions League and Europa League races. Lazio will capitalize on their hope for a top 4 finish to win Roma in this Serie A fixture. Bet9ja has 2.28, bet365 2.20 has and 1xBet has 2.28.

Over 2.5 goals
Union Berlin will be taking on Bayer Leverkusen with the hopes of reducing the point gap between them and thereby increasing their hope of stealing the Europa League slot from Leverkusen who are just five points above them with two matches to go. Leverkusen also will not sit back and watch Union Berlin pump them with goals. This fixture will have lots of goals in it. Bet9ja has 1.78, bet365 1.90 has and 1xBet has 1.89
Juventus will be going into their fixture against Inter Milan with their reputation on the line. Failure to win will increase their chances of not qualifying for next season's Champions League. Inter Milan are well known for their goal-scoring prowess this season, having scored 10 goals in their last three matches. There will be lots of goals in this encounter between the Serie A champions and Juventus. Bet9ja has 1.63, bet365 1.66 has and 1xBet has 1.71.
Having scored 13 goals in their last 4 outings, Atalanta players have proven that they are not shy in front of the goal and that they will score as many as they can get. Genoa likewise has scored at least 1 goal in each of their last 10 matches in all competitions. This fixture boasts to be a festival of goals. Bet9ja has 1.34, bet365 has 1.36 and 1xBet has 1.37.
Schalke taking on Eintracht Frankfurt is also a game that is likely to have lots of goals. In their last four matches, Schalke 04 have conceded a total of 11 goals, scoring only four. Similarly, Eintracht Frankfurt has conceded 11 goals also in their last five matches, scoring 6 goals in those matches. They both concede lots of goals and score when the opportunity presents itself. There will be lots of goal-scoring opportunities in this fixture and as such, lots of goals. Bet9ja has 1.28, bet365 has 1.30 and 1xBet has 1.31.
Anytime Goal-scorers
Lingard
Although the 28-year-old midfielder hasn't found himself on the scoring sheet in a couple of games now, he is likely to get a goal or two in their match against Brighton considering the circumstances surrounding the match and how important it is for West Ham to win the match. The Manchester United player who is currently having an enjoyable loan spell at West Ham will look to add more goals to the nine he already has so far. Bet9ja has 3.00, bet365 has 2.37 and 1xBet has 3.40.
Bamford
The Leeds United point-man had a very great start to his season, banging goals week in, week out but suffered a period of drought for a while afterward. Having scored in their last encounter against Liverpool in the match that ended in a 1-1 draw, we might hope that Patrick Bamford has finally found his goal-scoring charm again and will get at least a goal in their match against Burnley. Bet9ja has 2.50, bet365 2.10 has and 1xBet has 2.20.
Lewandowski
This goal-scoring machine doesn't seem like he is about to stop scoring anytime soon. He has already scored 38 goals in all competitions this season. Three of these goals coming from their last match in the Bundesliga. As impressive as his goal stats is this season, it is his lowest goal stats in the last seven seasons since he joined Bayern Munich. He will be looking to add more goals to his tally this season and this match against Freiburg will be a perfect chance for him. Bet9ja has 1.30, bet365 and 1xBet have 1.28.
Lukaku
Enjoying the form of his life in Inter Milan with the Serie A league title as evidence, Lukaku is a good bet for any time goal-scorer. He has scored 22 league goals this season, coming only second to Cristiano Ronaldo who has 28 goals. Romelu Lukaku has a total of 42 goals in all competitions and he is not about to stop scoring. This fixture will also determine the Serie A top scorer winner between him and Cristiano Ronaldo. Bet9ja has 2.30, bet365 has 2.25 and 1xBet has 2.40.
Andre Silva
Andre Silva has enjoyed a wonderful season so far in the Bundesliga and has been clinical in front of goal. With his 25 league goals, he is the joint second highest goal scorer in this season's Bundesliga. Tied with Dortmund's Halaand and coming behind only to Bayern Munich's Lewandowski. Andre Silva will strive to retain the second position by outscoring Halaand this season and this fixture presents him with that opportunity. Bet9ja has 1.47, bet365 and 1xBet have 1.28.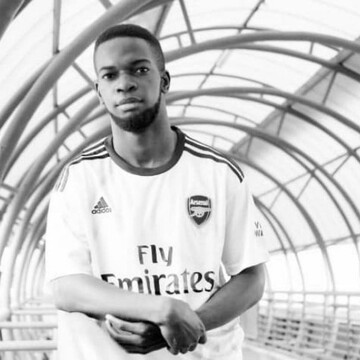 Football Lover. All-round junkie of the beautiful game. Could be found watching football most of the time. If not he's writing about them or making some punditry you don't agree with. A certain bias for Arsenal and Santos FC.