Yesterday was a bitter-sweet day at the office with some unexpected result coming to play. In our straight wins picks, only Real Madrid gave us the victory as Udinese and Manchester City played out to draws. It was worse for Chelsea who suffered their second consecutive defeat in the Premier League.
There was a 100% success rate in the goal market as all our picks played out correctly. In the goal-scorer section, Benzema scored twice and Giroud scored for Chelsea too. Meaning only Raheem Sterling failed to hit the mark.
Today is another day and there are even more interesting games to work with for a better success rate this time around.
Featured Match: Liverpool vs Tottenham Prediction
Christmas will come early for Premier League fans when the champions host the leaders in a mouth-watering midweek showdown as Liverpool welcome Tottenham Hotspur to Anfield on Wednesday night.
The two sides are separated by only goal difference heading into the contest, but both will be looking to bounce back from underwhelming 1-1 draws at the weekend.
The scene could hardly be set more enticingly for this Christmas cracker of a fixture as the league's top two sides go head to head under the Anfield lights while level on points.
Liverpool and Spurs have an identical record of seven wins, four draws and one defeat so far this season, and also have identical form of two home wins and two away draws from their last four league games.
Wednesday's contest also pits the league's best attack against the league's best defence, and the best home form against one of the best away records in the division this season.
There are plenty of perfectly-poised elements to this game, then, but despite being so well matched in so many areas, it is Liverpool who will go into it as favourites due largely to their home form.
Comfortable victories over Leicester City and Wolverhampton Wanderers in their last two league games at Anfield mean that they have now won 31 of their last 32 such outings, taking a staggering 94 points from the 96 on offer in that time, and scoring 93 goals too.
The unbeaten run now stretches back to 65 games, although on Wednesday they will face a Tottenham Hotspur side full of confidence that they could be the team to end that run.
Over 2.5 Goals
With a good number of attacking talent on display for both sides, it needs no explanation why we think this game could bring a good number of goals. Spurs also boast the most in-form duo at the moment in Kane and Son. Salah and Mane can also come up with brilliance of their own like we know. It is a game that could well see a lot of goals. Betway has 1.64 odds, Bet9ja has 1.62 odds and 1xbet have 1.70 odds.
Both teams to score
For the same reason above, we expect both sides to have a go at each other. More-so, the winner of this fixture goes top of the league and it's why we feel both teams will give their best from the onset which could translate to goals at both ends. Betway has 1.62 odds, Bet9ja has 1.56 odds and 1xbet have 1.68 odds.
Straight Wins
PSG are now looking at a very bad run of form in the league this season having picked up just 4 points in their last 4 games. This saw them drop from the top of the table to third in recent weeks, the tie against Lorient could not have come at a better time. Lorient are level on points with the team in the relegation zone just edging out on goal difference. This match against Lorient should be a walk in the park for PSG, this would be a good game to get the win and boost team morale. Bet9ja has 1.16, Betway has 1.18 and 1xbet have 1.20 odds.
Lille are top of the French Ligue 1 table and looks to continue their run of form of four games unbeaten in the league. They face Dijon today who are bottom in the league with just one win all season this campaign. Dijon has a very poor defensive record and is set to face a Lille side who look to extend their top of the table status today. It is a pretty sure win for Lille today hence the tip for the win. Bet9ja has 1.52, Betway has 1.51 and 1xbet have 1.55odds.
AC Milan is currently top of the Serie A table after eleven games this season. Their present opponents Genoa are currently sitting 19th in the league and don't look like much of a challenge. AC Milan wants to put distance between them and town rivals inter and they can do that today. Which is why we have them tipped for the win, Bet9ja have 1.44, Betway has 1.44 and 1xbet have 1.47 odds.
Bayern is coming off the back of successive draws in the league before their game against Wolfsburg today. These draws have seen Bayern slip to second place in the standings behind an impressive Leverkusen side. Wolfsburg might look a tough opponent but Bayern would need this win to see them fight for their league crown this season. They are sure to bounce back to winning ways. Bet9ja has 1.36, Betway has 1.37 and 1xbet have 1.37 odds.
Finally, current leaders in the German Bundesliga Leverkusen play a fixture against Fc Koln today. Koln are dangerously close to a relegation battle this season and are not looking good on both ends of the pitch this season. Leverkusen has taken the opportunity to take the top spot in the League and are looking to stay there with a win today. Bet9ja have 1.70, Betway has 1.71 and 1xbet have 1.75 odds.

Over 2.5 Goals
Barcelona had to fight the last time out to score a winner against a stubborn Levante side last time out. Lionel Messi was up to the rescue with a superb strike. This match today is against Real Sociedad who are current league leaders and would be looking for a win too. This matchup is expected to be an open one as both sides would be looking for goals to secure the win Bet9ja have 1.48, Betway has 1.51 and 1xbet have 1.51 odds.
Juventus continue the winning form in the Serie A after a massive win against Genoa last weekend. They take on free-scoring Atlanta side today in a very interesting matchup. Both sides are averaging up to two goals per game which is a very important statistic to consider when tipping them here. Bet9ja have 1.70, Betway has 1.73 and 1xbet have 1.79 odds.
PSG face Lorient who has one of the worst defensive records in the French league this season. The importance of this fixture in the title race for PSG is enough to guarantee goals in this game. PSG would be desperate to win this game and do so emphatically which is why we have tipped them to score more than 2 goals in the game. Bet9ja have 1.30, Betway has 1.31 and 1xbet have 1.32 odds.
RB Leipzig plays against Hoffenheim today, this fixture would be interesting as Hoffenheim are poor defensively and Leipzig are great going forward this season. Leipzig is level on points with Bayern Munich and would be looking to continue that or climb over if possible, this, in turn, breeds the urgency for lots of goals. Betway has 1.40 odds, Bet9ja have 1.37 and 1xbet have 1.49.
Inter Milan after an impressive goal-scoring weekend face off against Napoli today. They are both sitting second and third respectively in the league currently, with both of them also being the best goalscoring sides in the league this season. They both have the capacity to score goals and also let in goals which attributed to our decision today. Betway has 1.71 odds, Bet9ja have 1.68 and 1xbet have 1.77.
Anytime Goal-scorer
Romelu Lukaku
Lukakuhas been the talisman this season with 9 goals already he is one of the league's top scorers. He would be looking to add to his tally which is why we tipped him to score. Betway has 2.18 odds while Bet9ja have 2.25.
Cristiano Ronaldo
Coming off the back of two goals again during the weekend he can't just seem to stop scoring. Once again, he is proving to be influential to Juve's season and would be looking to lead his side to another win, which is why he has tipped him to score. Betway has 1.84 odds while Bet9ja have 1.90.
Son Heung-Min
Son is currently one of the top scorers in the league this season with 10 goals already, although he didn't score the last time out, he gave an assist to partner Harry Kane and he looks likely to score against Liverpool today. His odds are rather interesting as well. Betway has 3.19 odds while Bet9ja have 3.25.
Calvert-Lewin
The Toffees man was influential in their win against Chelsea last time out. Winning the penalty which saw the only goal of that fixture, he would be facing Leicester City today a side who seem to struggle defensively a bit and this would be a good time to add to his goal tally. Betway has 2.43 odds while Bet9ja have 2.50.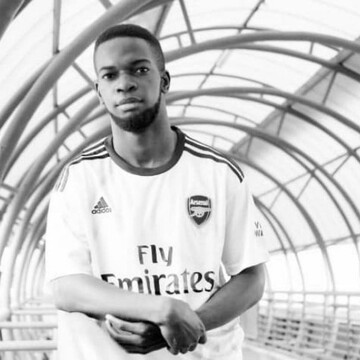 Football Lover. All-round junkie of the beautiful game. Could be found watching football most of the time. If not he's writing about them or making some punditry you don't agree with. A certain bias for Arsenal and Santos FC.