We had yet another decent run with our tips last time out and we'll be aiming to do even better today. It's been an enjoyable run of league action so far and our tips have been coming along with a rather impressive win-rate.
Games after the international break could come as tricky and we've done due diligence to make tips easier for you. Without much ado, here are the most likely betting tips and predictions to go with from today's action.
Straight Wins
Today in the Premier League, Tottenham will go into this match against Newcastle looking for consecutive wins after a 2-1 win against Aston Villa in their previous outing. Tottenham Hotspur have seen success in front of goal of late, having scored 12 times in their last six matches. Having said that, Tottenham Hotspur remains unbeaten by Newcastle United in away games against them for the last 4 league matches. An impressive run is likely to continue here today. Bet9ja has 2.12 odds, Paripesa has 2.14 odds and 1xBet has 2.14 odds.
OG nice are the favorites here today as they return to Ligue 1 action against Troyes away from home. Nice will head into this tie with back-to-back wins over St Etienne (3-0) and Brest (2-1), and given the number of absentees in the home team, an away win should be considered. With the better head-to-head record going to Nice, it is safe to say they are the likely winners. Troyes are in the danger zone with no wins in their previous two games. Sadly, there isn't any likelihood of a turn of fortunes here today. Bet9ja has 1.87 odds, Paripesa has 1.91 odds and 1xBet has 1.91 odds.
After being beaten in their last game against Eintracht Frankfurt in Bundesliga 1 competition, Bayern Munich and their traveling fans will hope for a better result here. The odds are in the favor of Bayern Munich as they have not lost to Leverkusen in an away game in the past two seasons and also have not been defeated in their previous four league matches away from home. These stats are really impressive and considering that they have been in good form all season we are assured of a bounce-back in this game. Bet9ja has 1.60 odds, Paripesa has 1.61 odds and 1xBet has 1.61 odds.
Napoli have now recorded seven wins in seven making them the only team with a perfect record in Europe's top five leagues. Napoli hasn't lost against opponents Torino since 2015and it doesn't look like a surprise would happen with the form Napoli is in right now. Napoli secured a 2-0 win against Torino when the duo last locked horns in April, and we're backing the hosts to run out winners once again this weekend. Bet9ja has 1.44 odds, Paripesa has 1.47 odds and 1xBet has 1.47 odds
The loss of Messi for Barcelona has come with ups and downs for the club as they haven't reached certain heights this season in terms of good results. Valencia, on the other hand, are on a four-game winless run in La Liga, meaning that Barca will not have a better chance than this to return to winning ways. Valencia have a generally very poor record in away matches, they suffered 10 defeats in the previous 15 games as a guest. This would be a tough ask for this Barca side but with the addition of previously injured players now in the squad, they can surely win this. Bet9ja has 1.56 odds, Paripesa has 1.54 odds and 1xBet has 1.54 odds.
Over 2.5 Goals
The last five encounters between Everton and West Ham have not produced this amount of goals as it has been a low-scoring affair. Both sides currently are the big clubs outside the traditional top 6 this season with important wins and lots of goals scored between them this season. Today, they face off on different terms as both would not want to sit back here today. With both of them going for the win here today a goal-fest is to be expected. Bet9ja has 1.84 odds, Paripesa has 1.92 odds and 1xBet has 1.92 odds.
The Bayern vs Leverkusen game is undoubtedly going to produce goals as their most recent head-to-head meetings going back to 02/02/2019 shows us that there have been goals galore in those games, with 24 overall which averages out at 4 goals per match. It looks to us that Bayern Munich will most probably get a lot of shots on goal and make them count. Over 2.5 goals have been scored in five of the host's and each of the visitor's last six outings, and both teams have scored in three of Leverkusen's and Bayern's last six matches. We're backing that to come through once again today. Bet9ja has 1.28 odds, Paripesa has 1.28 odds and 1xBet has 1.28 odds.
The winner of the Juventus vs Roma fixture would be a tough one to call as both sides have had decent performances throughout this season. That being said At least three goals have been scored in four of the last five encounters between these two clubs in league and cup, and we're expecting another action-packed 90-minutes between the pair this Sunday. Over 2.5 goals have also been scored in three of Juventus' and four of Roma's last six outings in all competitions. We're not expecting to see a single clean sheet at the final whistle as that has been the case in four of the last five head-to-heads between Juve and Roma. Bet9ja has 1.66 odds, Paripesa has 1.74 odds and 1xBet has 1.74 odds.
Just 2 points and two places separate these two clubs in the Serie A table as Atalanta and Empoli take each other on here today. Both sides have been woeful in their defense with Empoli having just the single clean sheet in their recent five matches, while Atalanta hasn't done any better. Both sides are sure to exploit this weakness and in turn score goals here today. No clear winner can be selected but we expect a mouthwatering goal affair. Bet9ja has 1.64 odds, Paripesa has 1.72 odds and 1xBet has 1.72 odds.
Montpellier and Lens square off against each other at Stade de la Mosson in what is expected to be one of the most exciting games of Sunday's program. Montpellier failed to win the previous four league fixtures, but it has to be noted that they are undefeated in the previous four games at home ground. Lens, on the other hand, continue where they left the last term, with the team sitting in the second position in the standings ahead of the trip to Montpellier. The Yellow-Reds are likely to stick to their attacking style of play. Bet9ja has 1.64 odds, Paripesa has 1.73 odds and 1xBet has 1.73 odds.
Anytime Goalscorers
Lewandowski
The Polish striker is undeniably the most informed in Europe currently with 13 goals recorded already this season in his 10 games.  Bayern Leverkusen will have no answer to Lewandowski as he has brushed past their defense more times than we can count. After failing to score for two consecutive games this is surely the one to get him back on the scoreboard again. Bet9ja has 1.55 odds while Paripesa has 1.44 odds.
Kane
Harry Kane hasn't hit the mark this season in the Premier League. This is a very odd outcome as he is always at the top of the goals list right from the start. He should have rested and will be back in the game today against a Newcastle side he is familiar with. As five of Harry Kane's six PL goals for Tottenham against Newcastle have come at St James' Park, seeing that this is an away game for the England striker this is a wise choice. We're backing the veteran forward to get on the scoreboard against Leicester City. Bet9ja has 2.10 odds while Paripesa has 1.91 odds.
Richarlison
The Brazilian should be back just in time for the match against West Ham United after missing the last three league games due to injury. He was a very instrumental player for this Everton side before the injury and with him back there is an assurance of goals from him and other contributions. The International break came at the right time as he will be duly rested before this game. Bet9ja has 3.50 odds while Paripesa has 3.0 odds.
Antonio
Michail Antonia has scored more goals in the league this season than any other West Ham or Everton player and we're backing the Jamaican international to get on the scoreboard once against this weekend. Antonio has been at the forefront of everything that has gone right for the Hammers this season and they missed their talisman for the three games in which he was suspended but he returned with a goal and will be a threat to Everton on Sunday. Bet9ja has 3.10 odds while Paripesa has 2.62.
Osimhen
The Nigerian has shown his massive talent for his club this season with seven goals already in eight matches he is Napoli's best bet to score goals this season. During the break, he bagged a goal also for his country showing his undeniable form and need to score goals this season. Today, Torino has a very poor defense which has conceded three goals in their last three fixtures before the break. We should also add that Osimhen was on the scoreboard the last time these two sides met. Bet9ja has 2.15 odds while Paripesa has 1.83 odds.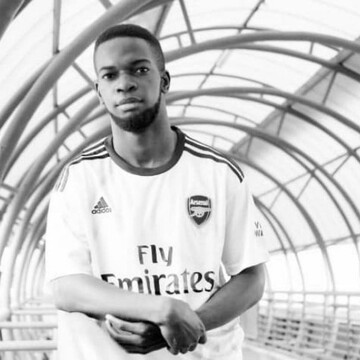 Football Lover. All-round junkie of the beautiful game. Could be found watching football most of the time. If not he's writing about them or making some punditry you don't agree with. A certain bias for Arsenal and Santos FC.