The final round of the Europa League round of 16 fixtures will be played today and the competition will finally take shape. Following today, we'll be left with the last eight and the remaining teams can start to think about the trophy.
Before all of that, we have games lying in wait and we'll be doing justice to them just as always.
AC Milan vs Manchester United Betting Tips and Prediction
Straight Wins
Spurs will be aiming for a return to winning ways after their north London derby loss. They return to Europa League action t after winning the first leg by two goals at home. Dinamo Zagreb didn't show any fight in that fixture hence the disappointing loss. Today, the return leg would be played and Tottenham are expected to do the double over their Croatian opponents. Bet9ja has 2.00 odds, Bet365 has 2.00 odds and 1xBet has 2.08 odds.
Arsenal would be buzzing after their derby win at the Emirates. They left it late in the first leg which saw them bag three away goals. The Gunners come into this game in good form and are expected to record yet another win. Bet9ja has 1.42 odds, Bet365 has 1.40 odds and 1xBet has 1.43 odds.
Ajax have been inspiring yet again this season. With their current run of form, they are one of the top favourites to win this competition. Their last loss in all competitions came against Atlanta in the UCL a long time ago. They already saw off Young Boys in the first leg by three goals un-replied. A similar outcome today from last week is what is expected as Ajax are not the team to back down. Bet9ja has 2.13 odds, Bet365 has 2.10 odds and 1xBet has 2.20 odds.
Villareal have shocked everyone in this competition with their unbeaten run on continental front this season. The return against Dynamo Kyiv would see the Spanish side have the home advantage and also the two away goals. Villareal won their league outing against Elche also meaning higher confidence going into this match today. We expect them to win today as well. Bet9ja has 1.57 odds, Bet365 has 1.55 odds and 1xBet has 1.59 odds.
Over 2.5 Goals
Ajax rewarded our selection from last week by scoring the number of goals predicted. Today, we expect to see a repeat of the last match that saw Ajax bag three goals. Young boys would be looking to win so we would see a very interesting fixture. Bet9ja has 1.50 odds, Bet365 has 1.53 odds and 1xBet has 1.60 odds.
Although we selected Spurs last week, they didn't provide the returns expected after just falling a goal short. Tottenham would want to recover their confidence with a win here and this would require goals. Elsewhere, Dynamo Zagreb would still believe they have a chance to snatch the win and that could make for an entertaining game. Bet9ja has 1.84 odds, Bet365 has 1.90 odds and 1xBet has 1.94 odds.
The AC Milan vs Manchester United fixture had everything from a VAR disallowed goal to a late drama which saw the tie draw level. However, it didn't produce the number of goals we expected. But the stakes here today are high for both teams as they are looking to qualify in what many call a close tie. Both teams are expected to at least score a goal to guarantee qualification for the next round and this plays well into our hands for this pick. Bet9ja has 1.87 odds, Bet365 has 1.90 odds and 1xBet has 1.96 odds.
Molde and Granada were selected also last time out and failed to repay our selection by just scoring a goal less. Although Granada won the tie, this might have been due to Molde going a man down before the end of the match. Molde would be looking to still qualify as there is still a chance for a turnover of events. This would mean goals could pour in as we have predicted today. Bet9ja has 1.88 odds, Bet365 has 1.90 odds and 1xBet has 2.01 odds.
Anytime Goalscorers
Harry Kane
After drawing blanks in the NLD on Sunday, he would be eager to get back in the goals. Last time out, he was uncharacteristically quiet but you can count on him to return to doing what he knows how to do best. Bet9ja have 2.00 odds while Bet365 have 1.72.
Rashford
The absence of the Englishman in the first leg was felt by United as they were lacking in the goal-scoring department. His return would provide the needed boost for the team as they look to secure the win today. He is a player for the big occasion which is why we have him selected here today. Bet9ja have 3.50 odds while Bet365 have 2.75.
Aubameyang
An inspiring Aubameyang led his side to a very important win for the team last time out. He didn't get on the scoreboard but his impact was felt by the squad as he led the line impressively. He would be a starter here today again and he is the one likely to score for this Arsenal side finding their groove in recent game weeks. Bet9ja have 1.85 odds while Bet365 have 1.66.
Tadic
Tadic has scored in the last two selections here and he looks to be the prime pick in his squad each time Ajax plays. The 32-year old has consecutive goals already and we don't see him slowing down anytime soon for his side. Bet9ja have 2.40 odds while Bet365 have 2.30.
Pellegrini
The Roma player has seen his importance grow after a string of impressive performances and goals for the Roma team. His most recent goal came against Shaktar Donetsk in the first leg of this fixture. He scored in their three-nil demolition of the Russian side last week and he would be instrumental once again. He would lead the line today and he is sure to get something out of this game. Bet9ja have 4.50 odds while Bet365 have 4.50.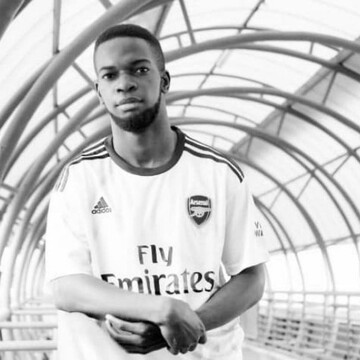 Football Lover. All-round junkie of the beautiful game. Could be found watching football most of the time. If not he's writing about them or making some punditry you don't agree with. A certain bias for Arsenal and Santos FC.