Away from the Champions League games, we're back to the second leg of the Europa League round of 32 fixtures. A lot could be at stake for some sides, with teams surely set to bow out of the compettion.
Expect goals, comebacks and lots of drama as some of Europe's heavyweights battle it out for glory as well. Just as we normally do, we'll be giving you the likely tips to come through for the day. like we always do.
Straight Wins
Manchester United return to finish the impressive job done in the first leg of their Europa League tie against Real Sociedad. Scoring four goals away from home means the Red Devils have all but advanced to the round of 16. The factor of the home advantage comes into play today and we don't see the Spanish side making a rare comeback. A win for United here would give them the needed boost ahead of the massive weekend clash away to Chelsea. Bet9ja has 2.02, Bet365 have 1.95 and 1xbet have 2.01 odds.
Arsenal face a daunting task ahead as they need a win to qualify for the next round of games in the competition. A one-all draw last time out wasn't exactly what they wanted but the away goal would be a big influence in this tie as they face Benfica at home. Arsenal would be looking for the win here today and they are looking a better side than Benfica. Bet9ja has 1.82, Bet365 have 1.75 and 1xbet have 1.84 odds.
Leicester would be disappointed with the draw last week despite number of chances created in the game. The tie would be played at home as the second leg would determine who goes to the next round. Leicester have seen off big sides in recent weeks in the Premier League we expect them to go and take the win today. Bet9ja have 1.60, Bet365 have 1.53 and 1xbet have 1.57 odds.
Roma were the clear favorites when this matchup was cast and they have proven that to be true. The first leg saw Braga lose by two goals and also pick up a red card which would have provided a dent in their game-plan ahead of today. Roma are currently fourth in the Serie and have looked a strong side in recent weeks. They have a 2-goal advantage which are also away goals to help boost their chances of winning this one. Bet9ja has 1.58, Bet365 have 1.57 and 1xbet have 1.57 odds.
Villareal have already secured the tie halfway by scoring 2 goals away from home last week. The match wasn't without thrills but Villareal was clearly the better side as they saw off opponents Salzburg. Villlareal would be aiming to get the job done today. It might not be clear as day but the home side have what it takes to take another win. Bet9ja has 1.96, Bet365 have 1.90 and 1xbet have 2.02 odds.
Over 2.5 Goals
The Ajax vs Lille matchup produced the right number of goals we predicted the last time out and we are going with that today again. The last game saw Ajax edge Lille by a single goal which might be important in their bid to go ahead in the competition. Lille also would be looking to secure the win at all cost and by more than a goal too which means we are in for a potential cracker finish today. Bet9ja have 1.70, Bet365 have 1.72 and 1xbet have 1.80 odds.
Napoli and Granada face off again in what would be a very interesting game. Granada has the upper hand with a 2-goal lead from their last game. Napoli would be looking to overcome the deficit in their bid for a longer run in the competition this season. Both sides have lots of attacking talent and it would be decided today to provide the winner. Bet9ja have 1.64, Bet365 have 1.66 and 1xbet have 1.73 odds.
AC Milan were quite lucky to come out with a draw last week against the surprising Red Star side. The match ended in a two-goal draw which worked in our favour in terms of our predictions. We might see more goals again today from both sides as they are looking for the win to progress into the next stage. Bet9ja has 1.64, Bet365 have 1.66 and 1xbet have 1.73 odds.
Bayer Leverkusen and Young Boys were the stars of this trip last week with a 7-goal thriller. Young boys won the match with a goal better but it doesn't mean the tie has ended as both sides meet again today. With Leverkusen having three away goals and Young Boys also looking to keep their win, this could turn out to be a high stake match with lots of goals involved. Bet9ja have 1.44 Bet365 have 1.44 and 1xbet have 1.45 odds.
Anytime Goal-scorer
Aubameyang
Arsenal's main man in front would be leading the line once again today as they intend to pass this stage. The draw last time out wasn't the result they wanted but they scored a crucial away goal which might come in handy. He would be looking to score the goals that take them ahead as he is in decent form and he has a lot of players to create the chances for him. Bet9ja have 2.25 odds while Bet365 have 1.90.
Vardy
He wasn't at his best in the last fixture which brought about the goalless draw in the match. He was rested and he would be fit and looking to take his team to the next stage also. He has been inspirational in the League this season and he can repeat that today. Bet9ja have 1.85 odds while Bet365 have 1.72.
Ibrahimovic
The 'Beast' Zlatan failed to score in the last game against this opponent but he would be looking to end that. Surprisingly, he hasn't scored in this season's competition yet and the team would need him to emulate his goal-scoring form in the league here today. He is sure not to ghost in big games and he is likely to score and lead AC Milan to the next round. Bet9ja have 1.85 odds while Bet365 have 1.66 odds.
Rashford
Manchester United seem to have qualified for the next round with an insurmountable lead for opponent Real Sociedad today after their 4-1 loss to United. Rashford who is on an impressive form would make an appearance today and he could be a sure candidate to score today among the front three selected. Bet9ja have 1.95 odds while Bet365 have 1.90.
Tadic
He has the most goals for Ajax in the league currently and he has already registered a goal in scoring the equalizer against Lille that led to their impressive win. He would be a vital part of the team if they look to go home with the win today. He is likely to score today and he would relish the spotlight as he leads the Ajax team. Bet9ja have 2.50 odds while Bet365 have 2.30.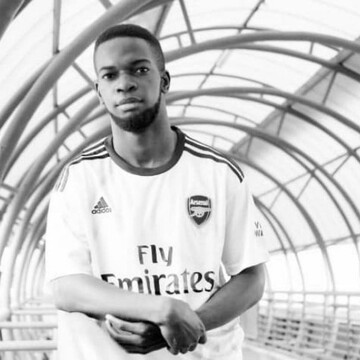 Football Lover. All-round junkie of the beautiful game. Could be found watching football most of the time. If not he's writing about them or making some punditry you don't agree with. A certain bias for Arsenal and Santos FC.