We had yet another decent run with our tips last time out and we'll be aiming to do even better today. It's been an enjoyable run of league action so far and our tips have been coming along with a rather impressive win-rate.
Ahead of the games in midweek, we'll aim to do even better today and keep up with our current impressive form as we bring you the most likely tips and betting predictions to come through across action from Europe's top five leagues.
Straight wins
Juventus to beat Sampdoria

Struggling Juventus are starting to look like they have found their feet again as they have gone 3 matches in all competitions without losing. Although, their last victory saw them come from behind after trailing to Spezia for the major part of the match. Eventually, they were able to clinch a 3-2 away victory and considering their recent predicaments, that's considered a major win. The victory against Spezia will also leave their morale supercharged as they go out against Sampdoria. Nothing short of victory is expected. Bet9ja has 1.36, 1xBet has 1.37 and Paripesa has 1.37.

Napoli to beat Cagliari
The Naples have certainly looked unstoppable so far in this season's Serie A campaign. They have won each and all of their matches thus far and if anyone is expected to stop this moving train of theirs, it's most certainly not a Cagliari side that are yet to record a single win in the Serie A this season. They have only managed to secure two points out of a possible 15, therefore sitting at the bottom of the table with only Salernitana behind them. Bet9ja has 1.25, 1xBet has 1.29, and Paripesa has 1.29.
Barca to beat Levante
Barcelona are yet to record a single victory in September and their run of poor form has them sitting 7th on the league table after five matches played. One more loss or draw will see them go down even further and we are positive they would want to prevent this from happening. Seeing as they would be facing Levante who hasn't won a single game of this season, victory looks likely for the Catalans. Bet9ja has 1.43, 1xBet has 1.48, and Paripesa has 1.48.
Real Sociedad to beat Elche
Real Sociedad started their season with a loss against Barcelona but ever since then, they have picked up momentum and have been playing excellently well. They have been unbeaten since their second game and have won four out of their six matches, drawing two and losing none. Their next outing will be against an Elche side that has suffered more defeats than wins and boasts of more draws than both loss and defeat. If Real Sociedad keeps up their form, which we certainly expect them to, beating Elche shouldn't be something too hard for them to do. Bet9ja has 1.42, 1xBet has 1.45, and Paripesa has 1.45.
Over 2.5 goals
Lazio vs Roma
Each match Roma has played this season in all competitions has ended with a high number of goals except the last one against Udinese. It is understandable because Udinese is not a high-scoring side. Lazio on the other hand is also capable of scoring goals in matches. We envisage both sides pumping as many goals as they can in this fixture. Bet9ja has 1.68, 1xBet has 1.78, and Paripesa has 1.77.
Arsenal vs Tottenham
We are finally going to be enjoying the first leg of the ever-entertaining North London derby. It's no news that this match always has lots of surprises and entertainment in stock. This is coupled with the fact that in Arsenal's last five games across all competitions, three have ended in a score line of at least 3 goals. Tottenham, likewise in their last five games, four have ended with a result of three or more goals. We are more than positive that if both teams bring their A-Games, this fixture will have lots of goals in it. Bet9ja has 1.98, 1xBet has 2.10, and Paripesa has 2.09.

Napoli vs Cagliari
In Napoli's last five matches across all competitions, each game has ended as a result of three or more goals. Similarly, Cagliari has had at least a score line of at least three goals in four out of their last five matches. Having seen these stats, it's only logical to expect goals to storm everywhere in this coming fixture between both clubs. Bet9ja has 1.48, 1xBet has 1.50 and Paripesa has 1.49.
Marseille vs Lens
This is a match to look out for because both teams have been playing decently so far in the Ligue 1 this season. With Marseille and Lens sitting 2nd and 4th in the league table, this match will be considered a top four battle. Also going by their last five meetings together, there have been three occasions where there were three or more goals scored. All of these point towards a decent number of goals today. Bet9ja has 1.82, 1xBet has 1.94, and Paripesa has 1.93.
Barcelona vs Levante
As we expect Barcelona to go back to their winning ways, we also expect them to get back to scoring ways. We are convinced that their last match must have made them feel like they have been hit a wall and would be looking to devour anyone that comes in sight. Levante are the perfect scapegoats for this. Bet9ja has 1.44, 1xBet has 1.49, and Paripesa has 1.48.
Anytime Goalscorers
Depay
Depay started the first couple of matches of the season on a high. Scoring goals for both club and country in the last international break but ever since the international break, he hasn't been able to find his scoring mojo. This can be partially blamed on Barcelona's poor form. While equally, Barcelona's poor form can be blamed on Depay not scoring. Whichever way it is, we believe it's time to turn both tides around. Bet9ja has 1.85, 1xBet has 1.83, and Paripesa has 1.83.
Osimhen
Victor Osimhen is back to his scoring ways after scoring his first goal of the season in their Europa League fixture against Leicester City. He went in to score another goal in that same match to complete his brace. After that, it has been goals after goals for the Nigerian striker. He has now scored five goals in his last three matches and we hope he will be adding to the tally in this coming fixture. Bet9ja has 1.80, 1xBet has 1.61, and Paripesa has 1.61.
Aubameyang
After what looked like a forever run of poor form for the Gabonese and Arsenal striker, he is finally back to scoring goals. He has done so now in two of their last 2 EPL matches, having scored both lone goals that have helped Arsenal clinched their first two victories in the EPL this season. Hopefully, he doesn't stop scoring anytime soon. Bet9ja has 2.75, 1xBet has 2.45, and Paripesa has 2.45.
Kane
Harry Kane has been quiet in front of goal this season and that's certainly unlike him. However, we believe he has found his goal-scoring trick again as he found the net twice in Tottenham's EFL fixture against Wolves. Also, Harry Kane loves scoring goals when it comes to London derbies. He most likely might have himself on the score sheet in this fixture. Bet9ja has 2.75, 1xBet has 2.40, and Paripesa has 2.40.
Dybala
Paulo Dybala hasn't had the best start in this 2021/22 season. Especially as he was expected to turn up for Juventus this season after Cristiano Ronaldo's exit from the club. However, we still believe he will be able to find his feet soon and hit the scoring ways. Bet9ja has 2.10, 1xBet has 1.83, and Paripesa has 1.83.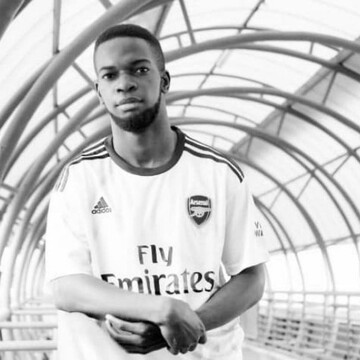 Football Lover. All-round junkie of the beautiful game. Could be found watching football most of the time. If not he's writing about them or making some punditry you don't agree with. A certain bias for Arsenal and Santos FC.