The weekend continues in full swing and yesterday was a roller-coaster, with lots of 'super games' all across. There's more action once again today and we carry on with the order of the day as usual. We've been on a decent run so far this season and we continue with the best betting tips and daily football predictions to go with as always.
Straight wins
Tottenham to beat Watford
Tottenham are off to a fine start in this season of the English Premier League, having recorded 2 victories in 2 matches. Despite the struggles and speculation surrounding their talisman, they have managed to stay afloat and now that he has fully committed to them, it will surely get even better and this starts with their next match against a Watford who has only managed to win 1 of their 2 matches with a slight victory of 3-2 over Aston Villa and a 2-0 loss to Brighton. Bet9ja has 1.44 odds, Bet365 has 1.45, and Paripesa has 1.45.
Manchester United  to beat Wolves
Manchester United who started the season with an overwhelming victory of 5-1 over Leeds were surprisingly held to a draw in their following match against Southampton. The match served as a reality check for them and their fans, as they will now look to avoid complacency in this match against Wolves. Wolves have been at the receiving end of 1-0 defeat twice in a row now and it's not likely that they will turn their form over against Manchester United. Bet9ja has 1.78 odds, Bet365 has 1.79, and Paripesa has 1.83.
PSG to beat Reims
PSG are on 3 games winning streak so far and are even yet to feature their newly acquired jewel… Lionel Messi. He will be having his debut in this match against Reims who have struggled for the beginning of this 2020/2021 Ligue 1 season. They have only managed to get 3 points out of a possible 9, having played a draw in all of their matches. It's less probable that they have the resources to hold this moving train; PSG to a draw.  Bet9ja has 1.21 odds, Bet365 has 1.21, and Paripesa has 1.24.
Napoli to beat Genoa
Napoli started their season with a sensational 2-0 win over Venezia and they have gathered the momentum and required morale to contend for the title over their preseason games. They will be facing Genoa in their next match, a side who suffered an overwhelming 4-0 defeat at the hands of the defending champions…Inter Millan. Napoli have all the boxes ticked as favourites and they will most definitely live up to it. Bet9ja has 1.54 odds while, Bet365 and Paripesa have 1.56.
Barcelona to beat Getafe
Barcelona who recently just lost their greatest talisman; Lionel Messi to PSG due to financial constraints are still yet to find their feet and figure out a way to get their mojo back. This was evident in their last match against Athletic Bilbao who held them down to a 1-1 draw. However, Getafe is suffering even worse form as they have failed to pick up a single point so far in this campaign. Barcelona will look to capitalize on this to grab a victory from them. Bet9ja has 1.40 odds, Bet365 has 1.42, and Paripesa has 1.40.
Over 2.5 Goals
Wolves vs Manchester United
As Manchester United will look to get back to winning ways, they will resort to pumping Wolves with as many goals as they can get and this hopefully will result in a game with at least 3 goals.
Bet9ja and Paripesa have 1.98 odds while Bet365 has 1.89.
Wolfsburg vs Leipzig
These are two high scoring Bundesliga teams who will be coming to the field to prove a point and while at it, try to snatch all 3 points from their opponent. This game sure looks like that which will have lots of goals in it for sure. Bet9ja has 1.74 odds, Bet365 has 1.78, and Paripesa has 1.82.
Ajax vs Vitesse
In their last 6 matches, Ajax has a match ending in a result with 3 or more goals 5 times. For Vitesse, they have been on a streak of 3 games ending with a result of at least 3 goals. We certainly hope both teams will go into this game with this high scoring spirit and score as much as they can. Bet9ja has 1.32, Bet365 and Paripesa have 1.34.
Salerntina vs Roma
AS Roma on their own has scored the minimum of 3 goals in 3 out of their last 6 matches, one of which involves a 3-1 victory over Fiorentina. In all those 6 matches, the minimum number of total goals scored is 3 per match. Salerntina likewise has had 3 out of their last 4 matches ending in a result with 3 goals or more. All these make it plausible for this fixture to have lots of goals in it. Bet9ja has 1.58, Bet365 has 1.62, and Paripesa has 1.67.
Troyes vs Monaco
Both teams have lately been in the habit of conceding lots of goals. Judging also by their past meetings, in their last 5 matches against each other, they have managed to score at least 3 goals in 4 matches. All hands point to this match ending as a result of plenty of goals. Bet9ja has 1.86, Bet365 has 1.87, and Paripesa has 2.00.
Anytime Goalscorers

Kane
Having committed himself fully to Tottenham again after all the months of speculations about his transfer to Manchester City, we expect Kane to come back to scoring ways, starting with this match against a struggling Watford. Bet9ja has 1.85, Bet365 has 1.61, and Paripesa has 1.90.

Neymar
Neymar will be featuring in his first Ligue 1 match this season and we expect nothing short of a masterclass performance from the PSG talisman. Anticipating a goal or two from him is no way too much to ask for. Bet9ja has 1.85, and Bet365 have 2.00.
Greenwood
This Manchester United young star has been living up to his expectations of him as a great prospect. He has scored twice in back to back matches in Manchester United's last two matches and we envisage he will continue this scoring streak as he goes into this next match against Wolves. Bet9ja has 2.85, Bet365 and Paripesa has 2.75.
Tammy Abraham
Tammy Abraham ever since he got signed to Roma has been playing excellently well. However, he is yet to get his debut goal which he deserves. We hope he gets it going in this match. Bet9ja has 2.05, Bet365 has 1.95, and Paripesa has 1.97.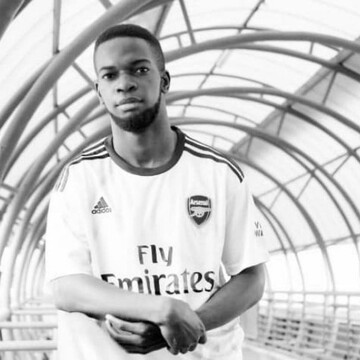 Football Lover. All-round junkie of the beautiful game. Could be found watching football most of the time. If not he's writing about them or making some punditry you don't agree with. A certain bias for Arsenal and Santos FC.