Yesterday was a day we'll like to forget in a heartbeat. A majority of teams didn't follow the script at all. Liverpool drew, Juventus drew, PSG drew, and Dortmund lost. Only Ajax played put correctly in our straight win tips.
In the over 2.5 market, it was way better and four out of five picks came through. Only Juventus failed to hit the mark following their 1-1 draw.
The goal-scorer section didn't see any single player score and that hasn't happened in quite a while. We can attribute it to the bad results we saw in general and it was just one of those days. It's a new day today and we'll surely be hoping to recover from yesterday with better tips out for us all today.
Chelsea vs Tottenham Prediction
Prior to the start of the 2020/21 campaign, very few would have predicted Tottenham Hotspur to be tussling with the league's big boys in the title race. But when the north London giants face Chelsea on Sunday, they will be well aware of the fact that a victory could help them reclaim their place at the top of the Premier League table.
It will also be the return of Jose Mourinho at Stamford Bridge as the Portuguese mastermind hopes to continue his side's majestic run of form. Indeed, the Lilywhites are heading into this game on the back of a five game-winning run in all competitions. They are also unbeaten in the league since the opening day defeat to Everton back in September.
However, Chelsea happen to be the second most in-form team in the Premier League at the moment, having secured three back to back wins since their goalless draw with Manchester United. In addition, they are currently in a six-game winning streak in all competitions – a run that includes a narrow 2-1 victory over Rennes in midweek.
Such momentum has helped the Blues make up some ground in the league table, with the west London giants trailing only behind Liverpool and Tottenham heading into this weekend's round of fixtures. In fact, a win on Sunday should be enough for Frank Lampard's men to at least overtake their London rivals, who are leading only by two points.
Both Teams to Score
Chelsea and Tottenham are about the most in-form sides in the league at the moment. With a potential top-of-the-table spot at stake, we expect both sides to give it their best go and that should translate to goal at both ends.Bet9ja have 1.58, Betway have 1.63 and 1xbet have 1.68 odds.
Over 2.5 Goals
Both teams seem to know how to score goals at the moment. Four out of Chelsea's last five games has seen over 2.5 goals. For Spurs, it's three form their last five. We expect to see a decent number of goals today and the reason should be pretty obvious by now. Bet9ja have 1.72, Betway have 1.74 and 1xbet have 1.83.
Straight Wins
Southampton welcome Manchester United to St Mary's Stadium for another crunch clash. On paper, this should be an easy win for the Red Devils but it's not so. Southampton are in delicious form and are unbeaten in their last five games. No surprise they are in fourth place. However, United have been good on the road and we expect them to just edge Southampton to a narrow victory today. Betway have2.03 odds, Bet9ja have 2.06 and 1xbet have 2.0.
Over to Ligue 1, Lille takes on struggling St Etienne and we expect Lille to do win this one convincingly. They are only second on the standings and could go level on points with first-place PSG with a victory. St Etienne have lost their last five games and we can't just see them winning this one either. Betway have 1.81 odds, Bet9ja have 1.80 and 1xbet have 1.83.
Over to the Bundesliga, high flying Bayer Leverkusen on a struggling Hertha Berlin side with only one win in their last five games. Leverkusen and Wolfsburg remain the only unbeaten sides in the Bundesliga this term and we expect Peter Bosz's men to record another win today at home. Betway have 1.80 odds, Bet9ja have 1.78 and 1xbet have 1.82.
Off to the Serie A, top of the table AC Milan welcome Fiorentina to San Siro and it looks like one-way traffic on paper. Fiorentina have only one win in their last five while the Rossoneri and Juventus remain the only unbeaten sides so far. We're tipping Milan to continue their impressive start to the season with another win. Betway have 1.16 odds, Bet9ja have 1.15 and 1xbet have 1.19.
Finally, we travel to La Liga where Barcelona take on Osasuna at the Nou Camp. In surprising fashion, both sides have only one win in their last five league games. However, we expect Barca to return to winning ways after their loss to Atletico Madrid last week. Lionel Messi was rested in midweek and he'll no doubt come in this game fresh and ready to inspire his side to a win. We're tipping Barca to win this one. Betway have 1.21 odds, Bet9ja have 1.20 and 1xbet have 1.25.

Over 2.5 Goals
Arsenal and Wolves take off in another potentially interesting game today. The Gunners have struggled with their league form recently but seem to boast a good record against Wolves. In the same vein, Wolves will also feel they have a chance against the Gunners and that's why we're tipping this game to translate to goals. There could be some value in this one. Betway have 2.31 odds, Bet9ja have 2.30 and 1xbet have 2.42.
In another big clash, Napoli welcome AS Roma to their home turf. The visitors are in top form at the moment but this game still remains unpredictable in terms of a clear winner. Roma will be looking to get a win and Napoli will equally be fired up for victory following the passing on of their club legend Diego Maradaona. We can see a decent number of goals in this one. Betway have 1.55 odds, Bet9ja have 1.50 and 1xbet have 1.64.
Elsewhere, we already tipped Leverkusen to win and we can see them doing so convincingly with a good number of goals to go with. We expect up to three goals at least. Betway have 1.56 odds, Bet9ja have 1.53 and 1xbet have 1.60.
Moving on, Feyernood take on Utretcht in another game with a good potential for goals. Feyernood have done justice to the over 2.5 market in the league for quite a while now and we expect that to carry on today. Betway have 1.49 odds, Bet9ja have 1.48 and 1xbet have 1.51.
Finally, top of the table Real Sociedad take on third-place Villarreal in La Liga and we can see a good number of goals here. Both sides are unbeaten in their last five outings and will carry that good momentum to this fixture. Both teams could easily get on the score-sheet. Betway have 1.84 odds, Bet9ja have 1.80 and 1xbet have 1.91.
Anytime Goal-scorer
Son
The Tottenham one is one of the most in-form players in the league with nine goals to his name so far. He already scored against City and he'll be looking to do it against another big side. We're backing him to do so. Massive value here should this come through. Betway are offering up to 3.18 odds while Bet9ja have it better at 3.50.
Fernandes
The Portuguese is another player that could well be on the score sheet. As Manchester United's designated penalty taker, his chances of getting goals are even higher. Betway have 2.59 odds while Bet9ja have 2.75.
Messi
A fully rested Messi will be looking to put out his best efforts today at the Camp Nou. Messi is not up to the usual standards we know he can be so far this season but we're tipping him for a good game today. Betway have 1.56 odds while Bet9ja have 1.60.
Kadewere
The Zimbabwean forward has scored three goals in the last two games for Lyon and he's another worthy shout to continue his impressive run of form with a goal today. His odds are rather interesting as well. Betway have 2.24 odds while Bet9ja have 2.50.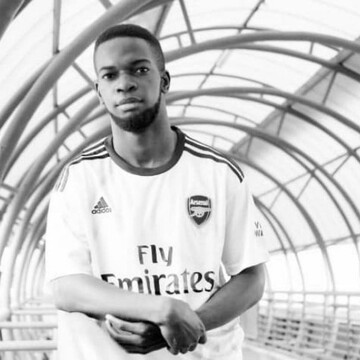 Football Lover. All-round junkie of the beautiful game. Could be found watching football most of the time. If not he's writing about them or making some punditry you don't agree with. A certain bias for Arsenal and Santos FC.