Another set of interesting games are on the cards today. Yesterday, we saw Chelsea and PSG become the first teams to move to the semi-finals. Which other two teams will join them today? Our betting tips for the day will likely give you an answer in that regard.
Borussia Dortmund vs Manchester City Betting Tips and Prediction
Preview
Manchester City are amongst the favorites in winning this year's competition and they go into the tie with a 2-1 win from a week ago at the Etihad stadium. Manchester City dominated the first half of the tie with an early Kevin De Bruyne strike. They had a lot of chances in the first half but weren't clinical enough to utilize them. Dortmund got the second half of the game running on a high note, they caused City a whole lot of problems and even had a Jude Bellingham goal disallowed by the referee as a foul on City's shot-stopper, Ederson.
Dortmund got their precious away goal from an Erling Halaand's pass towards Marco Reus who finished it nicely in the 84th minute. Dortmund thought they were leaving the tie with not just an away goal but also without a defeat as they were a couple of minutes away from making it a reality. Unfortunately for them, an inch-perfect pass in the dying stages of the game from De Bruyne found Gundogan at the far post of Dortmund's goal, who controlled and passed the ball to Phil Foden who finished the first time. Man City will know it's not going be a stroll at the park in Signal Iduna Park in Germany if they want to make it to the next round of this year's competition. They will have to take the game to Dortmund.
Form Guide: Borussia Dortmund
Coming from a 3-2 win over VfB Stuttgart over the weekend in the Bundesliga and with just two wins in their last five matches in all competition, it shows how they have been struggling the whole season. Five points below Eintracht Frankfurt in fourth place sums up how patchy the season has been so far for Dortmund. Their chances of playing in the Champions League next season is in doubt if results don't go their way in the Bundesliga. They are going into the tie tonight to cause Man City an upset.
Form Guide: Manchester City
Manchester City are going into this tie with optimism and confidence of qualifying for the next round. Though they go into the game tomorrow with a shocking defeat over the weekend against the 10-men Leeds United team, it shows what could be if they let complacency and high expectations from fans get to them. With four wins in their last five games in all competitions and with the Premier League trophy almost in the bag, City's quest for a quadruple might still be on course only if they finish the job they started a week ago at the Signal Iduna Park on Wednesday night.
How the match could go
With Manchester City's form and with the expectations from their fans, coupled with the fact that Pep Guardiola has never led his men past this stage in previous outings, it is enough motivation they need going into this tie. Dortmund sure knows there is little to what they can do in stopping City tomorrow. For them to turn the tie around in their favour, they will need to be in the best of form tomorrow. But with a stadium without their fans right behind them makes it a very difficult task for Dortmund.
Betting Tip: Manchester City to win
With Man-City great run in form and performances this season, they should be able to get a win against a Dortmund side that has not been consistent this season. Coupled with the fact that Manchester City have got experience and depth in their squad, unlike a Dortmund team that can't boast of the same. Bet9ja has 1.63, Bet365 has 1.61 and 1xbet has 1.66
Both teams to score: Yes
Man City have scored nine goals in their last five games in all competitions. Easily an attacking team with an attacking threat in front of goal. Dortmund have also scored nine goals in their last five games in all competitions, conceding eight goals in the process. The chances of both teams scoring a goal in this tie are rather high. Bet9ja has 1.50, Bet365 has 1.56and 1xbet has 1.6
Over 2.5 Goals
Manchester City and Borussia Dortmund are both high scoring teams, coupled with the fact that both Dortmund and City need goals to keep their champions league hopes alive. Bet9ja has 1.48, Bet365 has 1.53 and 1xbet has 1.52
Anytime Goal-scorer (Manchester City)
Raheem Sterling
He has got what it takes to score in big games, so far he gets the nod in starting line up from Pep Guardiola. Bet9ja has 2.55, Bet365 has 2.40 and 1xbet has 2.5
Ilkay Gundogan
Enjoying the form of his life this season, Gundogan has proven to everyone that he just does not create the chances alone but he also scores them. He has scored double-figures in goals this season in all competition, the best feat in his whole career. Bet9ja has 2.75, Bet365 has 2.30 and 1xbet has 2.25.
Anytime Goal-scorer (Dortmund)
Erling Halaand
He is already proven goalscorer and is currently the highest goal scorer in this season's competition. If you were to stake a bet on who to score for Dortmund, Haaland will be your best shot and it doesn't need much explanation. Bet9ja has 2.50, Bet365 has 1.83 and 1xbet has 2.15
Jude Bellingham
Has been in a fine run of form and has got goals in him. He got a goal controversially disallowed last time out and it could serve as motivation for him to 'score' again today. Bet9ja has 8.0 odds, Bet365 5.50 has and 1xbet has 13.0.
Liverpool vs Real Madrid Betting Tips and Prediction
Preview
The first leg of this fixture didn't go as most people expected. Although Liverpool's performance this season in all competitions has been below par, many still expected them to put up a good fight against Madrid. The match ended 3-1 in favor of Real Madrid.
However, Mo Salah's effort in getting an away goal for Liverpool in Santiago Bernabeu might turn out to haunt Real Madrid in this return leg. Madrid on the other hand will be looking for a way to hit Liverpool with more goals and kill every shred of hope that might be left in them.
How the game could go
Judging by their current form this season, Real Madrid remains the favorite even as they are playing away from home. Coming straight from a victorious and excellent performance against their biggest rival; Barcelona in the El Classico fixture, Real Madrid's morale will be at its pinnacle entering this game.
Liverpool struggled to cruise past Aston Villa in their last weekend's EPL game that ended in a 2-1 victory for them. All thing being equal, Real Madrid should grab a victory in this fixture albeit slim.
Tip: Real Madrid win or draw
If stats and form are anything to go by, then this fixture should be an easy win for Real Madrid. Nonetheless, we cannot completely write off Liverpool just like that as we have seen them done the impossible before in past years. The best and safe bet will be Real Madrid to win or draw. Bet9ja has 1.77 odds, Bet365 has 1.80 and 1xbet has 1.86.
Both teams to score: Yes
Both sides have players who are clinical in front of the goalpost and are going to be great threats to both team's defense. Registering a goal each should not be too difficult for both teams as they have the resources needed to do it. Bet9ja has 1.43 odds, Bet365 has 1.44 and 1xbet has 1.50.
Over 2.5 Goals
As stated earlier, this match promises to be a classic game with loads of goals in it. With the scoring record of both teams, three goals or more could be scored. Bet9ja has 1.48 odds, Bet365 has 1.53 and 1xbet has 1.50.
Anytime Goal-scorer (Real Madrid)
Karim Benzema
Benzema is Real Madrid's top scorer this season and has been on magnificent form. Having scored 19 goals in 26 appearances, the Frenchman tops the list of Real Madrid's goal threat even though he has not been so lucky with scoring goals in the Champions League this season. Bet9ja has 2.50, Bet365 has 2.10 and 1xbet has 2.22.
Vinicius Junior
Having scored two goals in the reversed fixture of this game, Vinicius has proven himself as a force to be reckoned with in the return leg. Bet9ja has 3.90, and Bet365 has 3.10.
Anytime Goal-scorer (Liverpool)
Mohamed Salah
His lone goal was not enough to save Liverpool from the humiliating defeat at the Santiago Bernabeu. Perhaps, this time, he will be able to salvage his team by firing them into a comeback victory. Bet9ja has 2.15, Bet365 has 1.66 and 1xbet has 1.8.
Diogo Jota
 Ever since joining Liverpool from Wolves, he has been on top form for both club and country. He is also on the list of players who can help Liverpool achieve their remontada. Bet9ja has 2.55, Bet365 has 2.00 and 1xbet has 2.15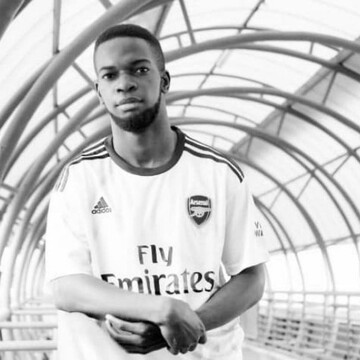 Football Lover. All-round junkie of the beautiful game. Could be found watching football most of the time. If not he's writing about them or making some punditry you don't agree with. A certain bias for Arsenal and Santos FC.