The Champions League continues in full swing in the second day of the opening fixtures. We started off with the opening round on a decent note and we'll be looking to carry on with our good form once again.
Without much ado, here are the likely betting tips and predictions to come.
Straight wins
Manchester City to beat Leipzig
Manchester City as expected, are already off to a flyer this season. They started their season with a shocking defeat to Tottenham but since then, they have been on a rampage. They have won their last three games flawlessly without conceding a single goal in all 3 matches. Their last two home games both ended in a 5-0 riot in Manchester City's favour and we are positive they will keep up with this riot against a Leipzig side that has had an underwhelming start so far this season, losing three out of their four matches, while winning only one. This should be like a stroll in the park for Pep's Manchester City. Bet9ja has 1.30, 1xBet has 1.34, and Paripesa has 1.33. 
Dortmund to beat Besiktas
Besiktas has started their season on a high note, having been undefeated so far this season. They have won all of their competitive matches so far, drawing only one. However, Dortmund has also been on a rampage, scoring goals after goals but their only problem lies with how easily they concede goals. If Dortmund turns up as expected in this match, scoring lots of goals as they have been doing so far, there's no doubt that they will see off a victory against Besiktas. Bet9ja has 1.58, 1xBet has 1.63, and Paripesa has 1.62.
PSG to beat Club Brugge
After their shocking loss to Lille in the French Super Cup, PSG has been on a wild roll of victories, defeating anyone that comes their way. They have done so in their last five matches and without a shred of doubt, we are positive that they are bound to victoriously stroll past Club Brugge without a hitch because, with the quality of players they have, only a few clubs have the ability to stop this season's PSG. Bet9ja has 1.19, 1xBet has 1.26, and Paripesa has 1.26.
Ajax to beat Sporting
This particular fixture is one to look out for because both teams are synonymous in lots of ways. Take for instance, Ajax prior to their last defeat in the Netherland's Super cup final, they have been undefeated in more than 19 matches in all competitions including friendly. Similarly, Sporting prior to their defeat to Benfica in their league match, their previous defeat could be traced back to as far as January 2021. They played 23 matches without a single defeat. These are exceptional stats and we expect this fixture to come bearing more surprises but we have our money on Ajax to take the victory albeit a slight one. Bet9ja has 2.40, 1xBet has 245, and Paripesa has 2.45.

Over 2.5 Goals
Inter vs Real Madrid
So far this season, both teams have been basking in a harvest of goals in all their matches. Inter has played three matches so far with the following results 4-0, 3-1, 2-2 respectively. Real Madrid similar has played four La Liga matches and only on one occasion were they unable to produce a full time score of less than three goals. Both teams have proven to be high scoring sides and we are positive this will be a game of high scores. Bet9ja has 1.70, 1xBet has 1.81, and Paripesa has 1.80.
Liverpool vs AC Milan
Ac Milan are finally back to Champions League and poetically, they will be facing Liverpool who defeated them in that sensational Champions league final in 2005. Although it's been years that they last faced off but both teams are known for having high score results most times they have an encounter. We expect to see more drama and more goals from this coming game. Bet9ja has 1.55, 1xBet has 1.66, and Paripesa has 1.65.
Ajax vs Sporting
With both team being a fortress each on their own, they will both look to outwit each other and lord over one another by playing an attacking game of football. This might leave either one of them vulnerable to conceding huge number of goals or help the other achieve dominance over the other. However way it goes, we are positive that there will be lots of goals in this fixture for sure. Bet9ja has 1.78, 1xBet has 1.89, and Paripesa has 1.89.
Man City vs Leipzig
Including last season, Manchester City's last 3 home games have ended in a full time result of 5-0 each. All three matches ending in 5-0 in favour of Manchester City is the proof that you need to know that when it comes to scoring goals, Manchester City are never in doubt. When given the opportunity, they take every grasp they can and unapologetically destroy their opposition. We are simply hoping that Leipzig will give them this opportunity and allow Manchester City pump them with goals. Bet9ja has 1.50, 1xBet has 1.54, and Paripesa has 1.54.
Anytime Goalscorer
Suarez
Luis Suarez is a proven goal scorer over the years, especially during his spell with Barcelona. He has continued to prove his worth at Atletico Madrid by helping them secure the La Liga championship last season. He has already started this season also, having scored once in their last 4 matches. We are hoping he gets the nod from Diego Simeone for this match and we believe if he does get the nod, he will some way find himself on the score-sheet. Bet9ja has 2.15, 1xBet has , and Paripesa has
Benzema
Karim Benzema had the form of his life last season, amassing lots of goals. This season doesn't look to be any different as he has already found himself on the score-sheet 3 times in just 4 matches. We certainly believe he will be bringing this incredible form into the Champions League this season, starting with their opener against Inter. Bet9ja has 2.60, 1xBet has 2.10, and Paripesa has 2.10.
Haaland
Erling Haaland is another player that can't just stop scoring goals. So far this season, he has score 5 goals in 4 matches and putting into consideration his excellent performance in the UEFA Champions League last season where he score a total of 10 goals in just 8 matches, you can't help but expect him to have another excellent performance this season also in the Champions League. Bet9ja has 1.55, 1xBet has 1.36, and Paripesa has 1.36.
Messi
Lionel Messi is arguable the greatest footballer of all time and with his move from Barcelona to PSG comes great expectations. He has only played 1 match for PSG so far but we are never in doubt that he will put up sensational performance for them in coming matches, starting with their Champions League opener against Club Brugge. Bet9ja has 1.65, 1xBet has 1.44, and Paripesa has 1.44.
Salah
Mohamed Salah has been nothing short of an exceptional player for Liverpool ever since he joined them from Roma years ago. Time and time again, he has proven his worth to the team and his coach. He has started doing so already this season, as he has already found the net 3 times in just 4 matches. It's only normal to expect more of this from him in coming matches, especially their opening fixture of the Uefa Champions League against Ac Milan. Bet9ja has 2.05, 1xBet has 1.57, and Paripesa has 1.57.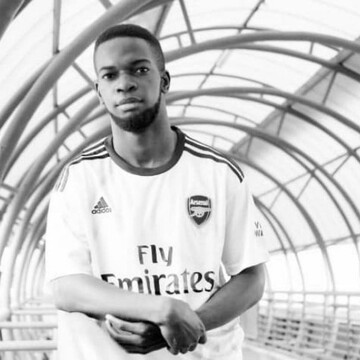 Football Lover. All-round junkie of the beautiful game. Could be found watching football most of the time. If not he's writing about them or making some punditry you don't agree with. A certain bias for Arsenal and Santos FC.