We have come to the end of the UCL group fixtures. There has been a lot of drama this season and it didn't fall below expectations. A lot of big boys have crashed out, and some are still struggling to find their way to the UEL.
The final game day would definitely be devoid of thrills and we have created a list of possible fixtures and their predictions.
Straight Wins.
All four teams in Group D have a chance to advance on the final day, making it one of the most open groups in this season's Champions League. Additionally, despite presently finishing last, Marseille has a chance to win the group if things go their way. Given that the two teams immediately playing each other below, Tottenham is aware that a point will advance them. A victory, though, would advance Spurs to first place and possibly provide them with an easier matchup in the next round. Given that the visitors are the superior team and have been playing better of late, we anticipate a strong effort from them and a victory for Tottenham in the end. Bet9ja have 2.40 odds, Paripesa have 2.43 odds and 1xBet have 2.43 odds.
Viktoria Plzen's season has been poor; they are currently last in their Champions League group after losing all five of their games. If Viktoria Plzen's season has been disappointing, then double that by ten for Barcelona, who will begin playing in the Europa League again after the holidays. Only four points have been earned by them thus far in the competition, three of which came from their victory over Plzen at the Nou Camp in early September. In their domestic tournament, Viktoria Plzen is a strong squad that has been winning five of their last six games. Barcelona, though, is just on a level with them, thus we anticipate that they will defeat Plzen and do it decisively. Bet9ja have 1.30 odds, Paripesa have 1.37 odds and 1xBet have 1.37 odds.
Porto is one point behind Club Brugge in the group standings and has already qualified for the round of 16 of the Champions League after three straight victories. Only one of those victories, a 2-0 victory over Bayer Leverkusen, came for Sérgio Conceiço's team at home, but they have consistently performed well there. Because of their Champions League tie with Leverkusen last week, Atletico Madrid cannot advance to the round of 16, but they are not yet certain of a place in the Europa League. However, they have recently played poorly on the road in this tournament, losing both games this year without scoring. A victory in this game will secure third place. Porto has built a fortress at home and Atletico doesn't have what it takes to see them secure all three points here. Bet9ja have 2.52 odds, Paripesa have 2.52 odds and 1xBet have 2.52 odds.
Ajax has had an unexpectedly poor season, and they still have the potential to lose the Europa League as well. Rangers never anticipated winning this group or even accomplishing anything, but altogether, we had higher expectations. They have been one of Scotland's two dominant teams in a league with no other teams but these two and few opportunities to play challenging games and get meaningful experience. Everyone expected this group to be a lot more competitive and Ajax to cause problems for Liverpool and Napoli. It has been quite different and Ajax barely has three points after five games. Their only win was exactly against Rangers at the start of the campaign and we think that they will not allow a defeat against them for the second time. Ajax needs at least a draw to qualify for Europa League. Bet9ja have 1.88 odds, Paripesa have 1.93 odds and 1xBet have 1.93 odds.
Over 2.5
This week, Jurgen Klopp will oversee his 100th Champions League game, making him the first German manager to accomplish that accomplishment. But after losing to Leeds at home the previous Saturday, this might be a challenging evening for the Liverpool manager. On Tuesday night, they take on a Napoli team that is currently atop both Group A and Serie A. Despite Liverpool being the odds-on favorite, they are in excellent form, and another victory is within their grasp. This should be an extremely goal-packed match between two of the most dominant teams in the Champions League this season. The first game between them had 5 goals at full time and we expect something similar here but with more goals from Liverpool. The two teams and Napoli, in particular, have been extreme in attack and we have nothing else but expectations for a massive scoreline here. Bet9ja have 1.47 odds, Paripesa have 1.50 odds and 1xBet have 1.50 odds.
Bayern Munich can concentrate on making a small bit of European history as they attempt to become the first team in Champions League history to win all six group games on three separate occasions now that the group has been decided before the final day. Expect goals when Inter travels! We anticipate a similar type of game to occur here, especially given that both teams have nothing but historical records and pride to play for in this contest. Each of their last four games witnessed BTTS and over 2.5 total goals. We're keeping with the goal markets here because neither team has anything riding on this game and both teams are vying for supremacy in their respective domestic competitions. Bet9ja have 1.34 odds, Paripesa have 1.36 odds and 1xBet have 1.36 odds.
Sporting has been having issues lately and has not won a lot of games but that has mostly been because the team has been playing on the road. At home, they are as dominant as ever and they only lost due to a red card in the previous home game against Marseille. Other than that, the team has had four wins in the last five home games. Although they did have a few questionable results recently and overall, in the domestic championship, Sporting remains in a good position ahead of the last Champions League round against Frankfurt. We already saw three goals in the first duel between Sporting Lisbon and Eintracht Frankfurt in the group stages of the Champions League, so we can see it happening again on Tuesday. After all, this is a deciding match for both teams and we will see them play offensive football, especially Frankfurt who needs to win. So, we expect that to lead to at least three goals being scored. Bet9ja have 1.83 odds, Paripesa have 1.92 odds and 1xBet have 1.92 odds.
Viktoria Plzen and Barcelona won't have any relevance in the final Champions League match planned for Tuesday, November 1, but this may be an intriguing game. Barcelona had a dismal group stage, and while it was anticipated that they would be sent to the Europa League, no one anticipated it would happen with three losses in five games. They won't be fielding their strongest lineup in this match, but we still believe they have what it takes to beat Viktoria Plzen by three goals. They did the same in the prior game, but with the entire team. This time, we do not anticipate 5, but three is a given. Bet9ja have 1.38 odds, Paripesa have 1.42 odds and 1xBet have 1.42 odds.
Anytime Goal scorers
Lewandowski
When you add one of the best strikers in the world to a team as loaded with offensive talent as Barcelona, you can expect a certain outcome. And it seems that Lewandowski didn't take long to click with his new teammates. After all, the Polish forward already has thirteen goals in La Liga and five goals in Champions League, so he is clearly in great form. So, we do not doubt that he will find the net against Viktoria as well and we expect him to score unless he is rested since this game is not important to Barcelona. Bet9ja have 1.60 odds while Paripesa have 1.65 odds.                                                                                                                                 
Osimhen
Napoli hotshot Victor is coming into the game with lots of confidence off the back of a hat trick in Serie A. He has scored in four consecutive games for Napoli and has not looked back since his return from injury. The last time he faced Liverpool he didn't fare well even missing a penalty and eventually leaving the pitch injured. Today he returns to this game with more confidence than before and we can expect him to score today. Bet9ja have 2.90 odds while Paripesa have 2.61 odds.
Harry Kane
It is hard to look beyond Harry Kane in terms of an anytime scorer option again today. This is a very important fixture for his side as they need the win to see them qualify for the next round of fixtures. Tottenham has struggled lately and has been disappointing in games but could overcome those losses with their striker leading them to victory. He would be a good pick to score anytime in today's fixture Bet9ja have 2.65 odds while Paripesa have 2.40 odds.
Sadio Mané
Bayern's Sadio Mané was in the thick of the action with a goal and two assists at the weekend and his last two UCL goals have been game-openers. Sadio Mane is a wise pick here as we can see him performing yet again in today's fixture. There are a lot of factors being considered today and the forward can help his side complete a 100% record in the group stages this season. Bet9ja have 2.45 odds while Paripesa have 2.37 odds.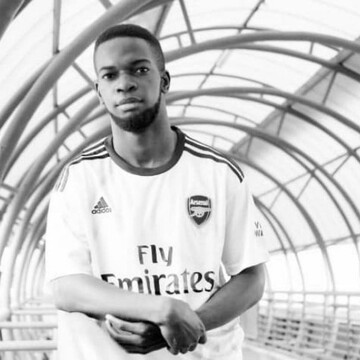 Football Lover. All-round junkie of the beautiful game. Could be found watching football most of the time. If not he's writing about them or making some punditry you don't agree with. A certain bias for Arsenal and Santos FC.