This Sunday marks an end to the weekend games and more focus on some midweek league games across Europe.
We have carefully curated the best options from the fixtures this week and we are certain of a near hit after today's predictions
Straight Wins
In this game that is extremely important to both teams, two teams with very different ambitions will face off in Monaco. After participating in several competitions during the season, Monaco is the team that can now finally concentrate on the league. The home team had two weeks off to unwind, and they are again keen to resume their campaign in the top three spots. Strasbourg's fight against relegation makes its supporters anxious because they are so close to the bottom. Given that Monaco gained 13 fewer points during the same period last season, it is odd to see them in fourth place this time around. The first match this season between these teams ended in a 2-1 Monaco win. Bet9ja have 1.54 odds, Paripesa have 1.58 odds and 1xBet have 1.58 odds.
Leading by a wide margin, Napoli faces up against AC Milan in Naples. If Napoli defeats the defending Serie A winners AC Milan on Sunday, they will once again be considered the favorites to win the championship. With a 4-0 thrashing of Torino right before the international break, Napoli once again showed why they are untouchable at the top of Serie A. The championship favorites meet the reigning champions AC Milan on Sunday, and Luciano Spalletti's team won't want to miss the chance to defeat the Rossoneri. Napoli has won 11 of its 13 league home games this season, and eager to leave a lasting impression before the club's appearance in the Champions League quarterfinals, the hosts could prevail once more. Bet9ja have 1.86 odds, Paripesa have 1.90 odds and 1xBet have 1.90 odds.
Prior to Sunday's challenging test at Monza, Lazio has won four of their previous five Serie A games. Before to the international break, Lazio was on a roll, winning four of their previous five Serie A games, including triumphs over Roma and the reigning champions Napoli. The Biancocelesti appear poised to place second this season, and a win at Monza would improve their bid for the runners-up spot. Last November, Maurizio Sarri's team managed to defeat the same opposition, and our first Monza vs. Lazio prediction predicts a similar result on Sunday. Bet9ja have 2.10 odds, Paripesa have 2.14 odds and 1xBet have 2.14 odds.
For Ajaccio, who is in the relegation zone and desperately hoping for some strong performances to give them a chance to stay in Ligue 1, it is one of those make-or-break games. Although Clermont leads the first team beyond the relegation zone by 12 points. Its coach Pascal Gastien has said that his squad needs two victories from its next three games to push the limits a little bit. The hosts are aiming for their tenth victory of the year in this Clermont versus Ajaccio prediction. They are wary of dropping their third consecutive match. The situation for Ajaccio is significantly worse; they have dropped their previous three games and have the league's lowest efficiency rating. The first match of the current season between these sides ended with a 3-1 Clermont victory. Bet9ja have 2.13 odds, Paripesa have 2.13 odds and 1xBet have 2.13 odds.
In the League Cup Final, the Red Devils defeated the Magpies, but Eddie Howe's team will be trying to take advantage of a home-field advantage this weekend as two clubs vying for Champions League football are at stake. Manchester United has a strong history against Newcastle, particularly in recent years. In the last seven league and cup meetings between the two teams. Man Utd has collected five victories and two draws. In their last six games across all competitions, the hosts have lost three games and drawn one. Manchester United has had success with four victories and a draw in those same games. Bet9ja have 3.12 odds, Paripesa have 3.18 odds and 1xBet have 3.18 odds.
Over 2.5
When Cologne hosts Borussia Monchengladbach in the Bundesliga on Sunday, two teams in need of a win will come together. An impressive seven goals were scored in Borussia Monchengladbach's resounding 5-2 victory over Cologne earlier in the season. When the team rematches on Sunday, it will be the seventh time in as many encounters between the clubs that more than 2.5 goals have been scored, and a similar result appears certain. Eight of Mochengladbach last nine Bundesliga away games also produced at least three goals and our prediction tips a continuation. Bet9ja have 1.73 odds, Paripesa have 1.75 odds and 1xBet have 1.75 odds.
Although the relegation-threatened team is the favorite, Fortuna Sittard will be under more pressure to perform. Fortuna has played five straight games in which more than two goals have been scored. They have played 16 games this season with over 2.5 goals. With 14 games that saw at least three goals scored. Groningen appeared to be heading in a different path. Fortuna Sittard's last five games have all concluded with over 2.5 goals scored, according to their head-to-head record. More significantly, on the last two occasions they've played in Sittard, over 2.5 goals have been covered. Bet9ja have 1.78 odds, Paripesa have 1.86 odds and 1xBet have 1.86 odds.
After dropping too many points in recent weeks, Nice will strive to earn a crucial victory, and they won't be content with anything less than a victory over the weakest Ligue 1 team. With only eleven of those games played compared to 17 in the other direction. Nice is the league's weakest "over" team. s an a, a ment in the form of an a. Though their defense is the weakest in Ligue 1 with 63 goals allowed. Angers is one of the top three teams with over 2.5 goals, which is not surprising. Three of the previous five meetings between Angers and Nice, according to their head-to-head record, included more than two goals. Bet9ja have 2.00 odds, Paripesa have 2.20 odds and 1xBet have 2.20 odds.
After three losses in a row, Roma needs to immediately resume its winning ways. The Giallorossi will have to attack Sampdoria with four suspended defensive players, Marash Kumbulla, Roger Ibanez, Bryan Cristante, and Gianluca Mancini. The door could be left open at the back. Roma is desperate for three points this weekend after their run of three losses in four games before the break. In light of the possibility of an open match at the Stadio Olimpico. The major Roma vs. Sampdoria prediction suggests a wager on over 2.5 goals. Bet9ja have 2.00 odds, Paripesa have 2.14 odds and 1xBet have 2.14 odds.
This weekend, two teams that are having trouble maintaining consistency will clash. Before the international break, Werder Bremen's last four Bundesliga games featured a stratospheric 3.75 goals per 90 minutes. Wwe know 69% of their 13 home games in the division this season have had above 2.5 goals. Expect drama at the wohninvest WESERSTADION on Sunday as two dynamic teams square off. Hoffenheim, meantime, have been involved in some crackers of their own, with ten of their previous 13 league games delivering at least three goals this season. Bet9ja have 1.72 odds, Paripesa have 1.82 odds and 1xBet have 1.82 odds.
Anytime Goal scorers
Kylian Mbappe
With Neymar out through injury, Kylian Mbappe will have even more chances to score. He has accumulated 19 goals this season and is leading the team both on and off the field. Mbappe is a key contributor in many ways, especially when it comes to the order in which this season is ending for the Paris team. Considered to be one of the richest clubs in the world. Mbappe has been flying high even though recently he had some injury problems. He has scored in four out of the last five games PSG played in Ligue 1. Mbappe will be trying, ahead of this PSG vs Lyon tie, to run away from Lille's Jonathan David as the top goalscorer of the league. Bet9ja have 1.60 odds while Paripesa have 1.85 odds.
Niklas Fullkrug
Werder Bremen star striker Niklas Fullkrug catches the eye. The potent front-man scored three times in two appearances for Germany during the international break. The 30-year-old also found the net when Werder beat Hoffenheim 2-1 back in October. Fullkrug is the Bundesliga's leading scorer this term and our second Werder Bremen vs Hoffenheim prediction tips him to make his mark again. Bet9ja have 2.30 odds while Paripesa have 2.10 odds.
Victor Osimhen
Nigerian striking sensation Victor Osimhen has been scoring at a rate of nearly one goal per game in Serie A this season. The in-demand 24-year-old notched a brace in each of his last two appearances for Napoli just before the international break. The deadly finisher looks like finding the net every time he steps out onto the pitch at present. Our second Napoli vs AC Milan prediction backs Osimhen to register again. Bet9ja have 2.10 odds while Paripesa have 1.87 odds.
Marcus Rashford
If Man Utd are going to win this game or pick up a point then you would expect Marcus Rashford to play a big part in the result. Assuming he returns from injury in time to play. The England international has been in fantastic form this season, especially since returning from the World Cup. Rashford has netted 14 goals in the Premier League alone this season as well as a further 13 goals in cup competitions. If anyone is going to score against Newcastle this weekend, you'd put your money on Rashford. Bet9ja have 2.65 odds while Paripesa have 2.10 odds.
Jonathan David
The Canadian forward's stunning season could put a price tag on his back like Lille has never seen in the history of their club. David has amassed 19 league goals in 27 appearances while also delivering four assists. Today we expect to see him extend that goal tally and help his side win. Bet9ja have 1.80 odds while Paripesa have 3.10 odds.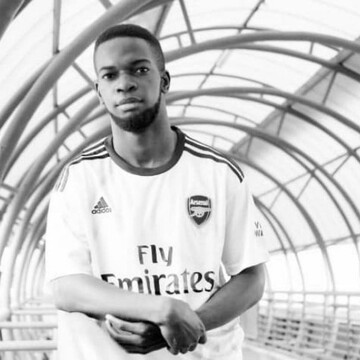 Football Lover. All-round junkie of the beautiful game. Could be found watching football most of the time. If not he's writing about them or making some punditry you don't agree with. A certain bias for Arsenal and Santos FC.