The last batch of group games in the UCL goes live today with more at stake for various clubs. Some need a win while others are safe enough to rotate players and give them a chance at UCL experience. We have seen a lot of drama in the past few weeks in this season's group stage matches and it is right it ends on a high
We have selected the best tips to help readers with their selection of today's matches.
Straight Wins.
Paris Saint-Germain is a strong favorite to win, which would guarantee that they finish first in Champions Group H and maybe eliminate Juventus, the hosts, from European play. To secure first place and a home second leg in what should be an easier last-16 match, PSG must match or surpass Benfica's performance in the group's other game at Maccabi Haifa. Juventus is having a terrible season despite having won three straight games in Serie A and generally doing better lately. If they lose against PSG, they may potentially finish behind Maccabi Haifa in this group. In addition, Dusan Vlahovic, their finest striker, is sidelined with an injury. On Wednesday, PSG is predicted to defeat them. Bet9ja have 1.66 odds, Paripesa have 1.68 odds and 1xBet have 1.68 odds.
Real Madrid needs to win this game to finish first and secure the "easier" draw against one of the second-place teams, even though they have already qualified for the Champions League's final 16. After losing back-to-back games, Carlo Ancelotti will be hoping for a response from his team as they now run the prospect of being winless in three straight games for the first time in more than a year! Celtic's visit may be exactly what the doctor ordered. Celtic lost ten times in their last 14 Champions League away games, failing to win 13 of those contests. Add to it the startling total of 13 goals allowed by the Bhoys in their last two trips to Spain. We expect Real Madrid to come out winners at the end of this tie. Bet9ja have 1.22 odds, Paripesa have 1.26 odds and 1xBet have 1.26 odds.
Shakhtar Donetsk, who are currently unbeaten in their domestic league season, enters this vital group game aware that only a win will advance them to the Champions League round of 16 due to a better head-to-head record against Leipzig. The fate of Shakhtar Donetsk in the Champions League is still in their own hands, and if they defeat RB Leipzig on Wednesday in Warsaw, they will advance to the tournament's knockout stages before the Bundesliga team. The Ukrainians have only lost once in their first five Group F games, and in their most recent meeting with Leipzig in September, they destroyed Leipzig on the break (4-1). In the rematch today, a similar tactical strategy might again be successful. Bet9ja have 1.52 odds, Paripesa have 1.54 odds and 1xBet have 1.54 odds.
Although it hasn't received much attention, City's recent form has taken a little turn. With only two victories in their previous six games, their early-season dominance has waned. They haven't been very impressive in the Champions League either, having drawn their last two European games 0-0. City, even without Erling Haaland, is still a formidable opponent. The Citizens will rotate after clinching first place in this group, but even a depleted City squad should be unable to defeat Sevilla. We anticipate City to ultimately prevail in this match. Bet9ja have 1.22 odds, Paripesa have 1.26 odds and 1xBet have 1.26 odds.
Over 2.5
PSG has advanced to the next round, but Juventus needs all three points to even qualify for the Europa League. Juventus will undoubtedly score a goal and have opportunities to score more, but we believe PSG will once again outscore Juventus and perhaps even take the game. Even though PSG has already qualified, the squad still needs the three points to stay atop this group and avoid playing top-tier opposition in the round of 16 finals. We anticipate goals from both teams, but if the score is 1:1, additional goals will undoubtedly be scored. Bet9ja have 1.60 odds, Paripesa have 1.70 odds and 1xBet have 1.70 odds.
With everything in Group G already settled, this game is simply a formality for Copenhagen and Dortmund. The hosts have already been eliminated whilst Dortmund will finish in second place no matter what, suggesting that we could be in for a drab encounter to round out the group. We already saw three goals in the first meetings between these two teams in Group G this season, so we can see that happening again now, especially with this being a friendly match. In addition to this, both Copenhagen and Dortmund have gone over 2.5 total goals in three of their five matches in the Champions League so far, so we would hardly be surprised to see three or more goals in this game as well. Bet9ja have 1.62 odds, Paripesa have 1.73 odds and 1xBet have 1.73 odds.
The only thing left on the line for the visitors in this competition is their pride because they are sure to come in last in their group no matter what. Celtic may be excused for prioritizing their domestic goals above their failing European endeavors given their four-point lead in the Scottish title battle. Even though Real Madrid has qualified, we anticipate this game to have a larger score than usual. Real Madrid should send out their strongest team of players because this match is crucial for the future of both teams this season. Celtic should be able to score here, but as usual, Real Madrid will find a way to score more than once. Bet9ja have 1.34 odds, Paripesa have 1.35 odds and 1xBet have 1.35 odds.
Benfica will look for a strong continuance to what has been an excellent Champions League campaign so far when they travel to Israel to face Maccabi Haifa in the denouement to Group H.  The Portuguese pacesetters have a shot at winning the group, but it will be difficult for them to overturn the four-goal deficit they need with PSG looking just as strong going into their final game at Juventus. We expect a huge scoreline in this fixture and both teams will help us succeed with this bet. Maccabi Haifa was involved in a 7:2 defeat to PSG last week, which was expected. A week prior, they beat Juventus at home in the Champions League 2:0. Benfica are a higher-scoring team than Juventus and we have no doubts that they will also score here. Bet9ja have 1.54 odds, Paripesa have 1.63 odds and 1xBet have 1.63 odds.
Anytime Goal scorers
Mbappe
The offensive trio of PSG has been fantastic this season and the team overall has been dominant in all competitions, although they did draw in both of their games against Benfica. In any case, we expect PSG to win and that means that we expect them to score some goals. So, our next prediction is for Kylian Mbappe to score at any time since he is the team's top goal scorer in the Champions League and Ligue 1 this season. Bet9ja have 1.95 odds while Paripesa have 2.20 odds.                                                                                                                                 
Vinicius Jr
Brazilian winger Vinicius Junior has become an integral part of Carlo Ancelotti's team and the 22-year-old opened the scoring for Real Madrid when they beat Celtic 3-0 in Glasgow back in September. With two goals in his last two appearances, it looks as though Vinicius is about to embark on another scoring spree and the livewire attacker can add to his tally for the campaign with another strike against Celtic on Wednesday. Bet9ja have 1.87 odds while Paripesa have 1.91 odds.
Phil Foden
With Haaland out with an injury, other Man City players will have to take responsibility on the offensive end, and one of those who could take the largest part of that responsibility. After all, Foden scored the most goals after Haaland in Premier League for the team so far, finding the net six times in the league. On top of that, he missed the game over the weekend, so he should be well-rested for this one. Bet9ja have 2.45 odds while Paripesa have 3.20 odds.
.Mykhailo Mudryk
Mykhailo Mudryk has risen to prominence this season and put himself on the radar of several top clubs across the continent thanks to his sparkling performances in the Champions League. The 21-year-old has already scored three times in the group stage and RB Leipzig couldn't live with Mudryk's pace and close control when he notched against them in September. With five goals in his last four appearances in all competitions, Mudryk takes strong recent form into Wednesday's game, where he is a big price to find the net again. Bet9ja have 4.90 odds while Paripesa have 8.50 odds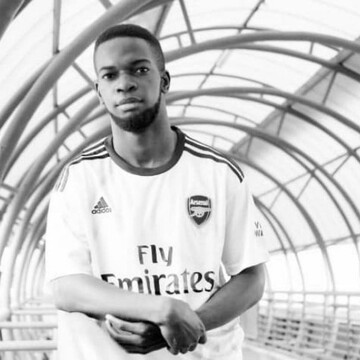 Football Lover. All-round junkie of the beautiful game. Could be found watching football most of the time. If not he's writing about them or making some punditry you don't agree with. A certain bias for Arsenal and Santos FC.