This Sunday marks an end to the weekend games and more focus on some midweek league games across Europe.
The UCL, UEL and Conference League returns this midweek with teams looking to complete the second leg of action for the UCL.
This should which provide some mouthwatering events for football viewers today
Straight Wins.
After a difficult stretch that saw them lose to Manchester United in the Europa League semifinals and suffer a shocking La Liga loss to Almeria, Barcelona bounced back on Thursday by defeating Real Madrid in the Cup del Rey. Barcelona leads the table by seven points and will play this Sunday at home, while their opponents are in last place and may be relegated. In fact, Valencia only managed to win one league game away from home in the previous 12 months. Also, they have an unfavorable recent history against this opponent; therefore, a tenacious Barcelona team should easily win tonight. Bet9ja have 1.53 odds, Paripesa have 1.56 odds and 1xBet have 1.56 odds.
In order to maintain their position in second place in the Serie A standings, Inter Milan must defeat Lecce on Sunday. When the clubs last faced off in August, Inter Milan had to work hard to defeat Lecce 2-1, and Simone Inzaghi's men will have to put in some hard work to defeat the same opponents on Sunday. This season, Inter Milan has won 10 of their 12 home league games while giving up only six goals at San Siro. Even though Marco Baroni's team is a huge underdog in the rematch on Sunday, they will be hoping to keep it close. In light of Lecce's skill at maintaining tight games and Inter's recent struggles in the offensive areas, favoring a home victory is advised. Bet9ja have 1.37 odds, Paripesa have 1.40 odds and 1xBet have 1.40 odds.
In the Bundesliga, Hertha has dropped 80% of its road games this year as they get ready to play Bayer Leverkusen on Sunday. Xabi Alonso has had Bayer Leverkusen's results this season be the very definition of hit-and-miss, but Die Werkself has a golden opportunity to pick up some points at Hertha Berlin's expense on Sunday. The visitor's performance on the road has been abject this term, and they have lost eight of 10 assignments overall on their travels since August, including each of their last six assignments. Our first Bayer Leverkusen vs. Hertha Berlin prediction favors the home team to win due to their terrible recent record. Bet9ja have 1.56 odds, Paripesa have 1.61 odds and 1xBet have 1.61 odds.
On Tuesday, Roma lost a Serie A match to Cremonese for the first time this season. At the beginning of February, Roma also fell to the struggling team 2-1 in the Coppa Italia quarterfinals. Jose Mourinho was given a red card, which made their problems worse. On Sunday when they play Juventus, the Special One will have to sit in the stands once more. Juventus, who has been in fantastic form lately, has won six of their past seven games overall and has defeated the Giallorossi in three of their last four head-to-head encounters. Throughout that time, the Bianconeri have kept five clean sheets, but their offensive play is starting to improve. Roma's chances of finishing in the top four are hurt by their inability to outperform their rivals, and Mourinho won't be available the following game, so it makes sense to pick Juventus to win the league for a fifth time in a row. Bet9ja have 2.82 odds, Paripesa have 2.91 odds and 1xBet have 2.91 odds.
Real Betis is still in a strong position in La Liga, and their recent run of three victories keeps them close to the top four. Yet, Manuel Pellegrini's team struggles to keep them, only managing one in every five games. The only other time Real Madrid has failed to score in 39 games this season, they were humiliated by Barcelona 1-0 on Thursday in the first leg of their Cup del Rey semi-final. The Carlo Ancelotti team will now want to get back on track away from home, where both teams have scored in ten of their 20 games played in all competitions, including six of their twelve league games. Betis should be cautious of the wounded animal as well, as Los Blancos have won 11 of their previous 13 games after suffering a loss, which is the longest active streak in the league since the fall of 2021. Bet9ja have 1.77 odds, Paripesa have 1.80 odds and 1xBet have 1.80 odds.
Over 2.5
In the French Cup quarterfinals earlier this week, Lyon did a commendable job, and they are now prepared for what lies ahead in their Ligue 1 matchup against Lorient. Despite the fact that the visiting side has recently lost two of its top scorers, we are a little hesitant to bet on over 2.5 goals for the Lyon vs. Lorient game. But, the fact that a respectable number of goals are scored every time these teams play gives us faith that it will happen again. Lorient had a 3-1 season-opening victory. Looking at the entire season, Lyon had 14 games with over 2.5 goals, including their final four games, while Lorient is the fourth-best team with 17. Bet9ja have 1.66 odds, Paripesa have 1.78 odds and 1xBet have 1.78 odds.
PSV is prepared to continue its title defense after reaching the Dutch Cup semifinals during the middle of the week. These errors can no longer be made as the top two teams, Feyenoord and Ajax, appear to be growing more certain of their goals. The Home side has 16 games this season with over 2.5 goals. Which is one of two reasons why this RKC Waalwijk vs PSV prediction is strong on paper. Tied for first place in the Eredivisie is PSV. The other factor is that RKC has had 15 games this season with "above 2.5" totals, averaging 3.3 goals per game. PSV scores 3.8 goals on average. We can also use their head-to-head encounter when RKC is the home team as a third argument. The past three times they faced off against one another, the total was exceeded. This choice doesn't require any further persuasion given the current run of form for both clubs. Who have scored more than 2.5 goals in four of their previous five games. Bet9ja have 1.50 odds, Paripesa have 1.51 odds and 1xBet have 1.51 odds.
Ajax wants to continue its amazing winning streak since John Heitinga came over as head coach. The Amsterdam team also needs to keep the pressure on league leaders Feyenoord. The Amsterdam team and RKC Waalwijk are tied for first place in games with over 3.5 goals, for different reasons. The majority of those games are won by Ajax, and their games have an average score of 3.8. This season, Ajax played in 13 games with more than 3.5 goals. NEC is playing differently, and they now have the second-worst record in the league for games with 4+ goals scored. Bet9ja have 1.38 odds, Paripesa have 1.38 odds and 1xBet have 1.38 odds.
On Sunday, Bayer Leverkusen will take on Hertha Berlin, who has been struggling on the road for several months. In an attempt to reclaim its lost home winning streak. At their previous meeting in September, Leverkusen and Hertha Berlin engaged in a fascinating contest that ended 2-2. It was the third time in four meetings between the clubs that more than 2.5 goals were scored. When Bayer and Hertha play again on Sunday, fans may be in for another feast of aggressive football. We anticipate this trend to continue after at least three goals have been scored in five of six away games. Bet9ja have 1.62 odds, Paripesa have 1.74 odds and 1xBet have 1.74 odds.
Before suffering its most recent two defeats, Wolfsburg was in excellent home form. Frankfurt, however, has lost its last two games while worryingly conceding goals. They are currently on a five-match road losing run. In their last five home games, Wolfsburg has scored a total of 12 goals. Although recent results of these two have shown a high-scoring trend and a defensive downturn. A combined bet of over 2.5 goals appears ideal. Such a performance justifies placing a wager on an outcome with more than 2.5 goals.  Bet9ja have 1.80 odds, Paripesa have 1.87 odds and 1xBet have 1.87 odds.
Anytime Goal scorers
Mohammed Kudus
Mohammed Kudus is the player who has been playing at the highest level since John Heitinga took over the team. The young striker from Ghana has broken through to the second spot on the list of Ajax's best scorers list. With nine goals in a total of 22 league appearances. He should get plenty of chances to continue his productive run. Bet9ja have 2.75 odds while Paripesa have 2.25 odds.                                                                                                                                 
Karim Benzema
The Frenchman has yet another stellar campaign but has had it marred with injuries but seems to be back fully. He has scored 11 goals this season and has a very good goal ratio for his side this season.
Today, he would want to assist his team pursue the championship while avoiding another setback as they pursue Barcelona. Bet9ja have 2.25 odds while Paripesa have 2.10 odds.
Lewandowski
Lewandowski is another La Liga player to have seemingly adjusted to life in this new league. As he currently tops the goals chart. He has scored a total of 15 goals already this season and is well ahead of the pack. Today he can replicate his performance from the reverse fixture. If he passes the fitness test he can score today. Bet9ja have 2.20 odds while Paripesa have 2.00 odds.
Lautaro Martinez
Inter will be hoping Lautaro Martínez can perform well here. Today it looks to us that Leece stands no chance of stopping him from scoring in today's fixture. He is his team's leading scorer in the Serie A this year with 13 goals, according to the league. He could add to his tally here today Bet9ja have 2.30 odds while Paripesa have 2.250 odds.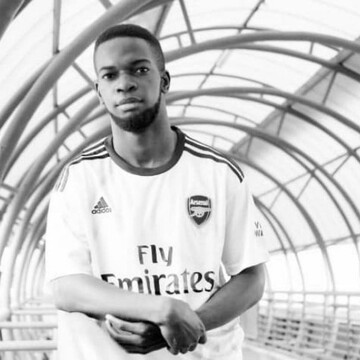 Football Lover. All-round junkie of the beautiful game. Could be found watching football most of the time. If not he's writing about them or making some punditry you don't agree with. A certain bias for Arsenal and Santos FC.