The Europa League returns with the round of 16 playoffs for teams relegated from the UCL. We surely have waited a while to see these teams in action with a lot of the big names featuring today surprisingly. There are a lot of fixtures to watch out for, and we have selected the best out of them with the optimal predictions for each match.
Straight Wins.
Following their elimination from the Champions League, Juventus will host Nantes. With PSG and Benfica in the group, it wasn't a poor one, but only one victory and five defeats with a -4-goal differential fell short of expectations for this club. They have improved since then, particularly in the back. Nantes was fortunate to be in a group with such weak teams, Group G. In the Europa League playoffs, Nantes can be one of the bottom four or five teams. Since the winter break, Nantes has been performing well, although their schedule was not too demanding. They were outplayed and demonstrated that they are once more simply a team for the middle of the Liga 1 table in games against Lyon and Marseille. This should be an easy in for Juventus here today. Bet9ja have 1.38 odds, Paripesa have 1.40 odds and 1xBet have 1.40 odds.
Sevilla has recently put on a string of great performances in La Liga. They have won four of their previous six league games, which is important because they meet PSV in the Europa League quarterfinals. Sevilla has recently been playing exceptionally well at home. They have won five straight games, with the majority of those contests being in La Liga. On the other hand, PSV is currently on a three-game road losing run. All of the games were Eredivisie matches, and such poor form will be significant in this situation. We want to take into account the present statistics and choose Sevilla to win here as our major forecast because they have never faced off before. Bet9ja have 2.25 odds, Paripesa have 2.25 odds and 1xBet have 2.25 odds.
Today's UEFA Europa League match will feature a face-off between Bayer Leverkusen and Monaco. On Thursday, these two clubs will enter their Europa League quarterfinal matches in the best possible mood. It's wonderful that we can quickly summarize the two teams' forms by taking a deeper look at their statistics. They both appear to be in good enough form to put on a fiercely competitive show at this point. In the opening leg, Bayer Leverkusen will have the benefit of playing at home, which might give them an advantage given the local figures lately. For the German team here today, this would be a battle-tested victory. Bet9ja have 2.00 odds, Paripesa have 2.00 odds and 1xBet have 2.00 odds.
Sporting Lisbon is set to host FC Midtjylland in the first leg of their Europa League playoff on Thursday. Sporting, who was unable to advance further in the Champions League, ended third in their group with seven points, while Midtjylland took second place with eight points in a challenging Europa League group. Sporting Lisbon entered this match as the favorite to win, but their performance in Europe so far this year doesn't bode well. But to be fair to them, they have played in the Champions League against the far harder competition. Since FC Midtjylland hasn't distinguished itself, especially defensively, we anticipate a home victory for Sporting Lisbon against Midtjylland. Bet9ja have 1.35 odds, Paripesa have 1.36 odds and 1xBet have 1.36 odds.
Over 2.5
On Thursday night at Johan Cruyff Arena, Ajax will host Union Berlin in the first leg of an incredibly thrilling UEFA Europa League knockout round playoff match. As a result of the strong level of confidence that both sides will bring to the game, we anticipate an exciting matchup in the Dutch capital. Ajax does have European experience, so it will be intriguing to see if it has a significant influence when they face Union Berlin on Thursday. Union Berlin has been the hottest team in Germany this winter. In each of its six competitive games so far in 2023, Union Berlin has scored at least two goals, and we fully anticipate that this outstanding offensive form will continue against Ajax. Bet9ja have 1.90 odds, Paripesa have 1.99 odds and 1xBet have 1.99 odds.
According to expected goals statistics, Roma has been the third-best offensive club in Serie A this season, although early in the season, failing to capitalize on their opportunities frequently cost them. In their past 11 games, the Giallorossi have not been shut out once. Meanwhile, Salzburg should be in a good position to worry their renowned guests. They competed well in the Champions League, scoring 37 goals in their 17 games in the Austrian Bundesliga this season. Given that both teams have recently displayed strong offensive form, this should be an entertaining encounter with goals from both ends. Bet9ja have 2.00 odds, Paripesa have 2.12 odds and 1xBet have 2.12 odds.
These two sides have only ever faced off against one another twice, both times in the 2001 UEFA Cup. The Lisbon team then rejoiced after winning 6-2 overall (3-0 at home; 3-2 away). We believe that nothing will change this time, and we anticipate Sporting to continue to prove why it is the favorite. Given their recent performance in the previous game weeks, they should do so with flair, and we anticipate them scoring many goals. Bet9ja have 1.60 odds, Paripesa have 1.68 odds and 1xBet have 1.68 odds.
With five losses in their last eight Ligue 1 contests, Rennes has cooled down recently. Before their current slump in form, the visitors went 11 games without a loss, but they have now dropped their previous four away games across all competitions. Les Rennais, on the other hand, have a genuinely remarkable consistency in scoring, as seen by their away record of 13 Ligue 1 games with over 2.5 goals scored and two of their three away EL games this season with both results. Despite Shakhtar's lack of recent competitive success, they played brilliantly in their CL group, finishing ahead of Celtic to secure their spot in the competition's knockout round. Bet9ja have 1.88 odds, Paripesa have 2.00 odds and 1xBet have 2.00 odds.
Anytime Goal scorers
Mohammed Kudus
Mohammed Kudus contributed to six of Ajax's 11 group stage goals (G4, A2) and hasn't slowed up his progress since then, finding the net in four of his last five competitive appearances. He was a standout performer for his side in the UCL campaign this season and we can see him continuing that run here today. So, our prediction is for Vinicius Jr. to score at least once in this game. So, our prediction is for Kudus to score at least once in this game.  Bet9ja have 3.25 odds while Paripesa have 3.40 odds.                                                                                                                                 
Wissam Ben Yedder
It is fair to say that not every UEL player can match the goalscoring exploits of Monaco's Wissam Ben Yedder though, with his 19 goals in all competitions this season arriving at a rate of one every 95.8 minutes. Today Leverkusen has the tough task of stopping the French forward from finding the back of the net in today's fixture. Bet9ja have 3.00 odds while Paripesa have 2.87 odds.
Dusan Vlahovic
With Arkadiusz Milik injured, Juventus will hope Dušan Vlahović can find the net. He surely has had a tough season being in and out of injury most of the time but never seemed to disappoint when he was fit. He is certainly fit to start today and could impress Juventus fans with a solid performance today. So, our prediction is for Vlahovic to score a goal in this game. Bet9ja have 2.00 odds while Paripesa have 1.91 odds.
Xavi Simmons
The young Dutch talent has a season to die for as he has scored double-figure goals already in the Eredivisie this season. He has also translated this form in the UEL this season scoring a goal in this season's campaign. He would be instrumental in today's game which we have him selected in today's goal scorer's predictions. Bet9ja have 4.50 odds while Paripesa have 4.00 odds.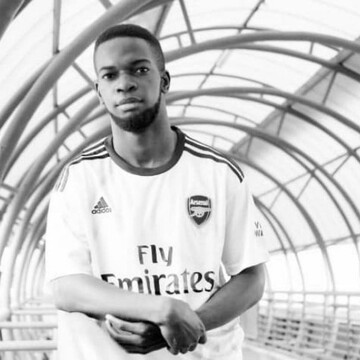 Football Lover. All-round junkie of the beautiful game. Could be found watching football most of the time. If not he's writing about them or making some punditry you don't agree with. A certain bias for Arsenal and Santos FC.