LONDON, ENGLAND - JANUARY 15: Kai Havertz of Chelsea celebrates after scoring the team's first goal during the Premier League match between Chelsea FC and Crystal Palace at Stamford Bridge on January 15, 2023 in London, England. (Photo by Mike Hewitt/Getty Images)
The weekend returns with a lot of games from across Europe just before the International break. The quarter-final round of games played by Europe's elite just ended.
A lot of upsets happened with a few teams already qualifying. We expect this weekend to be action-packed with the teams ready and raring to go.
We have carefully curated the best options from the fixtures this week and we are certain of a near hit after today's predictions.
Straight Wins.
Following their humiliation at Man City, RB Leipzig will go to Bochum in the Bundesliga on Saturday to regain their honor. RB Leipzig lost to Man City (7-0) and Erling Haaland (5 goals) in the Champions League on Tuesday, but Die Roten Bullen could be dangerous when they face up against Bochum on Saturday to regain some respect. When the two last faced off in October, Leipzig thrashed Bochum 4-0, and they ought to have enough class to defeat their opponents once more this weekend. In their last five games, the struggling home team has lost four times, and our first Bochum vs. RB Leipzig prediction predicts more misery for Die Unabsteigbaren in this one. Bet9ja have 1.56 odds, Paripesa have 1.60 odds and 1xBet have 1.60 odds.
Predictions for Tottenham's trip to last-place Southampton in the Premier League. aspiring Champions League players This weekend, Tottenham travels to a struggling Southampton club in need of three points, but for very different reasons. Tottenham has triumphed in three of its past three journeys to St. Mary's and has won four of its last six encounters with Southampton in all competitions. The hosts have dropped three of their past five league and cup games, including a 2-0 loss to Brentford at home in midweek, while Spurs have won three of their last four Premier League games and are the betting favorite going into this encounter. Bet9ja have 1.83 odds, Paripesa have 1.88 odds and 1xBet have 1.88 odds.
Foxes travel to the city to take on the highly successful Brentford. A loss this weekend for Leicester, which is currently on a losing skid, may cause the visitors to drop back into the relegation zone, while a win for the Bees might propel them into the top six. Although Brentford doesn't have a great record against Leicester, they come into the encounter on Saturday with three victories in their past six league games, including two of their last three home games. Leicester has dropped each of its last five games in all competitions, including the FA Cup elimination game against Blackburn Rovers of the Championship. Bet9ja have 2.00 odds, Paripesa have 2.01 odds and 1xBet have 2.01 odds.
With their slower-paced campaign, Toulouse will attempt to harm Lille's hopes of competing for European football the next season. Recently, trust in Lille's performance this season has been low. This season, Lille went on the road and won five games, lost five, and drew three. They have scored an incredible 21 goals, which ranks them among the top five teams in the league for away games. Toulouse has six wins overall this season in front of their home crowd but has dropped two straight games. According to their head-to-head record, Lille has won their last two games, including their season's opening contest. However, before the final two games, Toulouse had won two of the previous three games. Bet9ja have 2.10 odds, Paripesa have 2.15 odds and 1xBet have 2.15 odds.
Dortmund needs to win to keep pace with Bayern Munich at the division's summit. Before their matchup with FC Cologne on Saturday, Borussia Dortmund has won eight of their past nine home games in the Bundesliga. When Borussia Dortmund drew with their neighborhood rivals Schalke last time out, they lost a couple of points on derby day. But, BVB has been remarkably consistent at Signal Iduna Park, where they have won eight of their previous nine Bundesliga games while losing only once (against Bayern). Dortmund is capable of extending that run at the expense of Cologne. Bet9ja have 1.47 odds, Paripesa have 1.51 odds and 1xBet have 1.51 odds.
Over 2.5
On Saturday, Stuttgart and Wolfsburg square off in the German Bundesliga. With a victory over Die Wolfe this weekend, Stuttgart might move out of the bottom three in the league. Before their matchup with Wolfsburg on Saturday, Stuttgart has lost nine of their past 10 Bundesliga contests. Although neither Stuttgart nor Wolfsburg is trustworthy enough to return to the match result markets this week. Five goals were scored during the clubs' October meeting, while at least three goals have been scored in seven of Stuttgart's previous nine and five of Wolfsburg's past seven away Bundesliga games. Bet9ja have 1.98 odds, Paripesa have 2.01 odds and 1xBet have 2.01 odds.
When they go ready to play Monza on Saturday, Cremonese has only been successful in winning once in Serie A this year. In the goal markets, where the over 2.5 line appears to be extremely backable at good odds, we have jumped in. When the two teams last met, in January, they engaged in an open brawl that resulted in five goals. Also, four of Cremonese's previous eight Serie A away games included four or more goals. More excitement may be in store when Cremonese visits the U-Power Stadium on Saturday. Bet9ja have 1.96 odds, Paripesa have 2.01 odds and 1xBet have 2.01 odds.
Emmen needs more inspiration as they fight to stay in the Eredivisie for at least another season. The match between Emmen and Sparta Rotterdam will feature two clubs with positive season-long over/under records, particularly in recent weeks. Sparta had five out of five games with at least three goals scored whereas Emmen only had two of the last five. In the second half of the season, they are both scoring goals and giving them away at a high rate. Over 2.5 goals were scored in four of the last five games between these sides. Emmen had 12 of those games during the season while Sparta had 15. Bet9ja have 2.15 odds, Paripesa have 2.18 odds and 1xBet have 2.18 odds.
Against the lowest team in the league, Lens will be the clear favorite to earn the three points they need. Lens scores a respectable number of goals despite not giving up many. This is primarily because Lens suffered some significant defeats and allowed a lot of goals to be scored against them. In their previous five games, Angers had three contests with three or more goals scored. Their previous five meetings all had over 2.5 goals picked in terms of their head-to-head record. Bet9ja have 1.63 odds, Paripesa have 1.70 odds and 1xBet have 1.70 odds.
In a strict sense, the match between Toulouse and Lille is a fantastic illustration of how teams perform well when they play within their comfort zones. Toulouse boasts a 25–21 goal differential at home, whereas Lille is just as effective offensively when playing away from home. They also frequently permit a lot of goals. Toulouse had 18 games this season with more than three goals scored, and their season average is 3.3 goals per game, making them one of the best over 2.5 goals teams in the league. Three of Lille's 15 "over" games came in their last four games. Last but not least, their head-to-head record indicates a respectable number of goals. Four of their last five meetings concluded with three goals scored. Bet9ja have 1.64 odds, Paripesa have 1.73 odds and 1xBet have 1.73 odds.
Anytime Goal scorers
Ivan Toney
Ivan Toney has been fantastic for Brentford once again this season, scoring 16 goals in the Premier League alone. The 27-year-old has scored 6-goals in his last 10 appearances in the Premier League, including a goal in the midweek victory over Southampton. We're backing the in-form forward to score against Leicester on Saturday. Bet9ja have 2.40 odds while Paripesa have 2.20 odds.                                                                                                                                 
Kai Havertz
Kai Havertz isn't a prolific goalscorer by any means but he is still Chelsea's top goalscorer in the Premier League this season with 6-goals and has been playing well for Potter's side in recent weeks. The 23-year-old has scored in each of his last two appearances for the Londoners. We're backing the German international to make it three in three on Saturday. Bet9ja have 2.70 odds while Paripesa have 2.40 odds.
Erling Haaland
Erling Haaland helped himself to an incredible five goals before he was subbed, mercifully for the Germans. Haaland's stunning five-goal haul against Leipzig took his tally for the season up to 39 goals in just 36 appearances. Therefore, it's not a surprise that he is included here today. Bet9ja have 1.85 odds while Paripesa have 1.87 odds.
Jonathan David
We don't have to look further than Jonathan David to find the irreplaceable player for Lille. He scored 19 goals this season and is the main reason Lille has any chance of competing for placement with the European football next season. David also contributed four assists this term. He can be regarded as the main man for Lille this season with his incredible performances. Bet9ja have 2.50 odds while Paripesa have 2.10 odds.
Harry Kane
Spurs were in great form at home to Nottingham Forest last weekend. He probably could have won the game by more than a 2-goal margin. Kane netted twice in the first half. Tottenham's 30-year-old forward would be key to their winning and hopes for UCL qualification. A brace last time out can be followed by a goal against a weak Southampton side. Bet9ja have 2.25 odds while Paripesa have 2.15 odds.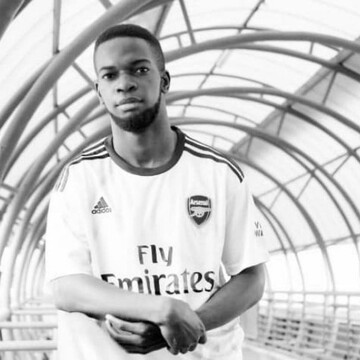 Football Lover. All-round junkie of the beautiful game. Could be found watching football most of the time. If not he's writing about them or making some punditry you don't agree with. A certain bias for Arsenal and Santos FC.