Away from the Champions League games, we move on to yet another continental competition in the Europa League. Similar to the Champions League, two English sides remain in the last four of the Europa League and will fancy their chances of making it to the finals. Two interesting ties are upon us and we'll be bringing you the best betting tips to go with as usual.
Villarreal vs Arsenal
Preview
In this UEFA Europa League clash, Unai Emery takes on his previous club Arsenal from the hole of Villarreal. Arsenal travel to Estadio de la Cerámica on Thursday night to face old foes as Unai Emery's Villarreal over two legs of Europa League semi-final action is what stands between them and a chance of continental silverware. Arsenal, well-placed for a mid-table finish this season, have a potential of three Europa League fixtures standing between them and a return to the Champions League. Failure to oversee victory, and there will be no European football next term.
Form Guide: Villarreal
With the top-four positions locked in La Liga, the Yellow Submarine are well poised to qualify for the Europa League next season. However, they are in a prime position to ensure Champions League qualification through a positive result in the second-tier UEFA cup competition. They will have to overcome Arsenal first, who are a shadow of their former selves. The fixture will give Gerard Moreno a chance to put himself in the eyes of Premier League clubs, and show that his 20 goals and five assists are well deserved.
Form Guide: Arsenal
While Villarreal have improved, the Gunners continue to fall from grace. They occupy tenth place in the Premier League points table after yet another disastrous season in English top-flight football. Success in cup competition remains their only hope. They were able to salvage the 2019/20 campaign with the FA Cup and will be eyeing the Europa League this time around. However, they will have to do it without top scorer Alexandre Lacazette and the onus will be on Pierre Emerick Aubameyang to lead the young side.
How the match could go
Arsenal's goal-scoring exploits on the road in recent weeks have been admirable, and they will endeavour to keep that hot streak going now that Aubameyang and Lacazette are back in the fold. Emery knows a thing or two about Europa League triumphs, and the ex-Arsenal boss is surely dreaming about dumping his former employers out of the tournament, but we think the Gunners will do enough to come away with a win.
Betting Tip: Arsenal to win
Arsenal might have not had a great run of form in recent weeks, which is something that could play against them here today. But the stakes here are higher as their only means of European football competition qualification is by winning this competition. They have determined players and a determined coach who is ready to lead them to another trophy. Bet9ja has 2.93, Bet365 has 2.87 and 1xbet has 3.07
Both teams to score: Yes
With the rate at which goals will come in thick and fast in this period of the competition, we are assured of both sides looking to get straight ahead and see out the fixture really early. In five successive games including Villarreal, the two sides have given the scorers a hard time. Then again, Arsenal have seen clean sheets in three of their five ongoing games. There ought to be objectives on the two sides of the pitch, as the race for Fireworks begins. Bet9ja has 1.78, Bet365 has 1.75 and 1xbet has 1.82
Over 2.5 Goals
Arsenal has confidently scored 12 goals in their last five games which is an impressive tally for the team and this pick. The attack of arsenal would be surely nullified as the Villareal attack can boast of more goals than Arsenal in the same period of time, Unai Emery's men have scored in 12 consecutive games and normal 2.7 goals per game in La Liga since September. Given the attacking qualities of the two sides, it vows to be a glorious encounter filled with goals. Bet9ja has 1.74, Bet365 has 1.73 and 1xbet has 1.82.
Anytime Goal-scorer (Arsenal)
Aubameyang
He was rested during their league game after suffering malaria and is a man for the big occasions as we have seen previously. He would have to score here again and he has already proven previously he can deliver when it matters. Bet9ja has 2.55, Bet365 has 2.30
Lacazette
Enjoying the form of his life once again as he has stood out to replace teammate Aubameyang when it was necessary and scored a lot of goals in the process too. He is a very solid player and can run through defences. This would come in handy today as he prepares to score another goal again. Bet9ja has 2.75, Bet365 has 2.40
Anytime Goal-scorer (Villareal)
Gerard Moreno
He is already a proven goal scorer and is currently the highest goal scorer in this season's competition, has opened the scoring in an astounding four of his last five UEL appearances. He is very experienced and honoured to lead the line here today and we can see him do justice to the government by healing. Bet9ja has 2.50, Bet365 has 2.62
Samuel Chukwueze
After returning back to the squad he has proven his worth by getting three goals in three consecutive matches and how does that one add to the discussion here. He has very good attacking talent and he can score here today which is why we have picked him. Bet9ja has 4.75 odds, Bet365 5.50, 1xbet has 4.00.
Manchester United vs Roma Betting Tips and Prediction
Preview
Ole Gunnar Solskjaer will be hoping his Manchester United side can replicate their Europa League heroics in 2017 under Jose Mourinho which saw the Red Devils lift the trophy. Having been held to a 0-0 draw against Leeds United on the weekend it leaves Solskjaer's best hopes of a trophy this season.
Thursday's visitors suffered yet another setback in their hopes of qualifying for Europe next season after losing to Serie A strugglers Cagliari. With just five games remaining of their 2020/21 Serie A campaign, Roma sit eight points off fifth-placed Napoli which could leave Europa League triumph as their best chance of European football for next season.
Form Guide: Manchester United
The Red Devils made it to three cup semi-finals last year and did not manage to progress further in any. Ole Gunnar Solskjaer knows what it means to win in Europe as a player and will be urging his players to get over their last season's heartache. With a second place in the Premier League all but guaranteed, their sole focus will be on the Europa League. Bruno Fernandes will United's ace in the hole but attention should also be kept on Edinson Cavani at the tip of Red Devils' attack.
Form Guide: Roma
After impressing for the duration of the 2020/21 campaign, Paulo Fonseca's men are letting it all slip at the tail end of the campaign. The Romans have slipped to seventh place in the Serie A rankings, a far cry from their top-four placement a couple of months ago. With UEFA Champions League qualification hopes fading through the domestic route, the Europa League is their best bet to claim the mega monies on offer. Roma's hopes will be shouldered by former Manchester United star, Henrikh Mkhitaryan, who has nine goals and eight assists to his name.
How the match could go
A fascinating clash of cultures is in store over the course of this tie, as possession-orientated Roma – who have conceded more than anyone else in the top half of Serie A – encounter a Manchester United side that are at their most dangerous on the counter. Confidence is certainly higher in the hosts' camp though, as the Giallorossi have stumbled their way through spring while in-form United continue to find goals from a variety of sources, so the English club can establish a useful lead to take to Rome next week.
Betting Tip: Manchester United to Win
Manchester United have been impressive in this campaign but need something to show for it at the end of the season. Regardless of cases that silverware isn't a need for him, Ole Gunnar Solskjaer would need to have the Europa League trophy to show for his two years at Old Trafford. In the exceptionally significant first-leg, the Red Devils would need to guarantee a lead for their outing to Rome. In their last six games, they are unbeaten, winning five on the run before their stalemate with Leeds. Manchester United hold an incredible record against the Italian outfit, having only lost one of their six clashes in their h2h. Bet9ja has 1.55, Bet365 has 1.53 and 1xbet has 1.58.
Both teams to score: Yes
Both sides have players who are clinical upfront and we expect goals at both ends. Their players waste no time in burying any chance on ground and we can say that this is an important factor for this selection, using their previous high scoring matches as a benchmark. Bet9ja has 1.82 odds, Bet365 has 1.80 and 1xbet has 1.85.
Over 2.5 Goals
This going to be a really tough game to call the winner but we can assure you of goals in it. This is coming from our careful check of their previous games and we concluded that both teams are sure going to score goals to bury this tie early by winning the first game. Bet9ja has 1.74 odds, Bet365 has 1.73 and 1xbet has 1.82.
Anytime Goal-scorer (Manchester United)
Rashford
Recently just returning from a string of injuries, he has returned refreshed and even scored a banger recently. Now, he is back into the squad and he looks revitalized and ready to help his team here today. He is a proven goal scorer and he is set to show that here today. Bet9ja has 2.70, Bet365 has 2.50.
Cavani
This famous striker has embodied the role given to him by the club in recent weeks and performed at high standards. He would surely replicate such form here today as he has experience playing against Roma in his past, from his stint at Napoli. He is a proven goal scorer which has been no doubt and a goal here today could likely happen. Bet9ja has 2.35, and Bet365 has 2.30 odds.
Anytime Goal-scorer (Roma)
Pellegrini
He has been a crucial part of Roma's impressive campaign this season and we cannot dispute the fact that he is likely to have a big impact on this game. He scores when the team needs him and this is why we have selected him here today. Bet9ja has 6.00, Bet365 has 5.75 odds
Edin Dzeko
He has experience playing against English sides in the past and this would definitely count in today's match as he leads the line-up top. In his time at Manchester City, he scored five goals against United. He has a great track record this season with his huge amount of goals and this would be a big plus for him and the team today as they eagerly seek an early advantage in this tie. Bet9ja has 2.55, Bet365 has 3.20 odds.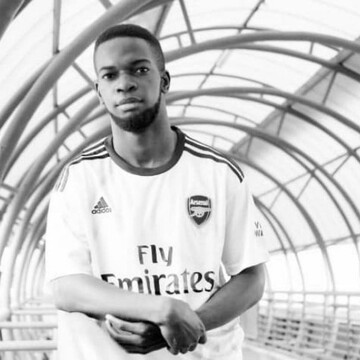 Football Lover. All-round junkie of the beautiful game. Could be found watching football most of the time. If not he's writing about them or making some punditry you don't agree with. A certain bias for Arsenal and Santos FC.