Pros
Numerous comfortable payment options
Competitive odds
Mobile-friendly website
Responsible Gaming protocols
Cons
Limited customer service hours
Limited promotional offers
No mobile app
Betbonaza is a bookmaker that offers sports betting options in various sporting events, including football, basketball, baseball, tennis, ice Hockey, American Sports, etc. it is a recent product, adding to the many upcoming bookmakers in Nigeria.
Payment Details
Once you have registered on Betbonanza, you will need to deposit to place your bet.
Betbonanza deposit options
The deposit options available include:
Webpay: web pay allows you to deposit directly from your account with your debit or credit card. The minimum deposit amount is 100 Naira.
GT-Pay: if you have a Guarantee Trust Bank account, you can deposit directly into your betting account with your debit or credit card from your online banking app (ALAT by WEMA, First Bank, Guarantee Trust Bank, UBA, Sterling Bank, and Zenith Bank). This method is free.
USSD: you can also deposit with the Guarantee trust bank USSD; *737#. This method is for Guarantee Trust Bank users only, and it is free. You can also use USSD with other banks, but it only comes with a cost of 100 Naira. The minimum deposit amount is 100 Naira.
ATM Transfer: you can transfer into the Betbonaza account form any ATM. The minimum deposit is 100 Naira.
Quickteller mobile app: minimum deposit is one hundred Naira, and the deposit cost is also 100 Naira.
Interswitch Pay direct; Bank branch: you can walk into any bank branch in Nigeria, even if you don't have an account with them, and make a deposit. The minimum deposit amount is 100 naira.
Deposit in a betting shop. The minimum deposit is 100 Naira.
Betbonanza withdrawal options
To withdraw your earnings on Betbonanza, you need to select the withdrawal option on the Betbonanza site. You'll be taken to a page where there is a form to fill. Fill in the amount you want to withdraw. The minimum withdrawal amount is 2000 Naira. After this, you would click on your bank of choice and input your banking details. Take a note to review your banking details properly, as the bookmaker would not consider any mistakes made in requesting your funds. Once you confirm your withdrawal request, it would be reviewed by their team and processed in one working day.
Betbonanza withdrawal limit
The withdrawal limit on the Betbonanza site is 1,000,000 Naira.
Betbonanza Customer Service
For a site with so many positives to offer, their customer service is not up to par. Their live chat agents are only available between 8:00 A.M. and 10:00 P.M. I believe they could do better. There are ways to submit requests, queries, or questions, though. They include:
They also have an FAQ section, which you can go through if you have quick questions.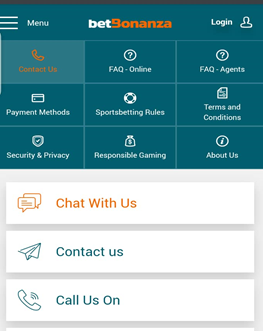 BetBonanza – The Good
The Betbonanza bookmaker is a good one. They have high-quality odds, which increases the winning chances of punters on the site. Many would prefer to use an application for mobile betting, but with the Betbonanza mobile site, one would say that you do not need an app. The site is mobile friendly, giving the features that you would see on a system. Navigation through the site is smooth. Lots of information is provided in the FAQ section. The bookmaker offers a variety of sports selections. The bookmaker also provides very detailed match statistics. This makes them shine brighter than others around. In addition to their sportsbook, they also offer a strong casino and virtual sports section.
BetBonanza – The Bad
Customer support hours are limited. This is a huge step back from the quality they provide. Even though there is an option for language change on the site, customer service is only available in English. There is no live streaming option available. Also, they could do better with their promotional offers.
BetBonanza – Bottom Line
Looking at this bookmaker's ups and downs, would it be safe to conclude that it is good enough for you? We certainly can't say that the bookmaker is the best in town, but we can undoubtedly decide that it is doing very well based on its time in the industry. There is always room for improvement, and these improvements are coming into the picture as time goes by. If you're looking for a safe and secure bookmaker, with a user-friendly and easy to navigate interface, and quality odds, Betbonanza is an excellent platform to consider.
About the Platform
The website layout is nice and simple enough. The color mix is friendly and basic, with a blue and white combination. The site's menu bar is well arranged, with icons to make it pictorially enticing. The site is mobile friendly too. The available odds are displayed in the center of the home page, with the top right corner's login button. There is a very detailed FAQ section on the menu bar. The bookmaker offers up to 600 sub-markets for the most popular games. They also offer other betting options to soothe the wagering appetites of their customers. These include a virtual football section, where there are virtual football games to bet on, numbers betting area, and a casino. They give the option for their customers to also become a part of their services, which is pretty open for a bookmaker. The bookmaker provides many promotional offers, including a welcome bonus which has been mentioned, a sports jackpot, where a certain amount is given to the jackpot winner every week, a one-game cut where you get 10% of your winnings back if one game cuts, a combo boost, where you can have a 40% extra boost for your virtual football, and a Yakata bonus offer. This bookmaker also has a blog, where you get updates on their latest offers and the best odds. Finally, there is a responsible gambling section available.
Quality of Odds
As we all know that if the quality of odds is not appealing, having a wide variety of sports doesn't matter. If we calculate the Betbonanza odds quality, they come out at an over 100 in percentage. This shows that the quality of odds offered by this bookmaker is very favorable.
Wagering
You can wager on the Betbonaza site or in a Betbonaza shop. To wager on the site, you need to log on to the Betbonanza site, but do not sign in. Once you are logged on, select your sport of choice from the sports bar on the left side of the bookmaker's homepage. Once this is done, you'll choose the tournament of your choice, the markets you wish to play, and the odds you want to wager on. You would then decide the amount you want to stake on before selecting the place a bet option. Note that once you sign in, you would not be able to place a bet. I don't know the reason for this, though. Once you click on place a bet, you're good to go. To bet in Betbonanza shops, you'll be given a betting code, which consists of alphabets. You can take this code to any Betbonaza shop to place your bet. You could also walk into any Betbonanza shop and ask the agent to place a bet for you.
Mobile Options
Betbonanza does not have a mobile app for betting, but the website is as mobile-friendly as you can get.
Summary
Betbonanza is an upcoming bookmaker with various sportsbook offerings, quality odds, a great mobile site, and excellent match statistics. With these being said, there is still a lot of room for improvement, especially with their customer service hours. The bookmaker has done well so far, though, considering their time spent bringing up the services they offer now. We sure hope that they would get improved as time goes by.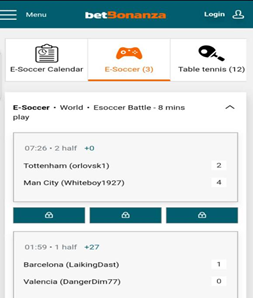 Q&A
Q: How do I place a sports bet?
A: To bet on a single event, choose the bet type/option from the Sports section on the betBonanza website. To find the event you want to bet on, use the left side sports selector, Last-minute bets, or popular categories. Once you find the event, click on the selection you want to bet on, and your pick will automatically appear in the Bet Slip.
Once your bet is in the Bet Slip, you can enter the amount of money you wish to bet on your selection by typing a number into the Bet Amount box. You can add up to 50 single bets on one Bet Slip. As soon as you are satisfied with your selection, click Confirm.
Note: You must be a registered betBonanza online customer to place bets.
Q: How do I place a Multibet?
A: To place a multi bet, you must select two or more selections of different events. This will switch the bet slip to the multi-bet tab. You can add as many as 50 selections to your multibet. You can navigate different sports categories in the Sportsbook lobby or select odds from Popular and Last-minute bets to select various events. Selections will be added to your multibet as soon as you click on them.
The more selections you add, the higher your total odds and potential winnings will be. You can see how the total odds change on your bet slip when you add new selections.
Once you are satisfied with your selections in a multi-bet, enter the amount of money you wish to bet on your choice by typing a number into the Bet Amount box and click on the Confirm button.
Q: Can I cancel my bet?
A: No. Once a bet has been confirmed, it cannot be canceled. However, you can use the Cash Out functionality to reclaim some part of your bet or winnings if the event you bet on has not finished yet, and Cash Out is available for that event.
Q: How does Yakata bonus work?
A: Yakata bonus is earned by adding 5 or more selections with odds of 1.2 or more in your betting slip. The more selections you add, the higher the potential bonus you can receive if your bet wins. betBonanza gives you up to an impressive 200% bonus on top of your winnings for 40 and more selections in one bet! You don't need to do anything else; place your bet and win it, and the Yakata bonus will be added automatically to your winnings.
Q: How do I adjust my account settings?
A: By clicking the My Account icon on top of the page and then selecting 'My Account,' you can view your account settings as well as upload documents, change your password, limit your losses, deposits, and wager amounts; self-exclude yourself from gambling at betBonanza and disable your account
Nigeria best Sport betting sites