Pros
Excellently designed website
Fast payout
Casino games available
Cash-out available
Various promotions available
Live Inplay available
Good customer support
Various support channels
Support, not 24/7
Cons
No welcome bonus
No VIP program available
No live streaming
Limited deposit options
OgaBet is one of the newcomers in the Nigerian betting industry. This betting company seems to be focused on Casino and Lotto games, but have an impressive amount of sports markets and event markets available.
There is a wide range of options, promotions, and betting features offered by this new betting company, which will excite its users. The betting platform tried in impressive ways to tailor their betting offers to suit our style of play, and below, we will go through this betting platform in details:
Payment Details
OgaBet Deposit Options: OgaBet provides three deposit options for its users to deposit funds to their accounts. These deposit options offer the best of two worlds, especially their voucher deposit option. Below are their available deposit options:
Voucher
Paystack
Interswitch
OgaBet Withdrawal Options: Like their deposit options, the Nigerian based betting platform offers only Interswitch and voucher withdrawal to their users. Their withdrawal takes about 24 to 48 hours to complete.
Withdrawal Limit: OgaBet has an unusual withdrawal limit for its users. When you deposit a certain amount using the voucher deposit option, you can only withdraw that amount. Mehn, I no gbadu that one.
OgaBet Customer Service
OgaBet comes with excellent customer support, but their support is slow and not available 24/7 for their customers. On the fair side, their support is very knowledgeable, but their availability is very poor. On the weekend, by 5 pm during our last check, their live support was showed offline, which is very bad.
However, the Nigerian based betting company offers a dedicated FAQ page that helps users with various answers and tutorials on their questions, even though the questions and answers are limited.
How to Register in OgaBet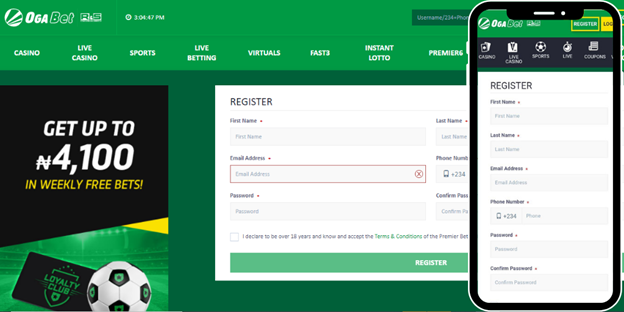 Registration in OgaBet is very easy to do without unnecessary questions and requirements. All you need to do is to go to their website, click on register and enter the required details, verify your number and email address, then you're good to go, shikina.
How To Deposit on Ogabet
Ogabet offers limited deposit options, but their offered deposit services can cater to almost all their customers' deposit needs in the real sense. They also gave a detailed tutorial on how their users can deposit their funds into their OgaBet accounts, here you can find it. However, we summarize how to deposit your funds on OgaBet here:
Login to your OgaBet account
Click on deposit
Select your preferred deposit method (Interswitch, Paystack, or Voucher)
Follow the provided prompts on each selected deposit option and deposit your funds.
How OgaBet Operates in Nigeria
OgaBet is among the group of betting companies in Nigeria that focus on offering virtual and casino games for Nigerians. They also have sports events with many sports games and markets. You can even find markets for e-sports on this betting platform with average but exciting market options. Below are some good and bad about this interesting betting company.
OgaBet — The Good
Casino
This is one of the great strengths of the OgaBet. The OgaBet casino is one of the best casino platforms in the Nigerian gaming industry. They feature both live Casino and virtual casinos for their users to choose from. Their casino features games like roulette, solar temple, fruity, etc. They also allow their users to try out their casino games for free.
Instant Lotto:
Lotto is an interesting betting feature that is least offered by betting companies in Nigeria. The Ogabet instant lotto features exciting betting experience; users get to watch their instant lotto games' live draws, interesting, isn't it?
Cash Out: This is one of the great features offered by OgaBet for their sports bettors. Even though this feature is still new among the Nigerian betting community, it is still exciting and vital, especially when there is a doubt about an accumulator.
Promotions: Even though Ogabet doesn't offer a welcome bonus to their new users, they still offer various promotions that their users can take advantage of and win bets. They have a different bonus for their different betting aspects like promotions for Lotto, sports, etc.
OgaBet — The Bad
OgaBet has its downsides, and their downsides can be mostly attributed to their lack of some features every serious betting company should sort out. Below we will briefly look at some of their bad sides:
Low Support Availability: This one is a big turn off for me. Their support, even though they help you with your request, is not always available. Sometimes, you'll need to wait for 24-48 hours to get a reply to your email.
No Welcome Bonus: The Nigerian betting company doesn't offer a welcome bonus to its customers. Even though this is not a big deal, it is still worth mentioning. Many bettor's confidence is boosted when there is an opportunity to place a bet with an underlying bonus.
The OgaBet Platform
Sport Types: OgaBet has various sports types available to their customers. Their available sport types range from football, which is the most famous in Nigeria, to little known sports like Badminton, cricket, etc.
Bet Slip: The betting slip of OgaBet is designed excellently well. It is just like the normal bet slips offered by other betting companies in Nigeria. However, their betting slip offers extra information on their betting slips.
Special Tools: OgaBet doesn't offer any special tools to its users. Only cash-out, which we don't classify as a special tool, is available for their bettors. As mentioned before, this betting company is mainly focused on its casino and virtual game offerings.
Sports Betting Experience
Quality of Odds: The quality of odds present on the OgaBet betting platform is not that great. Their odds are of average quality and doesn't offer much competition among the top betting companies in Nigeria.
Betting Limit: OgaBet offers a minimum betting limit of 100 nairas, and you can stake any maximum amount as long as it doesn't surpass the amount to win.
Mobile Options: There is no mobile app available for its users, but its mobile website version is excellent. It offers ease of navigation with a smooth feeling while placing for bets.
Conclusion
OgaBet is not one of the best options for the Nigerian betting community, but it offers one of the best betting experiences for Casino and Lotto game lovers. However, the company seems to improve their services, and we should be looking out for new features from them.
Question and Answer — OgaBet
Q. Does OgaBet have a mobile app?
A. No, Ogabet doesn't have a mobile app at the time of this post.
Q. Does OgaBet offer a welcome bonus for new customers?
A. OgaBet doesn't have any bonus offer for new customers.
Q. What is the minimum stake?
A. Their minimum stake is 100 naira.
Q. Is OgaBet Legit?
A. Yes, OgaBet is a licensed company in Nigeria.
Q. How quick is OgaBet Payout?
A. OgaBet pays out within 48 hours.
Q. How quick and reliable is their support? A. OgaBet support is good but not always available.
Nigeria best Sport betting sites