Yesterday was a good day with respect to our tips and we hope to continue with more of that today. Lots of interesting games are on the cards and we've done the hardwork of making the very best picks for you. Amidst a whole lot to choose from, here are some of the most likely betting tips to go with today.
Manchester Utd vs Liverpool betting tips and predictions
Straight Wins
No wins in three straight games would be really bad for Arteta and his Arsenal. The Gunners need a win badly to save their season especially as they need to build momentum ahead of their must-win return leg against Villarreal. Today, Newcastle are the latest opponents to host the Gunners in their frantic search for a win. Arsenal have taken points off weaker opponents and Newcastle wouldn't put up a challenge here today. We expect the Gunners to bounce back to winning ways in this fixture. Bet9ja has 2.10 odds, Bet365 has 2.00 odds and 1xBet has 2.13 odds.
Tottenham much like their North London rivals Arsenal, haven't had luck either with their results. Recently losing in the final to Manchester City by a narrow margin would be very hard for the team to swallow. However, their Champions League ambition is still alive and they can take three points from already relegated side Sheffield United today. There is a stark contrast between these two teams, so Tottenham are the favourites to win this. Bet9ja has 1.30 odds, Bet365 has 1.28 odds and 1xBet has 1.35 odds.
Barcelona would be really disappointed at blowing the opportunity of going top of the league after losing their game in hand. Now, they have to count on the loss of the top teams and win here again against Valencia who are struggling with relegation presently with no wins in their last five fixtures. Barcelona would eye this game as redemption for their loss last time out and are sure to come out on top. Bet9ja has 1.33 odds, Bet365 has 1.33 odds and 1xBet has 1.38 odds.
Ajax are already Dutch league Champions with four games in hand, but this game with Emmen is a tricky one as their opponents are without a loss in five games and have three wins in that fantastic spell. Both teams face each other here today but with different intension, both are looking for the win and the rest. We have Ajax selected to win here and it's assumed they will win this game here today. Bet9ja has 1.11 odds, Bet365 has 1.09 odds and 1xBet has 1.15 odds.
Napoli might have taken matters into their own hands, with a string of very incredible results this second half of the season we can't doubt that they are eyeing a European cup qualification. They face Cagliari and her suited to be the pick for tonight's straight winBet9ja has 1.40 odds, Bet365 has 1.37 odds and 1xBet has 1.45 odds.

Over 2.5 Goals
Despite their loss in the last league fixture, Barcelona were able to score meaning they are still on track for this selection here today. They really want to win this match and keep up the pressure and this can only be done by scoring goals that would see them win. Today, they tale on one of the sides with the worst defence in the league we are here to expect goals. Bet9ja has 1.36 odds, Bet365 has 1.36 odds and 1xBet has 1.40 odds.
The French Ligue 1 sees a tight matchup between Monaco and Lyon that would surely produce goals. Both sides are aiming for the top spot and possibly want to win the league this season with the race pretty tight. They have very good attacking talents on both sides and we will surely see that on display here today. This is why we have them selected here today, a call for a winner here would be really difficult but this selection is the best. Bet9ja has 1.58 odds, Bet365 has 1.61 odds and 1xBet has 1.64 odds.
AS Roma would be left bewildered after they humbling at Old Trafford in the Europa League semi-final last fixture. They lost by misplacing a one-goal lead during the first half of the fixture. Today, a return to the Serie A to face Sampdoria with AS Roma looking to steal a European spot by the end of the season. Sampdoria have also been impressive also with their large number of goals scored in their last few games and this is a big reason for this selection. Bet9ja has 1.56 odds, Bet365 has 1.57 odds and 1xBet has 1.60 odds.
Den Haag take on Feyenoord in the latest league clash in the Eredivisie this season as it comes close to the end with fixtures. Both sides would have been happier with higher positions given the form they were in and they would be looking to continue this. They are both high scoring sides who love to attack the ball and not sit back and defend. With that in mind, we are in for a high scoring game here today. Bet9ja has 1.40 odds, Bet365 has 1.40 odds and 1xBet has 1.45 odds.
Atalanta are the second-highest scoring side in Europe's top leagues this season with their high scoring talents upfront. With Sassuolo having the poorest defence among the teams in the top half of the league, this would be like a match made in heaven for pundits everywhere. This match wouldn't fail to produce goals as it did so in the first leg of the season. Bet9ja has 1.34 odds, Bet365 has 1.33 odds and 1xBet has 1.37 odds.
Anytime Goal-scorers
Messi
Messi has been impressive this year already and has the highest goal contributions in 2021, more than any player in Europe. Last time out, he scored the only goal in Barcelona's sad loss which means he is still in top form and it's just the team lacking. He will surely score here today with his impressive record yet again against bottom-half sides this season. Bet9ja have 1.55 odds while Bet365 have 1.44.
Kane
Recovering from his injury was a really good thing for the England striker as he would be looking to try and squeeze Tottenham in for a UCL campaign. He has the most goals contribution for his side this season and he would be looking to add to that yet again as they face already relegated side Sheffield United in the PL. Bet9ja have 1.55 odds while Bet365 have 1.44.
Aubameyang
Failing to score in Arsenal's loss to Villarreal in the Europa would have been a very bad performance by his standards. This game against Newcastle would be something of redemption for the striker as he has failed to find the back of the net in recent weeks. He also has a great track record against Newcastle in his previous seasons and this is what has made us pick him to score in this match. Bet9ja have 2.35 odds while Bet365 have 1.95.
Osimhen
The Nigerian has had a bit of a slow start to his journey in the Serie A scoring lesser goals than predicted due to injury crisis and the coronavirus. He has scored some important goals in recent weeks and he has kept his good form consistent which is why he is selected here today. He is the team's striker and he can prove his worth here today. Bet9ja have 1.90 odds while Bet365 have 1.50.
Zapata
For a second season running, this player has been the most impressive in the very brilliant Atalanta squad. With his important goals for the team, they have moved up to second place in their League. The Colombian international has the highest goal for his side this season in the league and now they are set to face a Sassuolo side with a poorly set up defence. Bet9ja have 1.90 odds while Bet365 have 1.61.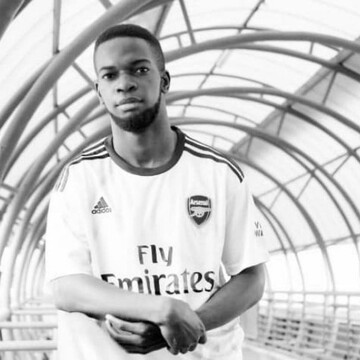 Football Lover. All-round junkie of the beautiful game. Could be found watching football most of the time. If not he's writing about them or making some punditry you don't agree with. A certain bias for Arsenal and Santos FC.